Jonathan Rea Unveils Special Edition Helmet In Support Of Australian Bush Fire Appeal.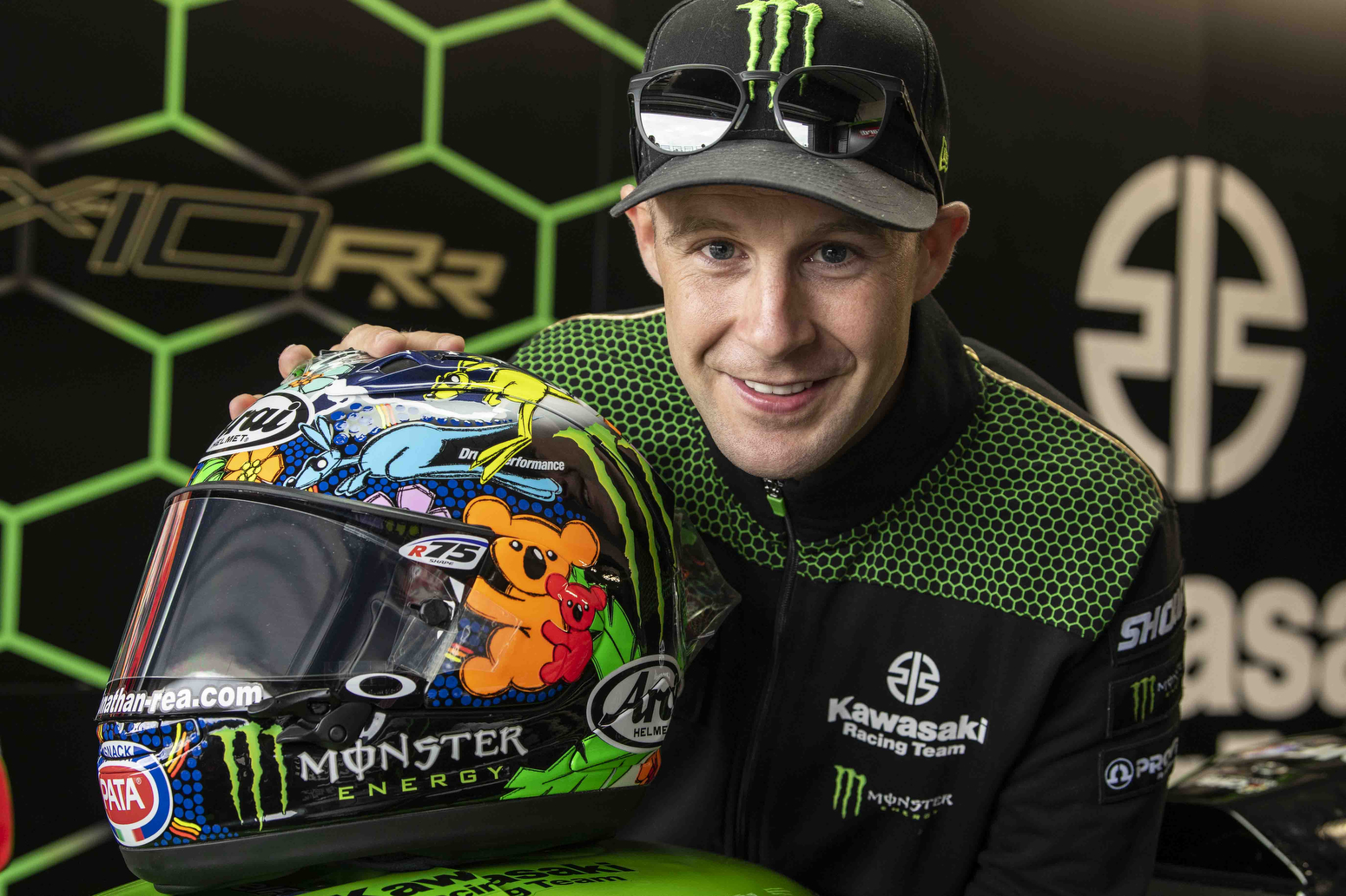 Jonathan Rea will unveil a specially designed Arai helmet today for round one of the FIM Superbike World Championship at Phillip Island in Australia.  The five time superbike world champion will reveal the helmet before Superpole qualifying and will wear it for all three races of the opening round of the 2020 season.  This unique Arai RX-7 helmet, designed by legendary Italian designer Aldo Drudi, will then be auctioned to raise funds for the BlazeAid organization, which helps communities across Australia recover from natural disasters such as the recent bush fires.
In recent weeks the devastating bush fires that tore across eastern Australia were headline news around the world.  For Jonathan Rea and his family it was an immediate and worrying time.  Jonathan's wife Tatia is from Phillip Island and her family have a home near Bright in north-eastern Victoria. They could only watch and wait for news at home in Northern Ireland as the fires raged around the small countryside town on the other side of the world.  
Fortunately the property was safe, but many people and communities across Australia were not so fortunate.  It is estimated that the fires have destroyed almost 20 million hectares of land (200,000 square kilometres), 5900 buildings, of which 2800 were homes, and has killed at least 34 people and over 1 billion animals, some of which were endangered and may have been driven to extinction.  The cost of the devastation is expected to exceed $4.5 billion AUD.
One organization that raises funds and helps with the financial cost of such events is Blaze Aid (www.blazeaid.co.au).  It is a voluntary organization that works with families and individuals in rural Australia after natural disasters such as fires and floods. Working alongside the rural families, their volunteers help to rebuild fences and other buildings that have been damaged or destroyed.  However there work extends beyond that and one of their mottos is "Not just rebuilding fences, but helping rebuild lives"
With such a personal attachment to Australia, and this current situation, Jonathan and Tatia decided they had to do something to help Blaze Aid raise funds for their current appeal.  Jonathan contacted his helmet sponsor Arai and the renowned Italian designer Aldo Drudi to put together a one off helmet design that he will wear for the Phillip Island races, after which it will be auctioned with the funds going directly to Blaze Aid.  
The WorldSBK organisers have already initiated an auction for  BlazeAid of other WorldSBK memorabilia, through CharityStars, and Jonathan's helmet has been added to this.  To place a bid, please follow the link below.
Jonathan, Tatia and the entire Rea and Weston families would like to send heartfelt best wishes to everyone affected by the recent bush fires and hope that, with the help of BlazeAid, they can start to rebuild their communities and their lives.
Auction Link: https://www.charitystars.com/product/jonathan-rea-s-special-helmet-worn-...
"It was so difficult being at home in Northern Ireland and watching the fires from afar. We have a beautiful mountain property in Wandiligong that came under threat with the fire burning in Abbeyard near Bright in the Alpine region in North East Victoria. My wife Tatia's parents were staying there when police told them they should vacate. We felt helpless and scared, so I decided that I would race in Australia with a special helmet design and sell it after to donate the money to a worthwhile cause. The WorldSBK organisation got involved with BlazeAid and with this platform we can auction the helmet. When I spoke to Aldo, who has designed my helmets for the last few years we came up with this cool concept. I love it, and hope that you do!"  said Jonathan
Aldo Drudi explained the concept behind the design. "During the bad situation in Australia I received a call from my friend Jonathan Rea asking me to do something special, to give some positive energy to Australia to beat the big problem with the bush fires.  We started thinking, me and the guys of my staff and watching television, the strongest image was the animals, especially the kangaroo and the koala, so we decide to create one helmet with those animals, but in a funny way, in a positive way, not in the bad situation that we were watching on television. So Johnny gave me some suggestions about that and we decided to present something that can give this kind of positive energy because Jonathan is also a guy that, when you meet him, you can feel the positive approach that he has for the sport and for life.  So we decided not to make a sad helmet for a sad situation but a fun helmet.  Finally we put the shape of the Australian nation on the top with the colours of the flag and we put all around it koalas and kangaroos and at the end, one touch was that we tried to make it in the style of the indigenous Aboriginal people with the small points in blue which is typical on the Aboriginal paintings. For sure it is a helmet that has a good meaning.  It is our best job, for our best friend and for Australia."