Rea Records Another Double Win At Misano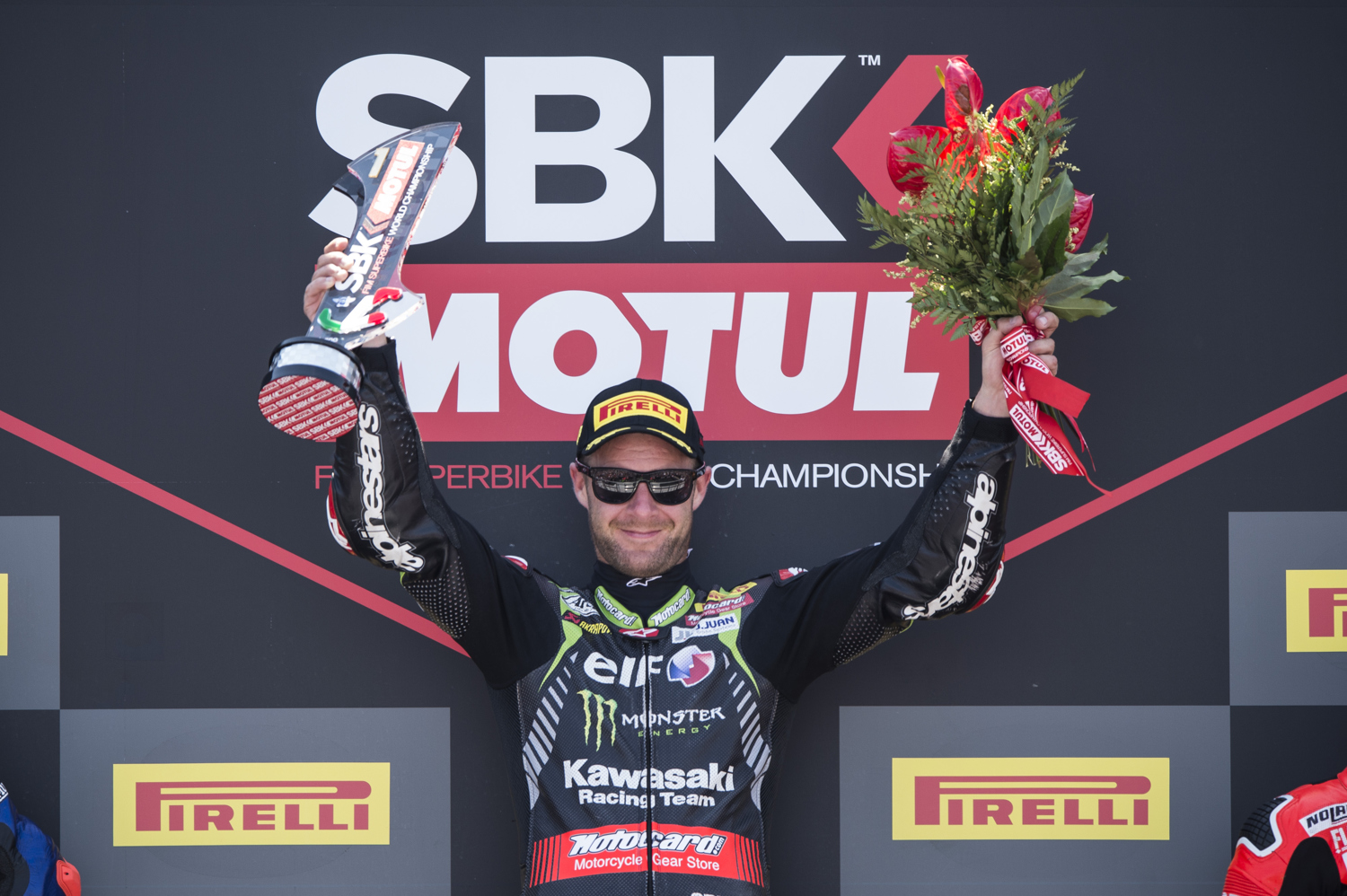 Jonathan Rea came from the third row of the grid to win again today in round nine of the 2018 FIM World Superbike Championship at Misano.  In a hard fought race he managed to get the better of Michael van der Mark (Yamaha) in the closing laps to take victory from the Dutchman.  Marco Melandri (Ducati) was third.
Three–time world champion Rea had to use all his skill and determination to secure the second race win of the Misano WorldSBK weekend, and with it his third double win of the season.
Jonathan had to pass several riders, some of them after more than one attempt, to get to the front of the race and chase down the leader, Van Der Mark.  In the process he set the fastest lap of the race, a 1'34.944, on lap ten and eventually caught and Van Der Mark to win by a narrow 0.334 seconds.
In winning race two today, Kawasaki now has a total of 120 race wins in WorldSBK since its inception in 1988, making the Akashi manufacturer the second most successful of all time in its own right. Kawasaki leads the 2018 Manufacturers' Standings by 59 points. 
The Superbike World Championship now enters the long summer break and Jonathan has an impressive 92 point lead over Chaz Davies (Ducati) with Van Der Mark a further 30 points behind.
There is little or no rest for Jonathan however as almost straight after the podium ceremony he set off for Japan to test the Ninja ZX-10RR that he will race at the Suzuka 8Hr race at the end of the month.
The next WorldSBK action will be a two-day test at Portimao in Portugal in late August, ahead of round 10 of the championship at the same venue on 15thand 16thSeptember 2018.
Jonathan Rea, stated: "That was a super-super hard race. Yesterday I controlled the race. I could lead from the front, make my rhythm and go away. Today I could not make that in the beginning and I spent so much tyre and energy coming through the traffic. The bikes are so evenly matched now it is so hard to make a pass and make it stick. It was a hard job to track down Mikey and when I arrived I was starting to panic a little bit with five laps to go. I wanted to be in the lead by that stage and make a gap. I was worried about getting through because he was not making mistakes, but then he ran into the last corner a little bit deep, and I was able to pull alongside and outbrake him in T1. I made a lot of passes in that race and it was really hard work. Most of all, all race I was thinking about William Dunlop, I want to dedicate this race to him, and all my thoughts are with all his family because I can't imagine what they're going through."