Third Place For Jonathan Rea and Team Green Kawasaki At Suzuka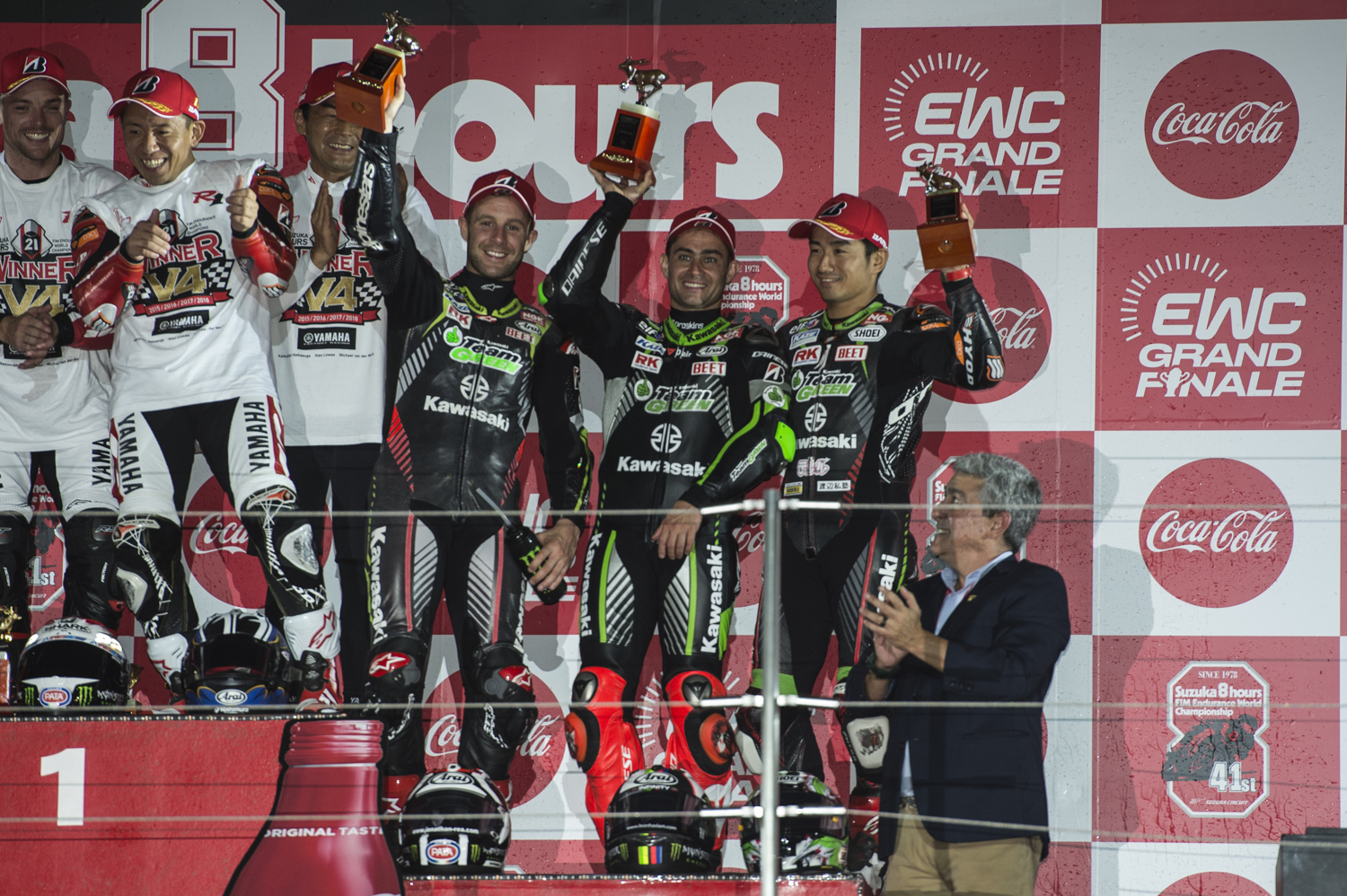 Jonathan Rea and his Team Green Kawasaki team mates Leon Haslam and Kazuma Watanabe finished third in a dramatic Suzuka 8Hr race today.  After leading for much of the early part of the race, mixed fortunes befell the team at a crucial point.  However, all three riders battled hard in the final hours and secured a valuable podium place in this iconic event. 
The 41stedition of the race was won by the No.21 Yamaha of Alex Lowes, Michael VD Mark and Katsuyuki NAKASUGA ahead of the No.33 Honda of  Takumi Takahashi, Takaaki Nakagami and Patrick Jacobsen.
The race could not have started in more dramatic conditions.  An overnight typhoon had swept through the region leaving behind a mix of sunshine and showers.  As the teams lined up on the grid one of those showers broke meaning the race started in wet conditions.  Leon Haslam shot into the lead in the first corner but soon settled into second place as the track surface began to dry.  When the time came to change to slick tyres, Jonathan Rea took over the riding duties and duly engaged in a close battle with the No.21 Yamaha of Van Der Mark.
For the first few hours of the race both Rea and Haslam battled hard with Van Der Mark and Lowes as they edged further ahead of the nearest challengers, swapping the lead on a number of occasions.  As the race approached the half way point Rea had established a two second lead over VD Mark.  However, luck was not on Team Green's side and events would transpire to edge them down the order into third place. 
The race also ran under the safety car for a considerable time and it was with around two hours remaining that racing could back underway.  Despite all their best efforts to claw back the deficit the Kawasaki trio had to settle for third place.
Jonathan Rea said:  "It was a very, very difficult race we had so many different conditions thrown at us and things we were not prepared for. I am really happy and I gave a big effort and myself, Leon, Kazuma and the all the team fell short; the chips just did not fall our way this year and congratulations to Yamaha and Honda. It just didn't happen for us but we proved our speed which I am really happy about. I just want to thank my team mates, they did a really good job in a difficult race".