Jonathan Rea Takes Part in X-Over Event With KRT Factory MXGP Rider Clément Desalle.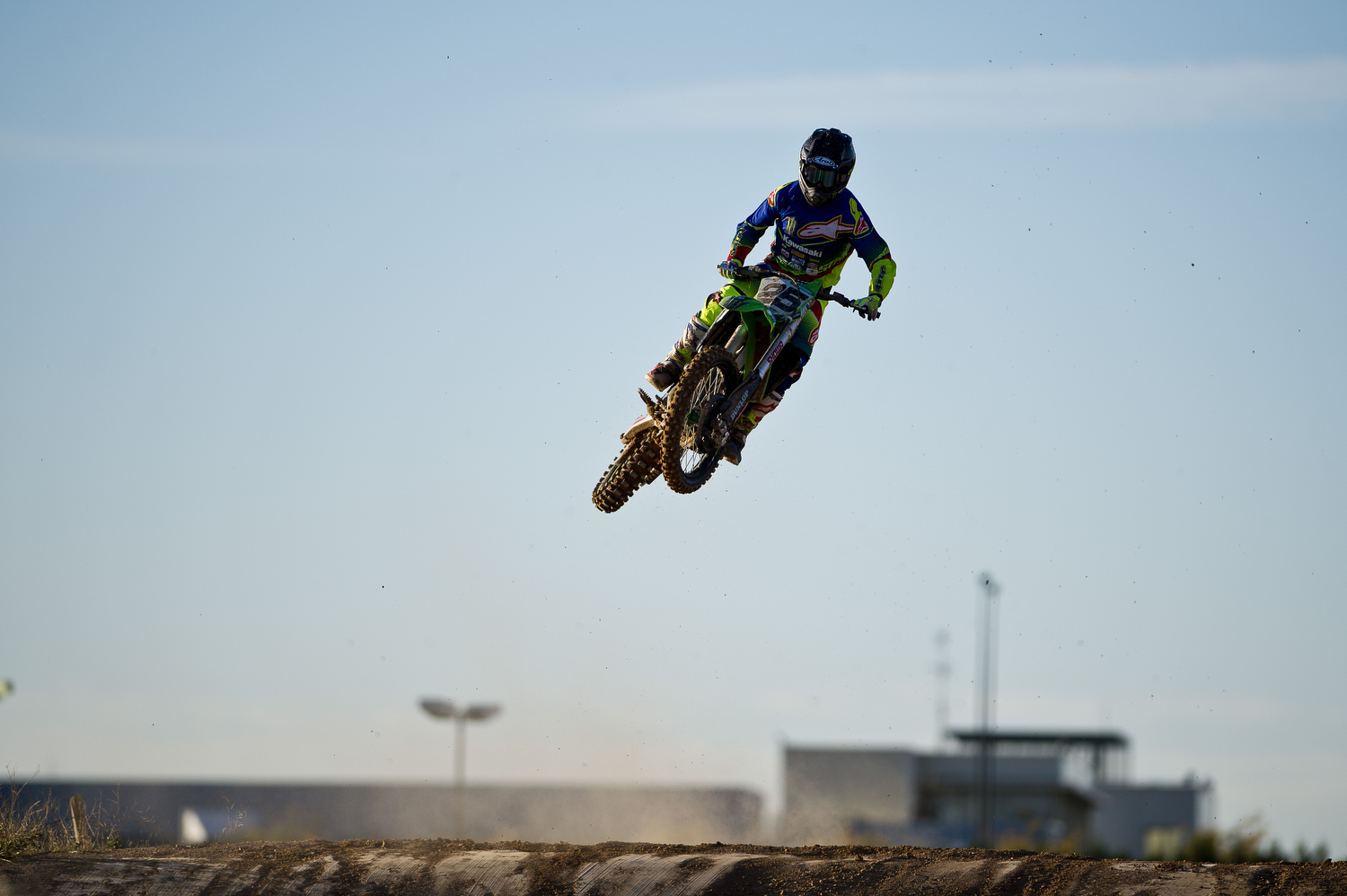 In the run up to the recent test session at Motorland Aragon Jonathan Rea had the pleasure of welcoming Kawasaki Racing MXGP Team rider Clément Desalle to the circuit. 
It is well documented that Jonathan started his motorcycle racing career in schoolboy motocross and his passion for offroad riding carries on with his current training regime including regular motocross riding on his own Kawasaki KX450F.
What many people would never guess is that KRT motocross rider, Clément Desalle has an equal passion for tarmac circuits and especially the Superbike class of racing. Already familiar with the tarmac circuit environment, the overall winner of this year's Assen MXGP, Desalle made his desire to ride a ZX-10R on track an open secret.
The factory Kawasaki riders had already met up this year when Jonathan had visited the MXGP round at Mantova and the iconic MX de Nations event at Maggiora Park in Italy towards the end of the season.
It was no surprise that when Kawasaki suggested a rider crossover that both jumped at the chance.  With both the WorldSBK and MXGP seasons having concluded the opportunity arose just before Jonathan's winter testing schedule got underway at the impressive facility of Motorland Aragon.
"I had a supersport machine before and I enjoyed some track days in the closed season", said the 27 year old French MX1 star. "When the KRT team manager said there was this possibility to have a Rider X Over I was really excited. I know Jonathan is good at motocross but I had no idea if I could ride a Superbike".
The complex includes the well-known 5km road circuit but is also host to a number of smaller motor racing circuits including a challenging motocross track.  Whilst Jonathan would ride a genuine KRT factory KX450F, Clément would ride the road circuit on the actual Ninja ZX-10R race machine that took JR to the 2016 Superbike World Championship a few weeks earlier in Qatar.
Before Clément took to the track Jonathan briefed him on what to expect from his race winning machine, but it was soon apparent that Desalle had settled quickly and when he returned to the track for a second session, Jonathan joined him on the new production version of the Ninja ZX-10RR.
"He's a racer at the end of the day so I respect his skill level and approach. In reality I had nothing to worry about, he was lapping at about the same speed as the journalists we invited to ride the bike in the morning and actually braking later into turn one than I normally do! We had a few laps together and his commitment is total and he achieved some impressive lean angles when he was cornering".
Once Desalle's sessions on the road circuit were over the pair of KRT riders made their way to the Motorland MX track which had been graded and freshly watered. Rea made some small adjustments to the clutch lever plus rear brake pedal position of the KX450F and they were away riding like long time team mates.
"Jonathan is at a good level, I can see he has a real talent for motocross", commented Desalle. "The factory KX450F is quite a demanding ride and Jonathan made the transition really easily."
For Rea the chance to ride with Clément was unmissable and held back some of the jet-lag he was experiencing following a lightening visit to the Kawasaki Motors Corporation 50th Anniversary a few days before.
"To ride my Superbike and then a KRT factory motocross machine alongside Clément in the same day is just a dream. It could not have gone better and perhaps we will surprise a few people who watch the Rider X Over video on YouTube"