JR Blog - Misano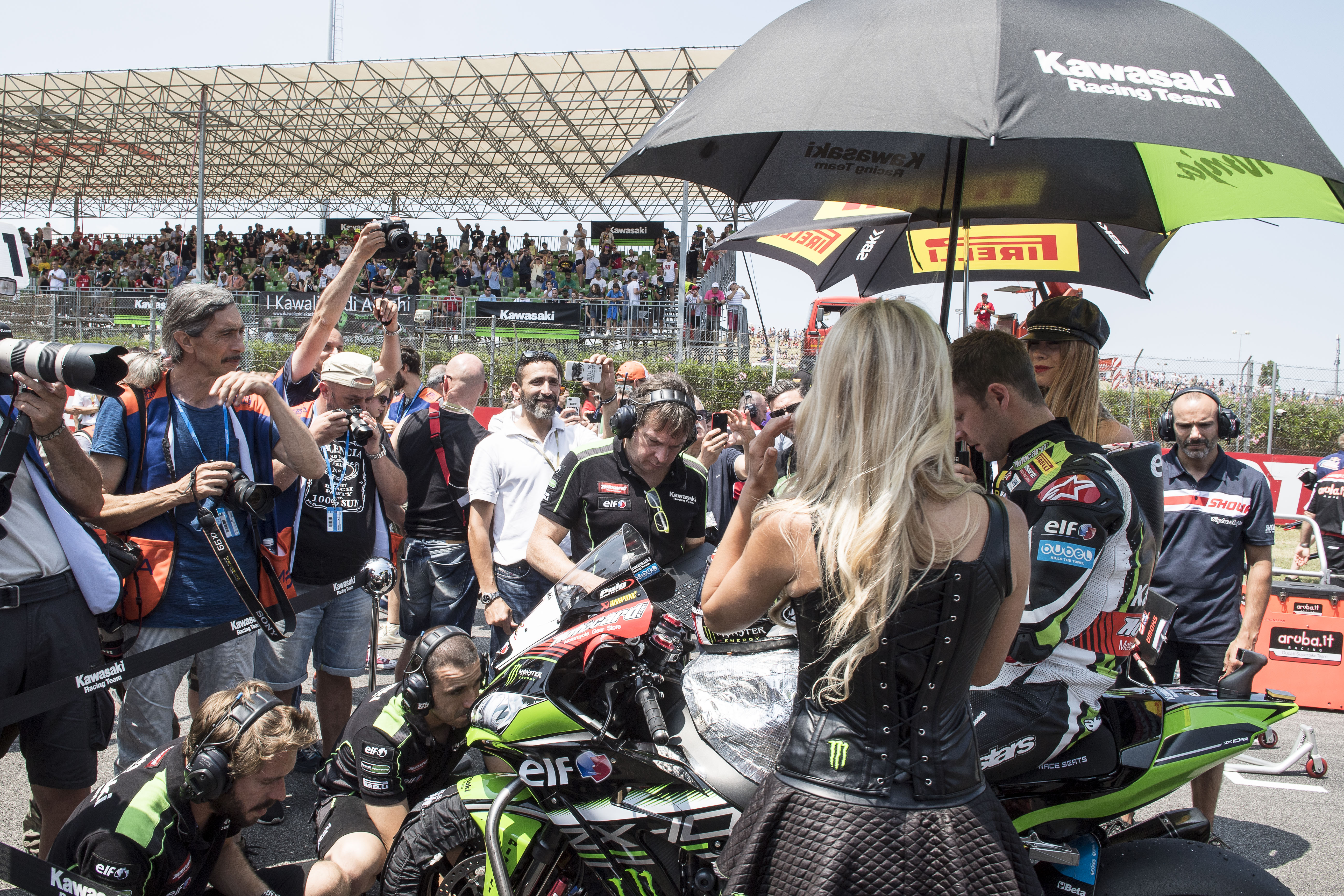 I love Misano. Not so much the layout of the circuit, it's a flat track with not too much character, but the atmosphere and the weather is brilliant. The fans always turn out in force. It's a good weekend to be part of. 
The weekend started off half decent. We had a test here the week before and it was really positive. We were super-fast and consistent but sometimes with so much track time you're always looking to improve a little, when in hindsight I'm wondering whether we should have settled on a setting we were comfortable with and worked on rhythm and pace. 
We started the weekend off trying different weight balances with the bike to turn it around a bit and we didn't make much progress. The track got super greasy over the weekend, we had almost 50-degree track temperature, and that made the races quite interesting.
Race one was pretty eventful. It felt like I was dodging bullets all race! Van der Mark was setting an OK pace and because it was a surprise that he was at the front I wasn't in too much urgency to follow him through. Then all of a sudden Chaz looked like he was on his limit and Van der Mark was pulling clear. I put my head down for a few laps and bridged the gap to him but pretty much just as I caught him, he had a horrendous crash in a really fast part of the track. We've all seen now it was an issue with his tyre. It was scary as I had to dodge both him and his bike and I went right in the middle, his bike almost caught me. 
That allowed Chaz to catch right back up and he didn't need a second invitation to send it up the inside of me at Turn 1. We both almost went off the track with that pass and allowed Melandri to get in on the action. I was really determined to win, so I put my head down and passed Melandri and got onto the back of Chaz and then the talking point of the weekend happened next! 
It was horrendous. Chaz tipped it into the T14 hairpin and innocently lost the front. Unfortunately, I was right in his wheel tracks as I preparing a pass. I rode over the top of him. It was probably one of the most horrendous things that's happened to me on a bike so I can't imagine how it was for Chaz! It was really scary. I bounced onto my feet and looked around and Chaz was on his feet running to his bike too so I thought shit, I best race him to the line and hope I can beat him! On the slowdown lap I realised his bike was still there! I couldn't stop thinking about him so I had to see whether he was OK.
Race two was a lot less eventful than race one, but it was pretty difficult to be honest. We struggled from the early laps with the tyre which spun 180 degrees on the rim. There was a lot of weight on the tyre anyway and I completely unbalanced it so had pretty much zero rear grip.
It was nice to see people like Jordi Torres in the mix for a while. While I still don't agree with the reverse grid it was the first time we've really seen it give someone like Torres a chance to run at the front.
We're staying a couple of weeks at the beach in Misano before I had to Laguna and then we'll go from there!