Battling Third For Rea In Donington Race One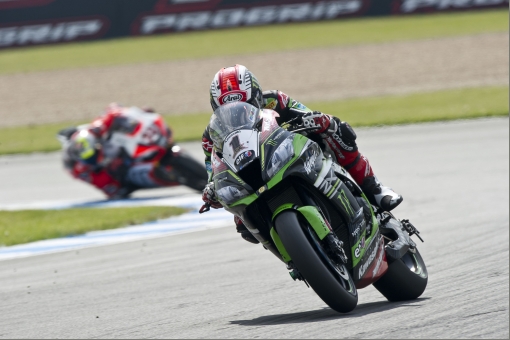 Jonathan Rea earned a hard fought third place at Donington Park today as the 2016 FIM Superbike World Championship season reached the halfway point.  The race was won by Kawasaki team-mate Tom Sykes with Davide Giugliano (Ducati) in second.  The result means that Rea continued his immaculate 100% podium finish record in 2016.
Starting from fourth place on the grid Rea rode hard in the opening laps and was up to second by lap seven when he ran on, for the first time, after finding a false neutral. 
Pushing hard to catch the leaders, Rea began to lose some grip from the rear tyre and also continued to experience gear shift problems, pushing him wide and off the track in the tight hairpin corners at the end of the lap.
By the chequered flag he would be 9.808 seconds down to come home in third place.
The closest championship challenger Chaz Davies (Ducati) crashed out of the race in the closing stages. This now leaves Rea with a 58 point series lead as he approaches tomorrow's second day of Donington race action.
The second Donington 23-lap race is scheduled for 15.00 local UK time on Sunday 29th May.
Jonathan Rea stated: "My bike felt really good in the beginning of the race but near the end I started to lose some grip from the rear and suffered a little bit turning into the corners. I found neutral five times in the race and two times at the final corner I ran onto the gravel, and then had to turn around on the access road. Also in the Melbourne loop I used all of the track surface just to stay on the track. It was affecting my confidence a little bit so I started to roll of the gas and make sure I did not make any more mistakes. It is frustrating for me because at some points of the race I could see my pace was even faster than the front two guys. I was closing in on them after my first mistake. I consolidated my podium so I am happy for that but a bit frustrated that we could not fight at least Tom and Davide at the front at the end of the race."
Pole position : Tom Sykes - 1m 26.712 - 167.022 km/h
Fastest lap : Jonathan Rea - 1m 27.988 - 164.600 km/h
Circuit record lap : 2015 Tom Sykes - 1m 27.640 - 165.250 km/h
Circuit Best Lap : 2016 Tom Sykes - 1m 26.712 - 167.020 km/h
Temperature : Air 17°C / Track 33°C
Humidity : 60%
Event results - Round 7 - Race 1
| | | | | | |
| --- | --- | --- | --- | --- | --- |
| 1 | Tom Sykes | 34m 04.276s | GBR | KAWASAKI | Kawasaki Racing Team |
| 2 | Davide Giugliano | 2.869 | ITA | DUCATI | Aruba.it Racing-Ducati Superbike Team |
| 3 | Jonathan Rea | 9.808 | GBR | KAWASAKI | Kawasaki Racing Team |
| 4 | Leon Camier | 13.747 | GBR | MV AGUSTA | MV Agusta Reparto Corse |
| 5 | Nicky Hayden | 14.007 | USA | HONDA | Honda World Superbike Team |
| 6 | Lorenzo Savadori | 14.640 | ITA | APRILIA | IodaRacing Team |
| 7 | Jordi Torres | 16.337 | ESP | BMW | Althea BMW Racing Team |
| 8 | Michael van der Mark | 16.535 | NED | HONDA | Honda World Superbike Team |
| 9 | Karel Abraham | 36.874 | CZE | BMW | Milwaukee BMW |
| 10 | Anthony West | 39.074 | AUS | KAWASAKI | Team Pedercini |
| 11 | Markus Reiterberber | 41.144 | GER | BMW | Althea BMW Racing Team |
| 12 | Xavi Fores | 41.275 | ESP | DUCATI | BARNI Racing Team |
| 13 | Roman Ramos | 48.094 | ESP | KAWASAKI | Team Go Eleven |
| 14 | Joshua Brookes | 50.125 | AUS | BMW | Milwaukee BMW |
| 15 | Dominic Schmitter | 1m 18.008 | SUI | KAWASAKI | Grillini SBK Team |
| 16 | Pawel Szkopek | 1m 29.605 | POL | YAMAHA | Szkopek POLand Position |
| 17 | Saeed Al Sulaiti | 1 Lap | QAR | KAWASAKI | Team Pedercini |
| 18 | Imre Toth | 2 Laps | HUN | YAMAHA | Team Toth |
| 19 | Luca Scassa | DNF | ITA | DUCATI | VFT Racing |
| 20 | Chaz Davies | DNF | GBR | DUCATI | Aruba.it Racing-Ducati Superbike Team |
| 21 | Alex De Angelis | DNF | RSM | APRILIA | IodaRacing Team |
| 22 | Matthieu Lussiana | DNF | FRA | BMW | Team ASPI |
| 23 | Cameron Beaubier | DNF | USA | YAMAHA | Pata Yamaha Official WorldSBK Team |
Championship standings
| | | | | | |
| --- | --- | --- | --- | --- | --- |
| 1 | Jonathan Rea | 293 pts | GBR | KAWASAKI | Kawasaki Racing Team |
| 2 | Tom Sykes | 237 pts | GBR | KAWASAKI | Kawasaki Racing Team |
| 3 | Chaz Davies | 231 pts | GBR | DUCATI | Aruba.it Racing-Ducati Superbike Team |
| 4 | Davide Giugliano | 147 pts | ITA | DUCATI | Aruba.it Racing-Ducati Superbike Team |
| 5 | Michael van der Mark | 141 pts | NED | HONDA | Honda World Superbike Team |
| 6 | Nicky Hayden | 136 pts | USA | HONDA | Honda World Superbike Team |
| 7 | Jordi Torres | 117 pts | ESP | BMW | Althea BMW Racing Team |
| 8 | Leon Camier | 97 pts | GBR | MV AGUSTA | MV Agusta Reparto Corse |
| 9 | Lorenzo Savadori | 85 pts | ITA | APRILIA | IodaRacing Team |
| 10 | Alex Lowes | 70 pts | GBR | SUZUKI | Voltcom Crescent Suzuki |
| 11 | Xavi Fores | 62 pts | ESP | DUCATI | BARNI Racing Team |
| 12 | Markus Reiterberber | 58 pts | GER | BMW | Althea BMW Racing Team |
| 13 | Sylvain Guintoli | 58 pts | FRA | YAMAHA | Pata Yamaha Official WorldSBK Team |
| 14 | Joshua Brookes | 48 pts | AUS | BMW | Milwaukee BMW |
| 15 | Alex De Angelis | 42 pts | RSM | APRILIA | IodaRacing Team |
| 16 | Roman Ramos | 42 pts | ESP | KAWASAKI | Team Go Eleven |
| 17 | Anthony West | 28 pts | AUS | KAWASAKI | Team Pedercini |
| 18 | Karel Abraham | 25 pts | CZE | BMW | Milwaukee BMW |
| 19 | Matteo Baiocco | 12 pts | ITA | DUCATI | VFT Racing |
| 20 | Lucas Mahias | 9 pts | FRA | KAWASAKI | Team Pedercini |
| 21 | Cameron Beaubier | 6 pts | USA | YAMAHA | Pata Yamaha Official WorldSBK Team |
| 22 | Luca Scassa | 3 pts | ITA | DUCATI | VFT Racing |
| 23 | Dominic Schmitter | 2 pts | SUI | KAWASAKI | Grillini SBK Team |
| 24 | Sylvain Barrier | 2 pts | FRA | KAWASAKI | Team Pedercini |
| 25 | Mike Jones | 2 pts | AUS | DUCATI | Desmo Sport Ducati |
| 26 | Josh Hook | 2 pts | AUS | KAWASAKI | Grillini SBK Team |
| 27 | Matthieu Lussiana | 1 pts | FRA | BMW | Team ASPI |
| 28 | Anucha Nakcharoensri | 0 pts | THA | YAMAHA | Yamaha Thailand Racing Team |
| 29 | Sahustchai Kaewjaturapom | 0 pts | THA | KAWASAKI | Grillini SBK Team |
| 30 | Saeed Al Sulaiti | 0 pts | QAR | KAWASAKI | Team Pedercini |
| 31 | Peter Sebestyen | 0 pts | HUN | YAMAHA | Team Toth |
| 32 | Pawel Szkopek | 0 pts | POL | YAMAHA | Szkopek POLand Position |
| 33 | Imre Toth | 0 pts | HUN | YAMAHA | Team Toth |
| 34 | Gianluca Vizziello | 0 pts | ITA | KAWASAKI | Grillini SBK Team |