Champion Rea Signs Off With Podium Finish In Qatar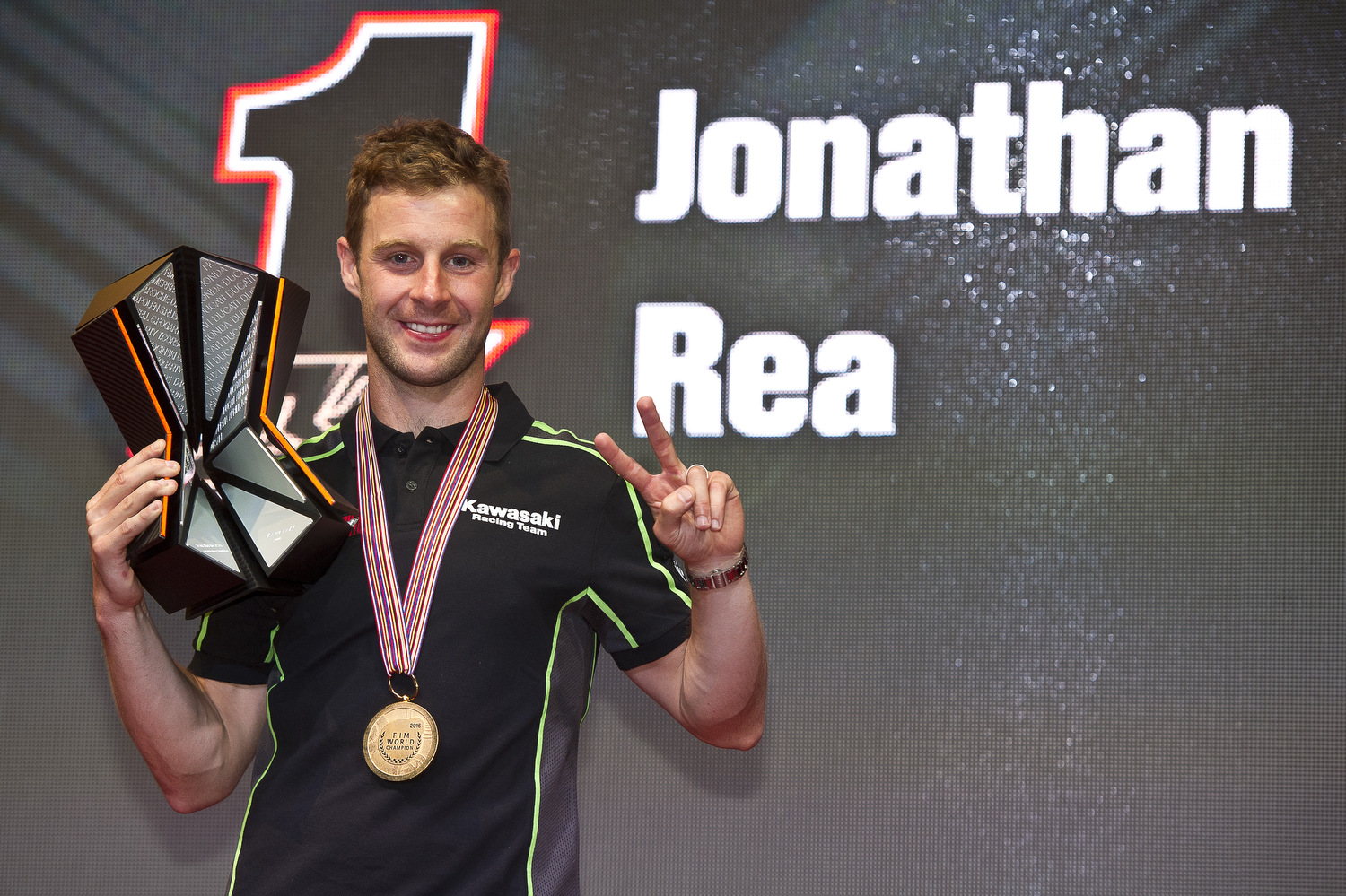 Jonathan Rea came home in third place in race 2 of the 2016 FIM Superbike World Championship at Losail in Qatar today.  He finished the race, shortened due to an earlier red flag incident,  just behind team-mate Tom Sykes, who as a result secured second place in the championship ahead of today's race winner Chaz Davies (Ducati).
In 2016 Kawasaki and its official KRT squad won all the major titles on offer – for riders, manufacturers and team. The championship 1-2 for Rea and Sykes was the final part of the overall winning package for the Ninja ZX-10R. Remarkably, all this on-track success came in the first year of a new model, which was only launched a year ago.
The final race of the year got underway on schedule at 21.00 local time in Qatar and was planned for 17-laps. After an oil spill the red flags came out and the track had to be cleaned. A shorter 10-lap restart began almost 45 minutes after the first, and with full championship points issued.
Rea had run-on early in the first red-flagged race and was down in ninth on the grid for the restart instead of the pole position he had earned on Saturday.
As Rea improved his pace and looked to win the final race of his second back-to-back championship season, he overtook Tom and closed in on the lead of Davies. Unable to catch and pass before the final flag he eased up and Sykes secured second place to maintain his overall second in the championship.
With Rea once again on the podium his 2016 statistics grew and made happy reading for rider and manufacturer alike. Rea, the 2015 and 2016 champion, has scored nine race wins this year, taken 23 podiums in 26 races, two pole positions and six fastest laps – including the new Losail lap record of 1'56.974, which he set on lap three today.
Jonathan Rea, stated: "I was trying to get to Chaz to win the first attempted race. When I started the bike felt good but when I approached turn one I could not shift gears as a sensor had failed so I ran-on. I lost places so the red flag saved me when it came out. The crew changed it really quickly for the restart and we made a step forward. Today I rode with my heart; rode like I can. In a ten-lap race, starting from ninth place, the maths did not stack up well! I got beaten-up in the first two corners and spent too long behind Leon Haslam and Tom. Chaz had a bit of a gap on me but I closed it right down. When I saw it was not possible to win I decided to work for the team and Kawasaki. We rode a really, really fast race here. A lap record, a pole position and a world championship came our way this weekend, so Qatar has been pretty good to me."