Final Kawasaki Podium For Rea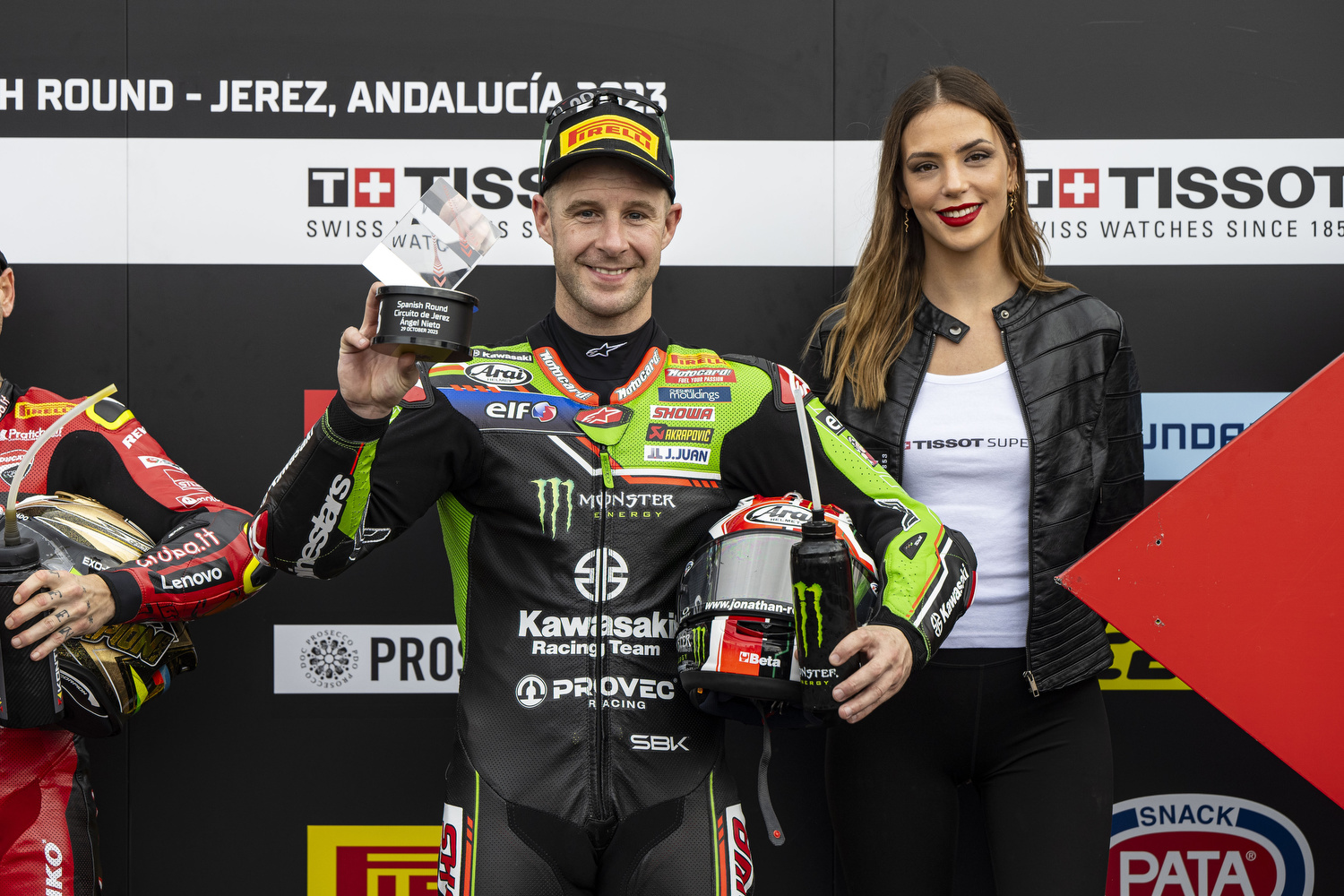 Kawasaki Racing Team rider and six-times World Champion Jonathan Rea finished his final WorldSBK weekend in KRT colours with a podium finish in the Tissot Superpole Race at Jerez in Spain.
The Superpole Race ended up being an eight lap race after a red flag was thrown due to an engine failure for a rival rider and the subsequent thick blanket of smoke that affected the track surface.  The race was restarted and held over eight laps. Rea kept himself in podium contention and held off the pressure from Toprak Razgatlioglu to earn a third place finish and his 18th rostrum of the year.
In Race Two Rea led for the first four laps with a radically different setup compared to the previous races. Even new World Champion Alvaro Bautista and 2021 WorldSBK champion Toprak Razgatlioglu were unable to match his early pace.  However, Jonathan's chances of a win ended when he lost the front in the second corner, on lap five, leaving him last as he remounted his bike and rejoined the race. In typically determined fashion he came through the field at a high pace but would finish 17th.
Rea had already confirmed his third place ranking in the championship table after Race One on Saturday, but managed to achieve the ambition of a podium on his final day, thanks to his strong performance in the Superpole Race.
The Jerez weekend heralded the end of an era as Jonathan closed his nine year career with Kawasaki Racing Team
Jonathan Rea, stated: "A bitter-sweet final day. I wasn't riding with emotion or anger, I was just flowing with my bike in Race Two. My crew chief Pere Riba made quite a big change, something like we had at the test here in May, and it worked really well. All weekend the grip has been low and we have been carrying a rolling set-up from the previous round. I even told Uri my chief mechanic, 'this race is for us.' I got to the front and I thought this feeling was good, but of course it was too good. On a bike set-up that was quite different, with different margins I just overstepped it a bit in T2. The bike got a little bit squirrelly going in and instead relaxing on the front brake and blowing the corner a little bit, I really committed to make the corner with a lot of lean angle, and down I went. Not the ending that the team or I deserve. I wanted to finish in the right way. But we didn't go down without a fight. The right handlebar was bent far forward, I had about 15mm of right footpeg left, so I just wanted to finish the race. When I saw my second or third laptime after I crashed I was doing 1'41s, which was faster than I did in Race One on Saturday. So I just kept going, thinking I could maybe score a point. I have some strange feelings overall today. Not from a performance side, or results side, just strange because I am leaving an incredible team."