Fourth Place For Rea In Mixed Conditions At Magny Cours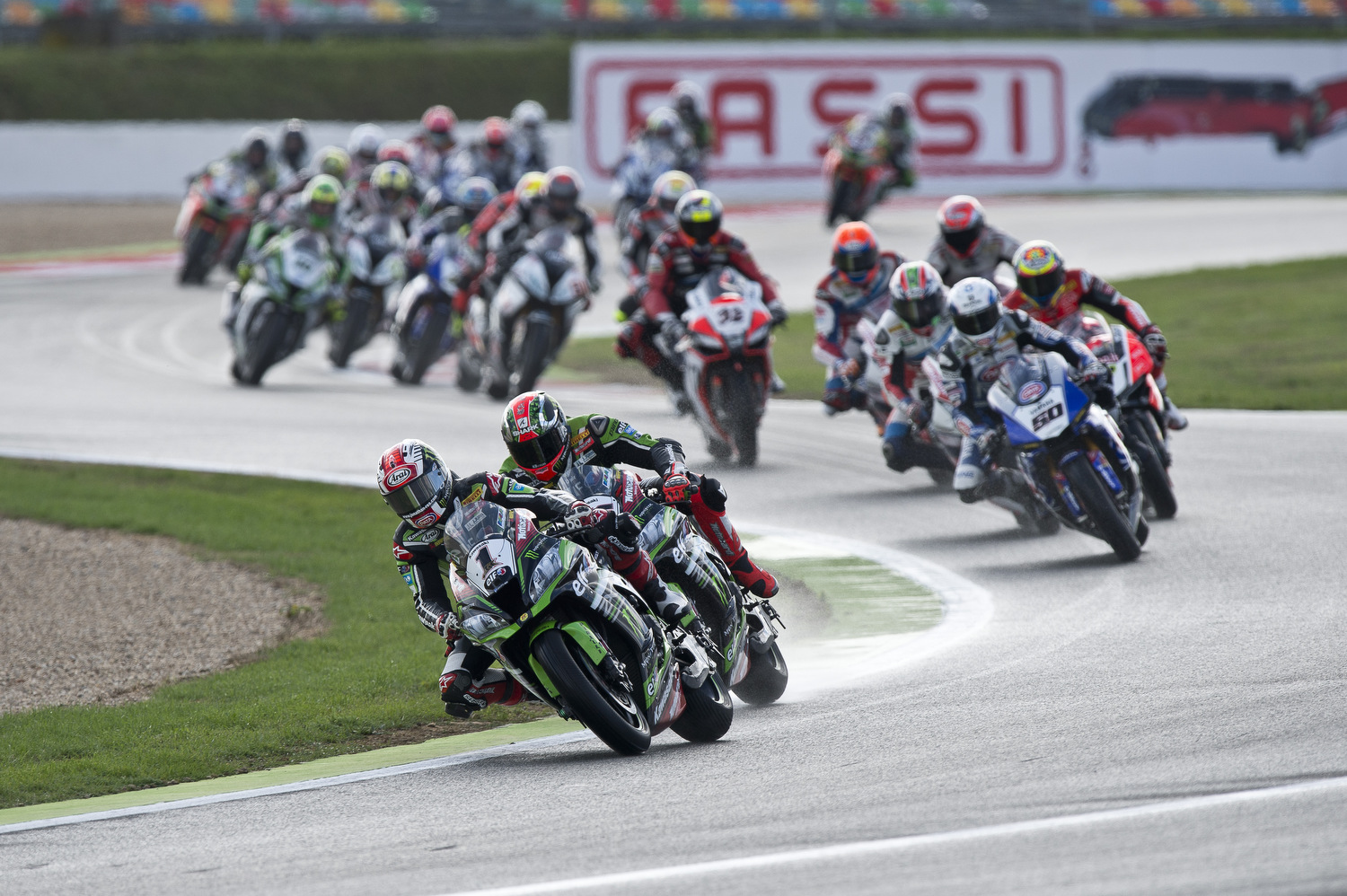 Jonathan Rea took a hard fought fourth place in race one of Round 11 of the 2016 FIM Superbike World Championship today at Magny Cours in France. 
In a race that started in wet conditions most riders had to change tyres as the track dried in the sunshine.  The race was won by Chaz Davies (Ducati), ahead of Michael Van Der Mark (Honda) and Kawasaki team-mate, Tom Sykes.
After a warm and dry day on Friday for Free Practice, severe thunderstorms and heavy overnight rain had resulted in Saturday morning's Free Practice and Superpole qualifying being run on a completely wet track.  Rea had posted the fastest time in Superpole 2 and started the race in pole position, with Sykes and Davies making up the remainder of the front row.
As the grid formed up, however, the sky cleared and the race began in warm sunshine.  Rea led off the line into turn one but was soon passed by Sykes.  After only a few laps a number of riders decided to change tyres as the track surface began to dry and the race order changed regularly.
The Kawasaki pairing ran first and second till lap eight but it soon became evident that they would have to make a pit stop.  With his team-mate currently his main championship rival, Rea followed Sykes into the pits. Rea chose intermediate tyres and when the pair rejoined he was able to get ahead of Sykes.  However, as the track dried further, Sykes, on slick tyres, was able to pass again and press home an advantage. 
Davies on the other hand had chosen to start on intermediate tyres and as a result didn't need to stop, passing Rea and Sykes whilst they were in pit lane.  Van Der Mark took a different strategy choosing to pit early in the race and he too was able to edge ahead during Rea's pit stop.
The result leaves Jonathan still out in front in the overall standings with a 44 point advantage over Sykes.  Race two, to be held at 13:00 (GMT+2) tomorrow will offer him a chance to improve on today's result and edge closer to the 2016 title.
Jonathan Rea, stated: "It was a race of strategy today and unfortunately we were not on the winning one. The bike was working OK and in the first part of the race I was patient, just marking time behind Tom. Our main opposition right now is Tom so when he was on rain tyres it made the decision of when to come into the pits much easier. I am just a little bit disappointed in myself for not being clear to ask for slick tyres at the pit stop. I did not have complete confidence and I expected the intermediate would last much longer, as the track was taking a long time to dry. When I saw that he had exited from the pit stop with slick tyres it was very difficult to find the same edge grip as the slick tyres had. All in all, I am happy, because we made some mistakes today but we finished fourth in the race and did not lose too many points. Being the championship leader we had to adopt the more conservative option today, rather than the more aggressive one."