JONATHAN REA AWARDED KEY TO PHILLIP ISLAND AND ADOPTED CITIZEN STATUS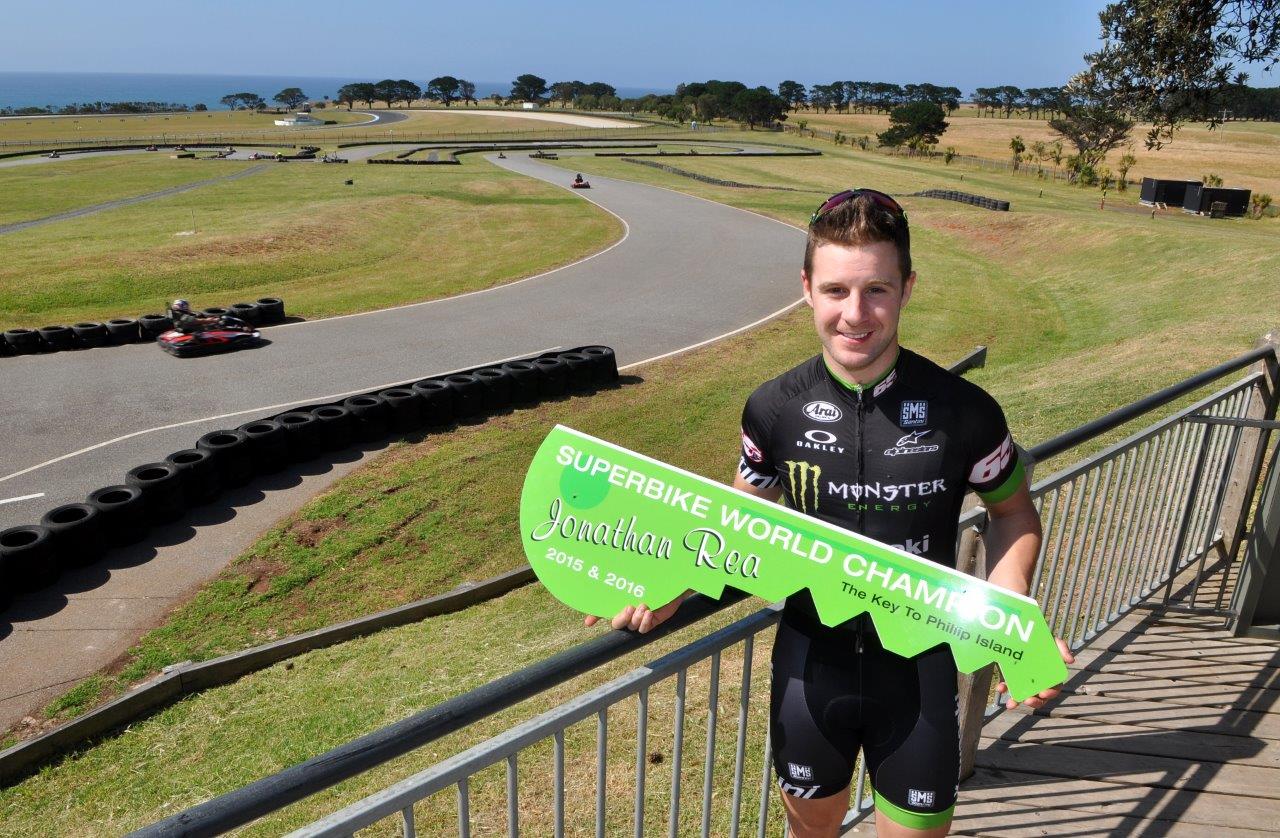 Recently crowned 2016 Superbike World Champion, Jonathan Rea, returned to Australia with his family this week after a second title-winning year.   Out on a training ride this morning with his Phillip Island cycling buddies, a quick diversion to the famous Grand Prix circuit led him to Bass Coast Mayor, Cr Pamela Rothfield and a start grid surprise where he was presented with the Key to Phillip Island.
Rea - who hails from Northern Ireland, is married to Tatia, a Phillip Islander, and holidays on the island with their sons every summer - was busy showing his training mates the fastest way around the thrilling 4.45km circuit when he was halted on the main straight by Cr Pamela Rothfield, circuit managing director, Fergus Cameron, and a crew of local school children from Cowes Primary.
The Phillip Island contingent had decided to make Jonathan's association with the island a little more official.   After congratulating the Kawasaki rider on his second world championship – a back to back effort for Jonathan with 2015 and 2016 crowns now under his belt –Cr Rothfield awarded him with the Key to Phillip Island and invited him to accept "adopted citizen" status of the picturesque isle.
Surrounded by his proud family, Tatia and sons Jake and Tyler, his cycling mates and a bunch of Cowes school kids the motorcycle rider could not help but say yes and with typical Irish humour took on his newly claimed Aussie status with a chuckle of surprise and delight.
The kids then hauled him onto their school bus and took him to the Phillip Island karting track where they had a gift to unveil, his own Jonathan Rea go-kart liveried in Kawasaki green, complete with race number 1 and his name proudly emblazoned across the front.
Jonathan Rea commented: "That was a massive surprise with my cycling mates.  We pulled into the circuit and I got awarded the key to Phillip Island and got some special recognition from the community which was so nice.  I really consider Phillip Island my second home.  My wife was born here and lived here for many years and it's always nice to come back.  To double win last February here was amazing.   It's always the best round of the year for me and we have it in the summer here which is incredible.  I love cycling with the guys here! Phillip Island is such a beautiful place.  It's quite a sleepy town and that suits me because the pace of my life is so fast during the season.  Everyone is so friendly, I feel like an adopted son down here. Cycling is quite a social sport, we all go and have coffee in the local café after the rides and hangout, it's a nice switch off for me, it also when I start my physical preparations in December for 2017 before I head back to Europe testing in January where I throw some motocross into the mix, a lot more gym work and by the time I come back here in February for round one, I'm really ready to kick start the year."
Cr Rothfield commented:  "On behalf of Bass Coast Shire Council, I am honoured to present Jonathan with a key to Phillip Island and we hope he enjoys his summer relaxing on our beautiful island before another big year on the track.  He has a massive fan base on Phillip Island and whilst we know that he is a resident of the Isle of Man, we would hope that he looks on the Isle of Phillip as a second home, because we see him as one of our sons."