Jonathan Rea Claims His Second Podium Finish Of The Weekend At Imola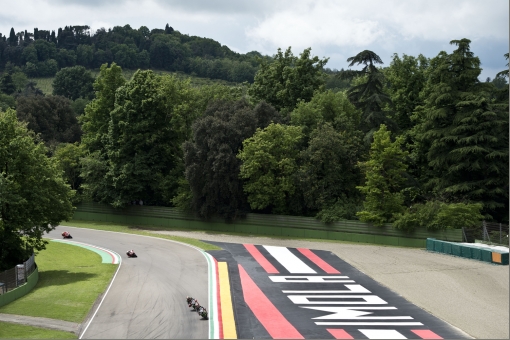 Jonathan Rea and his KRT team-mate Tom Sykes stood on the podium for the second time in two days at Imola, with Rea once more second and Sykes again a close third on their all-new Ninja ZX-10Rs. Chaz Davies (Ducati) took victory again in race two. Jonathan now has a championship lead of 35 points.
Rea and Sykes rode in tandem at times in the second race of the Imola weekend, which was finally held in dry conditions after heavy overnight rain. Neither KRT rider could get into contention with double race winner Davies today, despite each making changes for the second race that indicated a positive direction in overall set-up. 
Jonathan had to overcome an issue with his electronics cutting out and also almost falling as he ran wide when exiting the slow final chicane in his early pursuit of Davies.
For Rea his two runner-up places keep him in a clear championship lead, 35 points ahead of Davies. Jonathan also maintained his 100% podium record today, having scored ten from ten (including five wins) as he defends his reigning champion status. Rea has now scored 75 podiums in his WorldSBK career.
The next round of the championship takes place at the Sepang International Circuit in Malaysia, with racedays on May 14 and 15.
Jonathan Rea stated: "Chaz made a very good first lap and broke me a little bit but then I felt like I was managing the same pace and maybe even faster. Then I had a huge moment on the exit of the last chicane. I ran onto the Astroturf, which had held moisture from last night's rain. A few laps later, when I was in fifth gear and on full gas, my bike just cut out on the straight. I lost two or three seconds in one lap. It fired into life again but it took me a few corners to relax again. It feels like when we can't win we should finish second and we did that at Imola. It is clear now that there are three guys now at the top of the championship. Every dog has his day and today was not ours."
Pole position : Chaz Davies - 1m 45.598 - 168.276 km/h
Fastest lap : Chaz Davies - 1m 47.240 - 165.699 km/h
Circuit record lap : 2015 Tom Sykes - 1m 46.707 - 166.530 km/h
Circuit Best Lap : 2014 Jonathan Rea - 1m 46.289 - 167.180
Temperature : Air 16°C / Track 23°C
Humidity : 73%
Crowd : 68227
Event results - Round 5 - Race 1
| | | | | | |
| --- | --- | --- | --- | --- | --- |
| 1 | Chaz Davies | 34m 07.278 | GBR | DUCATI | Aruba.it Racing-Ducati Superbike Team |
| 2 | Jonathan Rea | 4.262 | GBR | KAWASAKI | Kawasaki Racing Team |
| 3 | Tom Sykes | 4.604 | GBR | KAWASAKI | Kawasaki Racing Team |
| 4 | Davide Giugliano | 13.093 | ITA | DUCATI | Aruba.it Racing-Ducati Superbike Team |
| 5 | Leon Camier | 16.250 | GBR | MV AGUSTA | MV Agusta Reparto Corse |
| 6 | Alex Lowes | 20.078 | GBR | SUZUKI | Voltcom Crescent Suzuki |
| 7 | Jordi Torres | 23.622 | ESP | BMW | Althea BMW Racing Team |
| 8 | Nicky Hayden | 26.803 | USA | HONDA | Honda World Superbike Team |
| 9 | Michael van der Mark | 28.577 | NED | HONDA | Honda World Superbike Team |
| 10 | Xavi Fores | 32.630 | ESP | DUCATI | BARNI Racing Team |
| 11 | Lorenzo Savadori | 34.669 | ITA | APRILIA | IodaRacing Team |
| 12 | Markus Reiterberber | 38.244 | GER | BMW | Althea BMW Racing Team |
| 13 | Joshua Brookes | 41.100 | AUS | BMW | Milwaukee BMW |
| 14 | Alex De Angelis | 1m 12.823 | RSM | APRILIA | IodaRacing Team |
| 15 | Dominic Schmitter | 1m 55.258 | SUI | KAWASAKI | Grillini SBK Team |
| 16 | Saeed Al Sulaiti | 1 Lap | QAR | KAWASAKI | Team Pedercini |
| 17 | Pawel Szkopek | 1 Lap | POL | YAMAHA | Szkopek POLand Position |
| 18 | Matteo Baiocco | DNF | ITA | DUCATI | VFT Racing |
| 19 | Karel Abraham | DNF | CZE | BMW | Milwaukee BMW |
| 20 | Gianluca Vizziello | DNF | ITA | KAWASAKI | Grillini SBK Team |
| 21 | Josh Hook | DNF | AUS | KAWASAKI | Grillini SBK Team |
Championship standings
| | | | | | |
| --- | --- | --- | --- | --- | --- |
| 1 | Jonathan Rea | 221 pts | GBR | KAWASAKI | Kawasaki Racing Team |
| 2 | Chaz Davies | 186 pts | GBR | DUCATI | Aruba.it Racing-Ducati Superbike Team |
| 3 | Tom Sykes | 154 pts | GBR | KAWASAKI | Kawasaki Racing Team |
| 4 | Michael van der Mark | 106 pts | NED | HONDA | Honda World Superbike Team |
| 5 | Davide Giugliano | 88 pts | ITA | DUCATI | Aruba.it Racing-Ducati Superbike Team |
| 6 | Jordi Torres | 87 pts | ESP | BMW | Althea BMW Racing Team |
| 7 | Nicky Hayden | 82 pts | USA | HONDA | Honda World Superbike Team |
| 8 | Leon Camier | 60 pts | GBR | MV AGUSTA | MV Agusta Reparto Corse |
| 9 | Lorenzo Savadori | 60 pts | ITA | APRILIA | IodaRacing Team |
| 10 | Alex Lowes | 59 pts | GBR | SUZUKI | Voltcom Crescent Suzuki |
| 11 | Sylvain Guintoli | 58 pts | FRA | YAMAHA | Pata Yamaha Official WorldSBK Team |
| 12 | Xavi Fores | 49 pts | ESP | DUCATI | BARNI Racing Team |
| 13 | Markus Reiterberber | 47 pts | GER | BMW | Althea BMW Racing Team |
| 14 | Roman Ramos | 36 pts | ESP | KAWASAKI | Team Go Eleven |
| 15 | Alex De Angelis | 32 pts | RSM | APRILIA | IodaRacing Team |
| 16 | Joshua Brookes | 30 pts | AUS | BMW | Milwaukee BMW |
| 17 | Karel Abraham | 14 pts | CZE | BMW | Milwaukee BMW |
| 18 | Matteo Baiocco | 12 pts | ITA | DUCATI | VFT Racing |
| 19 | Lucas Mahias | 9 pts | FRA | KAWASAKI | Team Pedercini |
| 20 | Mike Jones | 2 pts | AUS | DUCATI | Desmo Sport Ducati |
| 21 | Sylvain Barrier | 2 pts | FRA | KAWASAKI | Team Pedercini |
| 22 | Dominic Schmitter | 1 pts | SUI | KAWASAKI | Grillini SBK Team |
| 23 | Matthieu Lussiana | 1 pts | FRA | BMW | Team ASPI |
| 24 | Anucha Nakcharoensri | 0 pts | THA | YAMAHA | Yamaha Thailand Racing Team |
| 25 | Sahustchai Kaewjaturapom | 0 pts | THA | KAWASAKI | Grillini SBK Team |
| 26 | Saeed Al Sulaiti | 0 pts | QAR | KAWASAKI | Team Pedercini |
| 27 | Peter Sebestyen | 0 pts | HUN | YAMAHA | Team Toth |
| 28 | Pawel Szkopek | 0 pts | POL | YAMAHA | Szkopek POLand Position |
| 29 | Josh Hook | 0 pts | AUS | KAWASAKI | Grillini SBK Team |
| 30 | Imre Toth | 0 pts | HUN | YAMAHA | Team Toth |