JONATHAN REA ENJOYS FIRST R1 TEST WITH PATA YAMAHA PROMETEON WORLDSBK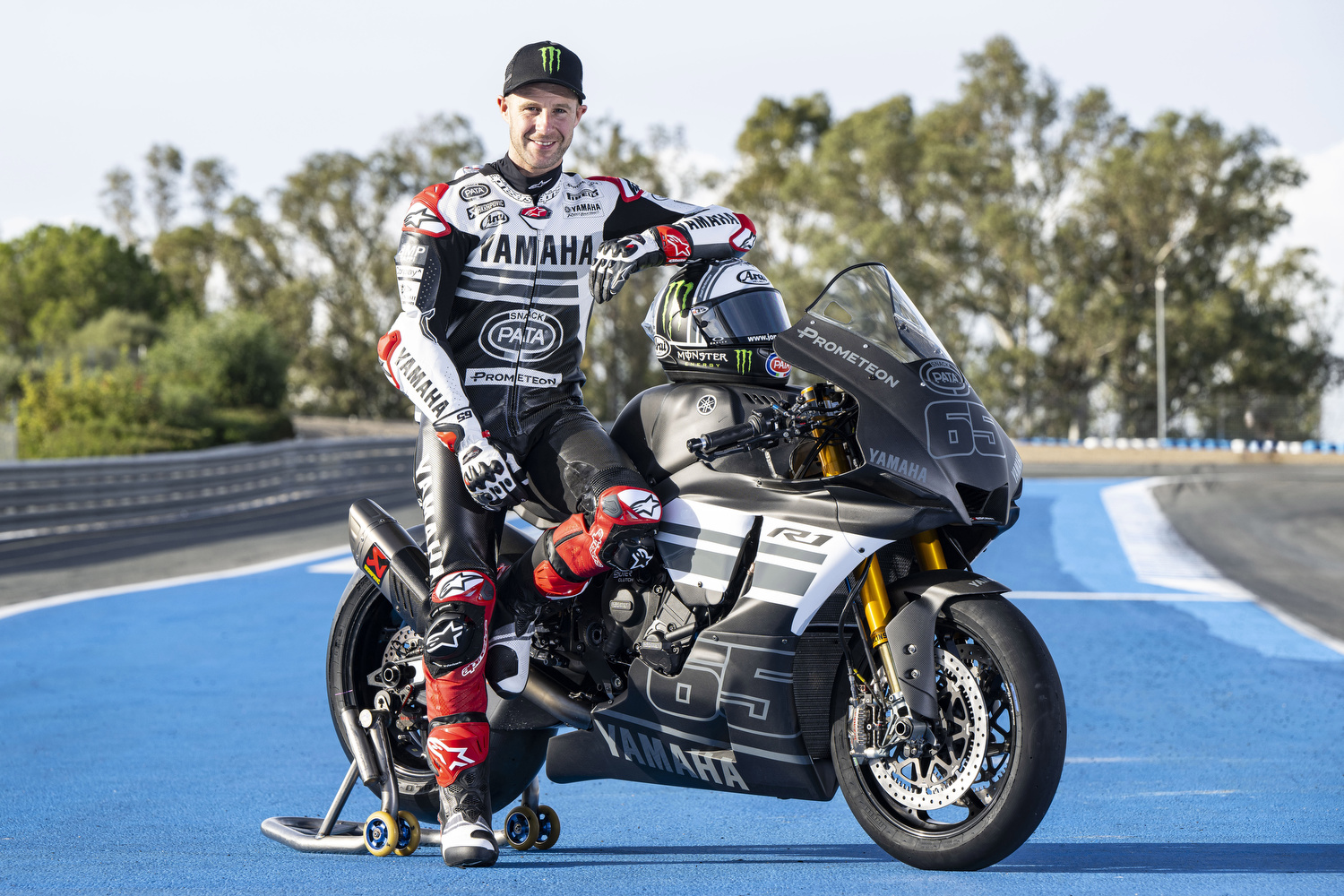 Six Times FIM Superbike World Champion Jonathan Rea embarked on a new chapter of his illustrious career at Circuito de Jerez – Ángel Nieto this week as he joined the Pata Yamaha Prometeon WorldSBK team. Rea and the team took part in a two day private test session at the Jerez circuit on October 31 and November 1, 2023 where he settled quickly with his new Yamaha YZF-R1 race machine. He ended the test with the third fastest lap time 1m 39.179.
Jonathan was introduced to the team on Monday October 30, one day after the final race of the 2023 WorldSBK season. He stepped into the Pata Yamaha Prometeon WorldSBK pit box for the first time to meet his #65 Yamaha R1 WorldSBK – featuring a special grey, white and carbon fibre winter test livery which hints at some of Yamaha's historical colour schemes.
Welcomed by his new crew and Yamaha's engineers, Rea enjoyed a detailed riding position fitting in advance of one of the most highly-anticipated manufacturer changes in WorldSBK history.
"It's been an incredible first day and it was so surreal putting on my Pata Yamaha Prometeon WorldSBK polo – the feeling in blue is really nice – and when I walked into the box, everyone was so enthusiastic. I felt a lot of love and support straight away – the attention to detail on the team is amazing. From even my rider office having personalised logos in there already, to getting perfectly fitted on the bike – the attention to detail on that process was incredible. I just can't wait now to spin my first laps on the R1. It's a bike that I've seen up close on track but never had an opportunity to ride, so for tomorrow the main idea is to get comfortable on the bike – to understand my crew, for them to understand me and of course, to learn and have a positive outcome. Between now and Phillip Island we have a lot of time, but first impressions are always important and today was a really good one. I'm really excited to start and I want to thank everyone from Crescent Racing, Yamaha Motor Europe and all the sponsors for this opportunity because I think it's going to be a great partnership and I'm looking forward to it." Rea said on Monday ahead of the test.
While inclement weather on Tuesday meant just seven full timed laps were completed (12 in total), today was a chance for the Northern Irishman to really engage with his new R1 and the team as early winter Spanish sunshine allowed more track time.
Completing 68 laps after an early lunch, Rea took the third-fastest spot on his final lap just before the end of the test – with new Yamaha compatriot Remy Gardner (GYTR GRT Yamaha) making the fastest lap with a 1:38.448, which would have seen him take pole position last weekend.
The next chance to get further acquainted with his new R1 WorldSBK for Rea will be on 20-21 November back here at Jerez, alongside teammate Andrea Locatelli – with a key focus on 2024 development with Yamaha's engineers.
"My first feelings with this team have been fantastic, ever since I agreed to make the move. Both the team and Yamaha have been really welcoming and making everything easy. The first test was just about getting familiar with the bike – it was a bit of a shock, I had a lot of different sensations than I am used to – but in a positive way! The R1 is very user-friendly – not necessarily easy to go to the absolute limit just yet, but easy to ride. It generates a lot of traction which encourages you to go fast and inspires confidence. You can get into the throttle and use the power of the machine – it feels good and now I can see how Toprak was riding the way he was, also Loka being so competitive this year. It's all good! Just a nice first contact with the set-up and the team, so I expect next time we can get more deeply into it. Step-by-step today we have tried some different things, fork spec, different tyre combinations so that I can understand how the Yamaha uses different compounds – I could see from the past that Yamaha have been able to maximise the SCX tyre. I requested some different electronics set-up – but not really too much. I have been using the current "base setting" let's say of the R1 and in the next test we will start to work on development parts. A really positive experience on both days and the R1 is feeling more like my bike, particularly as we have been lucky with the weather this afternoon and got through more than we expected. I'm sure I could wake up tomorrow and even more performance would come but now I have to wait a couple of weeks...! Thanks to everybody – I really enjoyed myself!"