Jonathan Rea Finishes European Winter Tests In Strong Form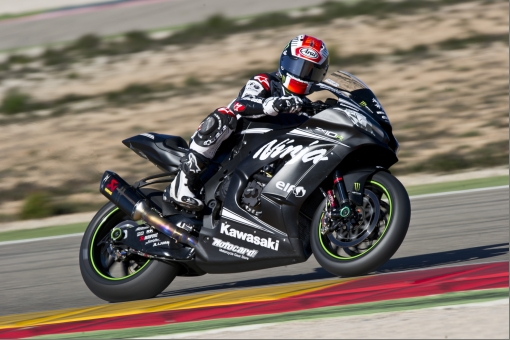 Jonathan Rea completed the final European test of his pre-season preparations at Motorland Aragon today, finding further improvements in the set-up of the new Ninja ZX-10R as the first round of the 2016 season looms over the horizon.
High winds prevented any action for Rea, or indeed team-mate, Tom Sykes,  on day one but the pair made the most of their window of opportunity today to finalise personal choices of machine set-up - and compare the most recent data collected at their previous test at Jerez de ala Frontera last week.
The team staff used the first day at Motorland to build the final spec of the 2016 WorldSBK racing machinery; using materials freshly arrived from KHI in Japan. Jonathan started on track at midday on day two after the track had warmed-up somewhat.
Despite a bout of illness, reigning champion Rea was still on strong form as he finalised settings to his engine's overall character and fine-tuned his suspension.
The European winter test schedule is now complete but there will be an official two-day test for all WorldSBK runners prior to the opening race weekend of the year in Australia. The first day of testing will be Monday 22 February, at the classic Phillip Island circuit.
Jonathan Rea stated: "Today we tried out different spec front forks and rear shocks and we changed the engine character a little bit. The information we gained we can look at over the next week to make sure we arrive at Phillip Island in good shape. We will have two good days on track in Phillip Island, which gives us more time before the races start. I am excited to go there because I have good memories from last year - but it also feels like home. I am just looking forward to putting everything together and having a proper race weekend. That is what we are all working toward so it is an exciting time right now."
Pere Riba, Jonathan Rea's Crew Chief, stated: "The test was positive. We tried two items that we really wanted to test. We collected some new information and we can put that in our pockets and got to PI. We tried some new fork set-ups just to check them and now we are preparing the bike for round one. We are looking forward to going to Phillip Island."