Jonathan Rea Helps Kawasaki Motor Corps USA Celebrate 50 Years At Impressive Dealer Conference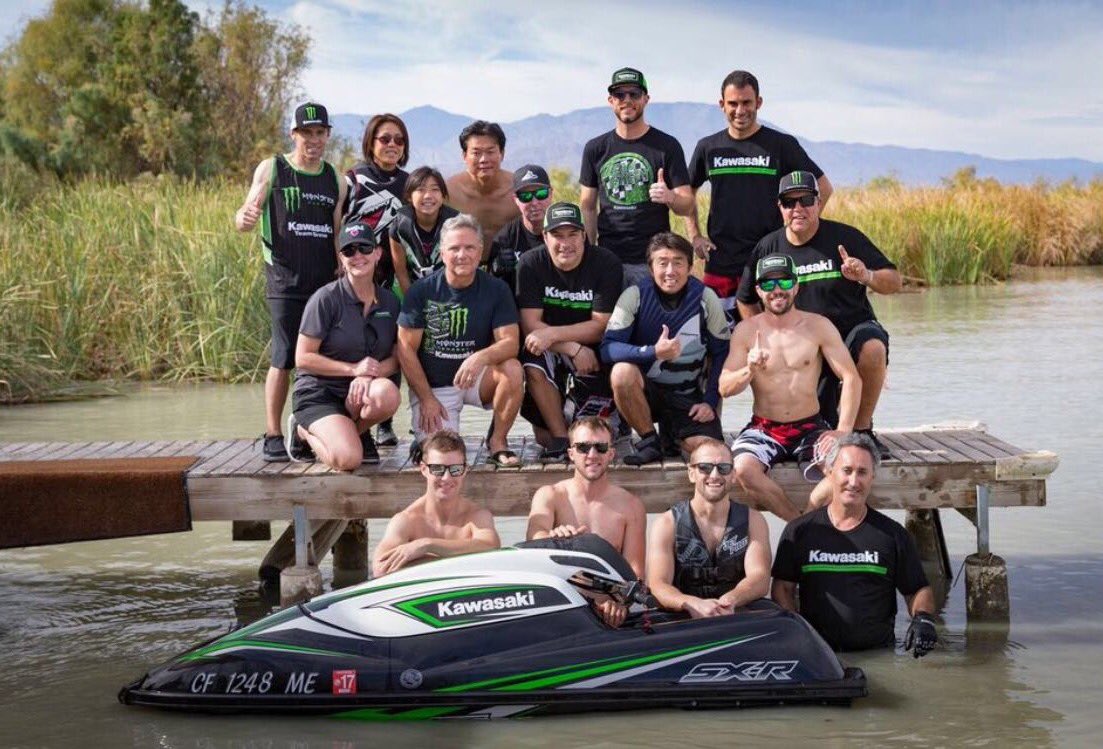 In the immediate aftermath of his 2016 FIM Superbike World Championship victory in Qatar, Jonathan Rea was immersed in promotional activities and visits to motorcycle trade shows in Europe.  There was, however, an important trip to make to California. 
In March 1966 the American Kawasaki Motorcycle Corporation was established with their headquarters in the humble surroundings of an old meat warehouse in Chicago.  They started with practically nothing - no customers, no distributors and no image. But they had something more important - a strong desire to succeed and a promise from the factory to supply the best products.  Bikes were sold under the Kawasaki name alongside a second operation, Eastern Kawasaki Motorcycle Corp. which handled east coast distribution. In 1968, this firm and the original Chicago company merged to form Kawasaki Motors Corp., U.S.A. (KMC) in Southern California.
Fifty years on KMC had invited what was now their current double Superbike World Champion, Jonathan Rea and 2013 Champion and team-mate, Tom Sykes to celebrate their anniversary with them at their largest ever dealer conference in Indian Wells, California.
Over two days JR would meet with dealers and racers from all over the United States including former Kawasaki stars Eddie Lawson and Scott Russell, current Supercross star Eli Tomac as well as WWE legend 'Stone Cold' Steve Austin.
There was also time for a bit of fun with the KRT riders trying out some of the 2017 KMC line up of bikes along with the dealers, as well taking to the water to test the new Jet Ski SX-R.
After a truly memorable weekend Jonathan had to make the long trip back to Europe to start testing the newly released Ninja ZX-10RR race machine in preparation for his 2017 title defence.  
Jonathan stated "It was a really awesome event that KMC put on for their dealers and it was great to be invited.  The dealers have a chance to try out the new range of bikes and we got to ride the KLX140 dirt bikes on a small motocross track with Eli Tomac and a couple of really good young Kawasaki riders, Austin Forkner and Jett Reynolds.  The dealers also tried out the Z125 that the KRT team use as paddock bikes in WorldSBK so we had a bit of fun with them as well.  On the Saturday we went out on the new Jet Ski SX-R which is an incredible machine.  It has a 1500cc engine pumping out 160bhp.  It was my first time on a stand up Jet Ski and it was just awesome.  I think I really need to put one on my Christmas list. I just want to say a big thank you to KMC for looking after us so well.  It was a great event and to meet up with riders like Eddie Lawson, Scott Russell and Eli, as well as 'Stone Cold' was brilliant."