Jonathan Rea Looking To Extend His Championship Lead At Sepang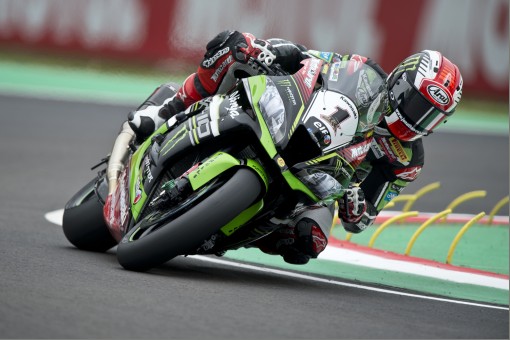 Jonathan Rea will start this weekend's sixth round of the 2016 FIM Superbike World Championship at Sepang in Malaysia with a 35 point lead in the series.  He is hoping to continue his early season form and add to that points total at a circuit where he has good memories.
Last year's races came at a crucial point, in August, where Jonathan could have clinched the 2015 title in his maiden season with the Kawasaki Ninja ZX-10R.  In two intriguing and close fought encounters he claimed a win and a second place finish after a memorable last lap battle with title challenger Chaz Davies (Ducati).  In the end the title celebrations were put on hold until the next round at Jerez where both the rider's and a first ever manufacturer's championship were secured for Rea and Kawasaki.
This season Kawasaki have introduced a new Ninja ZX-10R model and earlier this year Jonathan and team-mate, Tom Sykes, were on hand at the Sepang circuit as the new road machine was presented to the world's media.  This week long event gave Rea the opportunity to complete a number of laps on the showroom version of the new machine to familiarise himself once more with the track layout and also riding in the tropical temperatures experienced in Malaysia.
The Sepang circuit itself has also undergone some changes for 2016.  Over the last few months the 5.543km track has been the subject of a comprehensive re-surfacing programme.  This along with the high temperatures will mean the two free practice sessions on Friday will be crucial for tyre selection and machine set-up for the races which take place at 16:00 (GMT -8) on Saturday and Sunday.
Jonathan Rea stated: "We have some good memories of Sepang from last year. We were able to be really strong, especially when it came to tyre life. So I am exited to go back there. We are still developing new ideas. In race two at Imola, although we had some small issues, we found a lot of positives. I think for Sepang we will have really good information. I have also watched the race from last year a few times. The most exciting part about this weekend is to go somewhere with a lot of heat. Aside from the first two flyaway races the weather has been so inconsistent. I enjoy working in the heat and the consistent temperatures will be better for everybody. That should also make the tyre choice much more straightforward and we can work better on our race set-up. I am just looking forward to working again to help take the new Ninja forward."