Jonathan Rea Racks Up A Double At Misano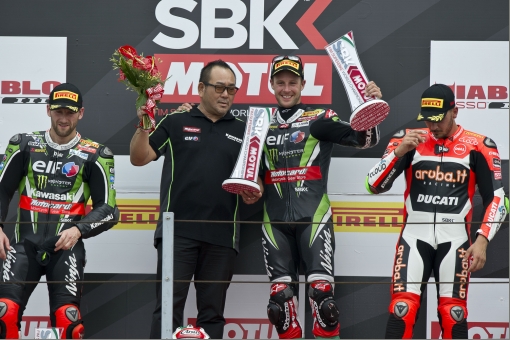 Reigning FIM Superbike World Champion Jonathan Rea came out on top again today in race 2  at Misano. Rea and team-mate Tom Sykes replicated Saturday's race result of Jonathan first and Tom second, albeit in a different kind of race. Rea's latest win puts him 66 points ahead of his official Ninja ZX-10R team-mate in the championship table, with just one more round at Laguna Seca to come before the long summer break begins.
The Kawasaki pairing had the field to themselves almost from the start once again after taking a clear 1-2 on Saturday but this time it was Sykes who did the front running. His lead lasted until lap 17, when Rea put in a pass entering the first corner and held the line on the way out of the chicane.
Rea pushed on to take the win in the 21-lap contest around the 2.226km circuit on Italy's Adriatic coast. This was his seventh win of the year, and the 36th of his career. He remains the fourth most successful WorldSBK rider in history in terms of race wins.
The second race was held in cooler conditions than Saturday's opening event, with Rea making a tyre option change that he later said was an important part of his race two winning strategy - particularly when added to chassis set-up modifications that also helped his Sunday cause.
Rea has now scored seven wins this year, and has a total of 343 points to Sykes' 277. Five rounds and ten individual races remain, starting at Laguna Seca between 8th and 10th July 2016. Before then, the KRT squad will undertake a day of testing at Misano tomorrow, Monday 20th June.
Jonathan Rea, stated: "My pre-race target was achieved so I am super-happy. For many reasons I really wanted to win here and to make it a double is incredible. I love racing here; it is where I had my first career WorldSBK race win. Approaching the mid part of the season I had said many times just how important the next two races would be before the summer break, so to make it count this weekend is really good. Race two was a little bit of a different strategy. I set off so fast yesterday but today we used the 377 rear tyre and I think that made the difference. I want to say big thanks to Pirelli because they also brought the 375 tyre, the one we used in race one for the first time this weekend - and the 377, which we won race two with. That was the same tyre we used in Donington, so it is working in cooler and hotter conditions, which is big credit to them. Also credit to my crew because compared to race one we changed the bike quite a lot and we were able to conserve our tyre a little bit better."
Pole position : Tom Sykes - 1m 34.037 - 161.783 km/h
Fastest lap : Alex Lowes - 1m 35.165 - 159.865 km/h
Circuit record lap : 2015 Jonathan Rea - 1m 34.720 - 160.620 km/h
Circuit Best Lap : 2016 Tom Sykes - 1m 34.037 - 161.780 km/h
Crowd : 65736
Temperature : Air 22°C / Track 38°C
Humidity : 59%
Event results - Round 8 - Race 1
| | | | | | |
| --- | --- | --- | --- | --- | --- |
| 1 | Jonathan Rea | 33m 38.497 - 158.279 km/h | GBR | KAWASAKI | Kawasaki Racing Team |
| 2 | Tom Sykes | 2.963 | GBR | KAWASAKI | Kawasaki Racing Team |
| 3 | Davide Giugliano | 6.356 | ITA | DUCATI | Aruba.it Racing-Ducati Superbike Team |
| 4 | Xavi Fores | 11.691 | ESP | DUCATI | BARNI Racing Team |
| 5 | Lorenzo Savadori | 15.164 | ITA | APRILIA | IodaRacing Team |
| 6 | Nicky Hayden | 15.248 | USA | HONDA | Honda World Superbike Team |
| 7 | Jordi Torres | 15.587 | ESP | BMW | Althea BMW Racing Team |
| 8 | Alex Lowes | 17.276 | GBR | SUZUKI | Voltcom Crescent Suzuki |
| 9 | Niccolo Canepa | 20.082 | ITA | EBR | Team Hero EBR |
| 10 | Michael van der Mark | 23.832 | NED | HONDA | Honda World Superbike Team |
| 11 | Anthony West | 25.004 | AUS | KAWASAKI | Team Pedercini |
| 12 | Roman Ramos | 28.020 | ESP | KAWASAKI | Team Go Eleven |
| 13 | Alex De Angelis | 29.703 | RSM | APRILIA | IodaRacing Team |
| 14 | Joshua Brookes | 40.695 | AUS | BMW | Milwaukee BMW |
| 15 | Karel Abraham | 56.679 | CZE | BMW | Milwaukee BMW |
| 16 | Dominic Schmitter | 1m 03.741 | SUI | KAWASAKI | Grillini SBK Team |
| 17 | Fabio Menghi | 1m 10.624 | ITA | DUCATI | VFT Racing |
| 18 | Peter Sebestyen | 1m 13.063 | HUN | YAMAHA | Team Toth |
| 19 | Saeed Al Sulaiti | 1m 22.765 | QAR | KAWASAKI | Team Pedercini |
| 20 | Pawel Szkopek | 1m 59.149 | POL | YAMAHA | Szkopek POLand Position |
| 21 | Gianluca Vizziello | DNF | ITA | KAWASAKI | Grillini SBK Team |
| 22 | Leon Camier | DNF | GBR | MV AGUSTA | MV Agusta Reparto Corse |
| 23 | Chaz Davies | DNF | GBR | DUCATI | Aruba.it Racing-Ducati Superbike Team |
| 24 | Markus Reiterberber | DNF | GER | BMW | Althea BMW Racing Team |
Championship standings
| | | | | | |
| --- | --- | --- | --- | --- | --- |
| 1 | Jonathan Rea | 343 pts | GBR | KAWASAKI | Kawasaki Racing Team |
| 2 | Tom Sykes | 277 pts | GBR | KAWASAKI | Kawasaki Racing Team |
| 3 | Chaz Davies | 244 pts | GBR | DUCATI | Aruba.it Racing-Ducati Superbike Team |
| 4 | Davide Giugliano | 165 pts | ITA | DUCATI | Aruba.it Racing-Ducati Superbike Team |
| 5 | Michael van der Mark | 163 pts | NED | HONDA | Honda World Superbike Team |
| 6 | Nicky Hayden | 146 pts | USA | HONDA | Honda World Superbike Team |
| 7 | Jordi Torres | 137 pts | ESP | BMW | Althea BMW Racing Team |
| 8 | Leon Camier | 105 pts | GBR | MV AGUSTA | MV Agusta Reparto Corse |
| 9 | Lorenzo Savadori | 96 pts | ITA | APRILIA | IodaRacing Team |
| 10 | Alex Lowes | 81 pts | GBR | SUZUKI | Voltcom Crescent Suzuki |
| 11 | Xavi Fores | 75 pts | ESP | DUCATI | BARNI Racing Team |
| 12 | Markus Reiterberber | 68 pts | GER | BMW | Althea BMW Racing Team |
| 13 | Sylvain Guintoli | 58 pts | FRA | YAMAHA | Pata Yamaha Official WorldSBK Team |
| 14 | Joshua Brookes | 55 pts | AUS | BMW | Milwaukee BMW |
| 15 | Roman Ramos | 53 pts | ESP | KAWASAKI | Team Go Eleven |
| 16 | Alex De Angelis | 49 pts | RSM | APRILIA | IodaRacing Team |
| 17 | Anthony West | 39 pts | AUS | KAWASAKI | Team Pedercini |
| 18 | Karel Abraham | 26 pts | CZE | BMW | Milwaukee BMW |
| 19 | Niccolo Canepa | 16 pts | ITA | EBR | Team Hero EBR |
| 20 | Matteo Baiocco | 12 pts | ITA | DUCATI | VFT Racing |
| 21 | Lucas Mahias | 9 pts | FRA | KAWASAKI | Team Pedercini |
| 22 | Cameron Beaubier | 6 pts | USA | YAMAHA | Pata Yamaha Official WorldSBK Team |
| 23 | Luca Scassa | 3 pts | ITA | DUCATI | VFT Racing |
| 24 | Dominic Schmitter | 2 pts | SUI | KAWASAKI | Grillini SBK Team |
| 25 | Sylvain Barrier | 2 pts | FRA | KAWASAKI | Team Pedercini |
| 26 | Mike Jones | 2 pts | AUS | DUCATI | Desmo Sport Ducati |
| 27 | Josh Hook | 2 pts | AUS | KAWASAKI | Grillini SBK Team |
| 28 | Matthieu Lussiana | 1 pts | FRA | BMW | Team ASPI |
| 29 | Anucha Nakcharoensri | 0 pts | THA | YAMAHA | Yamaha Thailand Racing Team |
| 30 | Sahustchai Kaewjaturapom | 0 pts | THA | KAWASAKI | Grillini SBK Team |
| 31 | Saeed Al Sulaiti | 0 pts | QAR | KAWASAKI | Team Pedercini |
| 32 | Peter Sebestyen | 0 pts | HUN | YAMAHA | Team Toth |
| 33 | Pawel Szkopek | 0 pts | POL | YAMAHA | Szkopek POLand Position |
| 34 | Imre Toth | 0 pts | HUN | YAMAHA | Team Toth |
| 35 | Gianluca Vizziello | 0 pts | ITA | KAWASAKI | Grillini SBK Team |
| 36 | Fabio Menghi | 0 pts | ITA | DUCATI | VFT Racing |