Jonathan Rea Rounds Up His World Championship Winning Season With Kawasaki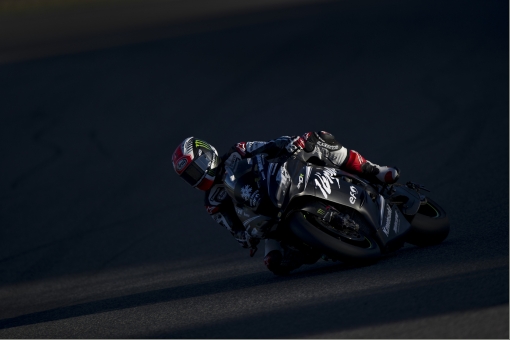 The 2015 FIM Superbike World Championship season has finally come to an end for Jonathan Rea with a series of tests sessions on the new 2016 Kawasaki Ninja ZX-10R along with a round of visits to the largest motorcycle shows in Europe.
It was only a few short weeks after the season's closing race in Qatar when Kawasaki Racing Team took to the track to begin the test and development programme for the new 2016 Ninja ZX-10R.  Rea missed the first test at Motorland Aragon to be at the birth of his second son Tyler.  A week later, however, the newly crowned World Champion was back on track at Jerez for his first taste of the Ninja ZX-10R that he will race next year.
After a break of one week, the team returned to Motorland Aragon for another two day test.  With no time to rest they made the long trip south again to Jerez for a week long test at the Andalucian circuit.
The Kawasaki factory in Japan has forged a performance partnership with Kawasaki Racing Team to develop the new Ninja ZX-10R. The 2016 machine will have many improvements over last years bike and Kawasaki are keen to ensure that both World Champion Rea and his team-mate Tom Sykes are fully prepared for the start of the season next year.
The tests at Motorland Aragon and Jerez brought very positive results for Rea and the team.  WorldSBK tyre supplier, Pirelli, had also introduced a series of new development tyres and the combination of the changes to the bike with the new tyres meant that Jonathan was setting fast times at both Spanish tracks and indeed was faster than the race times and also Superpole times from 2015. 
At Aragon Rea posted a fastest time of 1m 50.3s, almost a full second faster than his race pace from April.  At Jerez the results were even more impressive.  A fastest time of 1m 39.524s was half a second faster than the best ever Superbike lap of the track.  Only team-mate Sykes bettered that time by the slimmest of margins, just over a tenth of a second.
This positive progress has given Jonathan increased confidence for the coming season, especially in the face of a continued strong challenge from Ducati and the introduction of a factory Yamaha team in the paddock for 2016.
Aside from the track testing, the last few weeks have been very busy for Jonathan.  Between the final tests at Aragon and Jerez he flew to Milan to attend the prestigious EICMA motorbike show.  This is possibly the biggest show in Europe and Jonathan had a full day of visits and appearances on sponsors trade stands.  The Italian fans are always very passionate and with Rea being current WorldSBK Champion it added an extra buzz to the thousands of fans who attended the show.
There was no stop after EICMA as it was straight to Jerez de la Frontera for the 2015 FIM Gala . Along with world champions from every discipline of motorcycle racing, Jonathan was presented with his gold medal to go along with his WorldSBK trophy.
The following week-long test in Jerez was only interrupted by a morning filming commercials with Arai and Alpinestars. After 4 full days on track he flew straight to Birmingham in the UK to attend Motorcycle Live at the NEC.  There was also a visit to the Salon de la Moto in Paris.
These public appearances are an important of the work Rea does for Kawasaki to promote their brand and also the new ZX-10R and means thousands of autographs to be signed and selfies taken.  Rea nonetheless enjoys meeting the fans that make motorcycle racing such a passionate sport.
After all the testing, shows and travelling Jonathan now has plans to enjoy time at home in the Isle of Man with his family, and of course new son, Tyler.  Preparations for the 2016 season will not take a back seat however, and he has taken delivery of a new Kawasaki KX-450F to help his on bike training routine.
Testing will begin again in January 2016 before the long trip to Australia where Jonathan will kick off his World Championship title defence at Phillip Island on 28 Febraury.
"At Motorland Aragon we tested engine settings with a little bit different inertia and worked with some weight distribution ideas. We also tried a different rear spring and we confirmed everything was fine. I did some back-to-back comparisons with a new rear tyre that Pirelli had brought. It was like an SC1 family with stronger sidewalls, which gave more stability. We also used the new swing arm we first used in Jerez and we reconfirmed that too."
"All in all I am really happy with how it went after Jerez . We have done lots of race simulations and tests already in November, which for me is unheard of. We managed to use a Q tyre as well, which was really good. It opened my eyes a little bit to where we can improve the set-up of our new bike a bit further. For the rest we have pretty much finalised the main items to test at this stage. The bike seems to be working already as a good base and I am happy to finish the test healthy and enjoy the break until we resume again in January."
"It has been a really busy time over the last month.  Visiting the shows always has a tight schedule but it is great to catch up with all the fans who give us riders incredible support throughout the year.  I am now looking forward to relaxing at home for a few weeks and spending time with my family and my new little boy.  That said I can't wait to get back to it in January."