JR visits Kawasaki Heavy Industries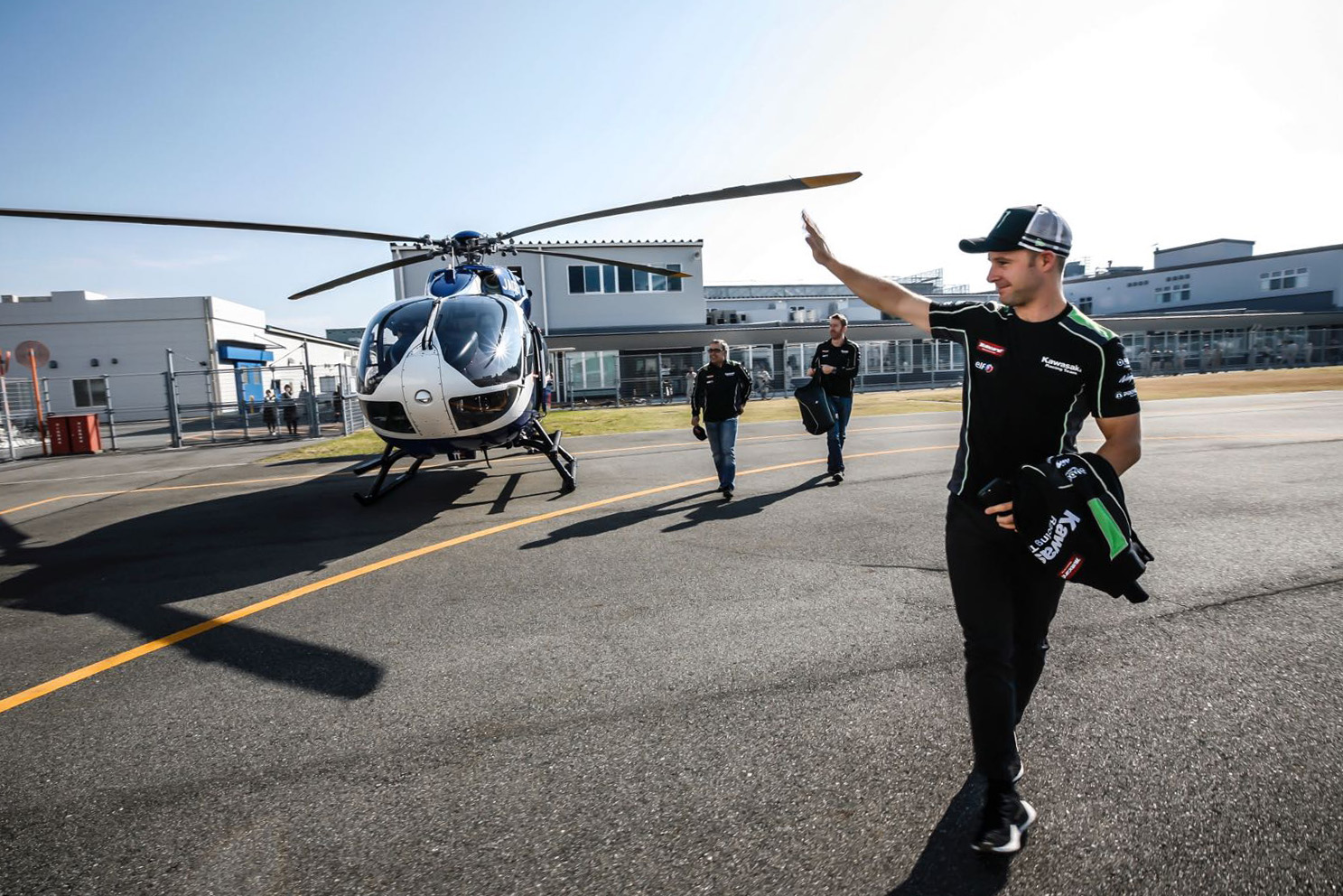 Triple World Superbike Champion Jonathan Rea travelled to Japan to meet with Kawasaki management just days after receiving his FIM gold medal in Andorra, and take part in activities to celebrate an incredible 2017 season. 
Rea was transported from Kansai International Airport to Kawasaki Heavy Industries (KHI) base in Akashi by the Kawasaki BK117 D-2 helicopter and arrived to an incredible welcome by 100's of Kawasaki staff. 
The trip was a perfect mix of business and pleasure. While taking photos and videos for future marketing campaigns, signing and photo sessions with fans, Jonathan also visited the Arima Hot Spring and was able to enjoy some fine Japanese cuisine.
During dinner with Kawasaki Motorcycle management, Jonathan was presented with a Japanese Sword as a gift for his efforts during the 2017 season by Mr Ota, the President of the Motorcycle and Engine Company.
 
Jonathan was then invited to meet the President of Kawasaki Heavy Industries, Mr Kanehana at the Kawasaki headquarters in Kobe, along with Mr Murayama, Chairman of the Board and Mr Ishikawa and Mr Tomida, Senior Executive Vice Presidents.
After the visit to Japan Jonathan made the journey to Thailand to meet with Kawasaki Thailand.
Jonathan commented, "I always enjoy coming to Japan and enjoying our success at the track with all the staff that support our racing program. Right from we landed the trip was incredible, especially the helicopter journey from the airport in the company's own Kawasaki helicopter. I also got the chance to visit the Motorcycle production lines and see all the staff working which was a great experience. As a fan of Japanese food I was treated to many different types of sushi and meats over the two days and relax in a famous hot spring. Getting the chance top meet Kawasaki management and get presented with the sword from Mr Ota was amazing. But I must say, the highlight of the trip was when I heard that the President of KHI, Mr Kanehana, asked to meet me. I was so excited and speaking with him during the event, he told me that he was really happy about our results and that he intends to visit a SBK race next season which was great to hear. I have been overwhelmed by the reception I got, and it further motivates me to keep giving my 100% to be even stronger for next season."
Mr Ota commented  "On behalf of the employees of Kawasaki Heavy Industries, I'd like to express my sincere gratitude for Jonathan's consistent and challenging spirit which resulted in him being crowned as the WorldSBK champion for 3 consecutive years.  His visit to the Akashi factory instilled great pride in all of us.  Being part of producing this champion product will give our employees further motivation to build better products in the future. His kind gesture in taking part in the photo-session with our Kawasaki fans was very heart-warming to see and I'm sure very aspirational for the children attending the event.  Last but not least, never stop dreaming Jonathan and please remember that Kawasaki's challenging spirit will always be with you when you're on the track!"