Podium Place For Rea In Race One At Imol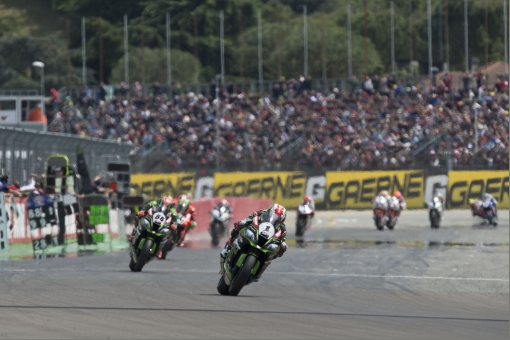 Jonathan Rea finished on the podium once more at Imola today.  The Kawasaki Racing Team rider, and current World Champion, took second place in Race One of Round Five in the FIM Superbike World Championship.  The race was won by Chaz Davies (Ducati) with team-mate Tom Sykes finish in third.
Rea now takes a 40-point championship lead into the second race on Sunday, after a tough but rewarding battle around the undulating circuit in Italy.
At the start Rea and Sykes formed an early top three with eventual race winner Chaz Davies, with Rea continuing to keep pace just behind Davies as he pushed hard while the race developed.
'JR' was forced to drop back as he was experiencing an electronics issue under braking. At one point he ran wide and off track at turn 7, but rejoined, without losing a place, just in front of his chasing team-mate Sykes.  By the chequered flag Rea was a slim 0.323s ahead of Sykes to take second place.
Rea and the Kawasaki Racing Team now have a day to prepare for the second Imola race, which may be held in less favourable weather conditions than the dry first race day. Rea feels there are areas for improvement in machine set-up as he now aims to take top spot in race two.
Jonathan Rea stated: "In the beginning I felt good with Chaz and I managed to close the gap down to him. We have had some issues on the engine brake side and this caused me to run on. It was happening into the fast turn five and it took my confidence a little but. When I made the mistake the gap changed. I am happy with my race because second is good as Chaz was on a different planet this morning. I was just happy to be there in the race at the beginning. I was the best of the rest today and now I'm happy to look forward to tomorrow, as I am sure we can improve the bike setup. I hear some mixed weather forecasts, and that we could have some rain, so I hope we can be prepared for whatever we get."
Pole position : Chaz Davies - 1m 45.598 - 168.276 km/h
Fastest lap : Chaz Davies - 1m 46.700 - 166.538 km/h
Circuit record lap : 2015 Tom Sykes - 1m 46.707 - 166.538 km/h
Circuit Best Lap : 2016 Chaz Davies - 1m 45.598 - 168.280 km/h
Temperature : Air 20°C / Track 32°C
Humidity : 42%
Event results - Round 5 - Race 1
| | | | | | |
| --- | --- | --- | --- | --- | --- |
| 1 | Chaz Davies | 32m 15.999 | GBR | DUCATI | Aruba.it Racing-Ducati Superbike Team |
| 2 | Jonathan Rea | 3.406 | GBR | KAWASAKI | Kawasaki Racing Team |
| 3 | Tom Sykes | 3.729 | GBR | KAWASAKI | Kawasaki Racing Team |
| 4 | Jordi Torres | 13.631 | ESP | BMW | Althea BMW Racing Team |
| 5 | Davide Giugliano | 19.948 | ITA | DUCATI | Aruba.it Racing-Ducati Superbike Team |
| 6 | Leon Camier | 25.586 | GBR | MV AGUSTA | MV Agusta Reparto Corse |
| 7 | Michael van der Mark | 27.262 | NED | HONDA | Honda World Superbike Team |
| 8 | Lorenzo Savadori | 28.300 | ITA | APRILIA | IodaRacing Team |
| 9 | Nicky Hayden | 29.263 | USA | HONDA | Honda World Superbike Team |
| 10 | Xavi Fores | 29.426 | ESP | DUCATI | BARNI Racing Team |
| 11 | Alex Lowes | 29.622 | GBR | SUZUKI | Voltcom Crescent Suzuki |
| 12 | Matteo Baiocco | 30.005 | ITA | DUCATI | VFT Racing |
| 13 | Markus Reiterberber | 34.667 | GER | BMW | Althea BMW Racing Team |
| 14 | Joshua Brookes | 57.050 | AUS | BMW | Milwaukee BMW |
| 15 | Alex De Angelis | 1m 03.267 | RSM | APRILIA | IodaRacing Team |
| 16 | Karel Abraham | 1m 14.668 | CZE | BMW | Milwaukee BMW |
| 17 | Josh Hook | 1m 50.796 | AUS | KAWASAKI | Grillini SBK Team |
| 18 | Pawel Szkopek | 2 Laps | POL | YAMAHA | Szkopek POLand Position |
| 19 | Saeed Al Sulaiti | DNF | QAR | KAWASAKI | Team Pedercini |
| 20 | Dominic Schmitter | DNF | SUI | KAWASAKI | Grillini SBK Team |
| 21 | Peter Sebestyen | DNF | HUN | YAMAHA | Team Toth |
Championship standings
| | | | | | |
| --- | --- | --- | --- | --- | --- |
| 1 | Jonathan Rea | 221 pts | GBR | KAWASAKI | Kawasaki Racing Team |
| 2 | Chaz Davies | 186 pts | GBR | DUCATI | Aruba.it Racing-Ducati Superbike Team |
| 3 | Tom Sykes | 154 pts | GBR | KAWASAKI | Kawasaki Racing Team |
| 4 | Michael van der Mark | 106 pts | NED | HONDA | Honda World Superbike Team |
| 5 | Davide Giugliano | 88 pts | ITA | DUCATI | Aruba.it Racing-Ducati Superbike Team |
| 6 | Jordi Torres | 87 pts | ESP | BMW | Althea BMW Racing Team |
| 7 | Nicky Hayden | 82 pts | USA | HONDA | Honda World Superbike Team |
| 8 | Leon Camier | 60 pts | GBR | MV AGUSTA | MV Agusta Reparto Corse |
| 9 | Lorenzo Savadori | 60 pts | ITA | APRILIA | IodaRacing Team |
| 10 | Alex Lowes | 59 pts | GBR | SUZUKI | Voltcom Crescent Suzuki |
| 11 | Sylvain Guintoli | 58 pts | FRA | YAMAHA | Pata Yamaha Official WorldSBK Team |
| 12 | Xavi Fores | 49 pts | ESP | DUCATI | BARNI Racing Team |
| 13 | Markus Reiterberber | 47 pts | GER | BMW | Althea BMW Racing Team |
| 14 | Roman Ramos | 36 pts | ESP | KAWASAKI | Team Go Eleven |
| 15 | Alex De Angelis | 32 pts | RSM | APRILIA | IodaRacing Team |
| 16 | Joshua Brookes | 30 pts | AUS | BMW | Milwaukee BMW |
| 17 | Karel Abraham | 14 pts | CZE | BMW | Milwaukee BMW |
| 18 | Matteo Baiocco | 12 pts | ITA | DUCATI | VFT Racing |
| 19 | Lucas Mahias | 9 pts | FRA | KAWASAKI | Team Pedercini |
| 20 | Mike Jones | 2 pts | AUS | DUCATI | Desmo Sport Ducati |
| 21 | Sylvain Barrier | 2 pts | FRA | KAWASAKI | Team Pedercini |
| 22 | Dominic Schmitter | 1 pts | SUI | KAWASAKI | Grillini SBK Team |
| 23 | Matthieu Lussiana | 1 pts | FRA | BMW | Team ASPI |
| 24 | Anucha Nakcharoensri | 0 pts | THA | YAMAHA | Yamaha Thailand Racing Team |
| 25 | Sahustchai Kaewjaturapom | 0 pts | THA | KAWASAKI | Grillini SBK Team |
| 26 | Saeed Al Sulaiti | 0 pts | QAR | KAWASAKI | Team Pedercini |
| 27 | Peter Sebestyen | 0 pts | HUN | YAMAHA | Team Toth |
| 28 | Pawel Szkopek | 0 pts | POL | YAMAHA | Szkopek POLand Position |
| 29 | Josh Hook | 0 pts | AUS | KAWASAKI | Grillini SBK Team |
| 30 | Imre Toth | 0 pts | HUN | YAMAHA | Team Toth |