Rea And New Ninja ZX-10R Win First Race Of 2016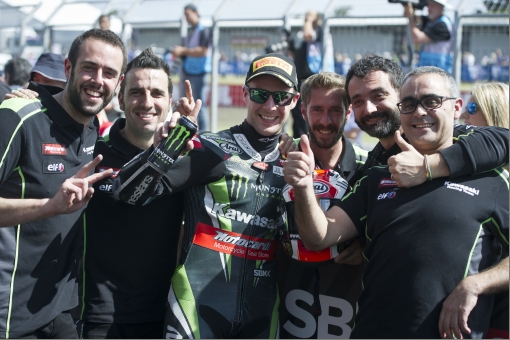 Official KRT rider Jonathan Rea took a thrilling victory in the 22-lap Saturday race in round one of the FIM Superbike World Championship on the all-new Ninja ZX-10R at Phillip Island today.  Rea edged out a close challenge from Chaz Davies (Ducati) in the final lap with Michael Van Der Mark (Honda) completing the podium places.  Team-mate Tom Sykes finished close behind in fifth place.
In Superpole 2, held a few hours earlier, Sykes had qualified on pole with Rea in third place.  The Kawasaki pairing did the early running up front, with Rea then Sykes and then Rea again leading every one of the 22 laps. With up to nine riders forming one leading group and podium challengers all around right to the end the pressure was intense throughout, with Rea finally winning by resisting the late challenge of Davies.
'JR' was passed for a short time after Davies had went inside at the MG hairpin. Jonathan chose the best exit line to ensure Davies could not stay in front at the exit of the corner and won by 0.063 seconds. This was his 30th career win in this category.
The second race of the weekend will take place at 3pm local time in Australia on Sunday 28th.
Jonathan Rea stated: "We expected to be strong because I am so lucky with Pere and my guys. I put all my trust in them, we made a strategy for the winter tests in November and it is clear that it worked. To be strong in the race, to control the race from the front at this track, is so difficult. I had a look every lap on the big screen at MG and I could see the size of the group at the front. It eventually dropped to four guys and in the end three. I put my head down with six laps to go and upped the pace but it was still '+0' on my pit board. Then with three to go I made another push and Chaz was still there. I knew the only way to win the race was to close the door at MG, but he blew it completely wide open! I managed to stop the bike and fire it out. It was not a very pretty last sector but we won the race and have 25 points. I am really happy because all our work paid off."
Pole position : Tom Sykes - 1m 30.020 - 177.760 km/h
Fastest lap : Davide Giugliano - 1m 33.445 - 174.990 km/h
Circuit record lap : 2014 - Chaz Davies - 1m 30.949 km/h
Circuit Best Lap : 2016 - Tom Sykes - 1m 30.020 - 177.760 km/h
Temperature : Air 22°C / Track 36°C
Humidity : 68% 
Event results - Round 1 - Race 1
| | | | | | |
| --- | --- | --- | --- | --- | --- |
| 1 | Jonathan Rea | 33m 47.823 | GBR | KAWASAKI | Kawasaki Racing Team |
| 2 | Chaz Davies | 0.063 | GBR | DUCATI | Aruba.it Racing-Ducati Superbike Team |
| 3 | Michael van der Mark | 0.487 | NED | HONDA | Honda World Superbike Team |
| 4 | Davide Giugliano | 0.647 | ITA | DUCATI | Aruba.it Racing-Ducati Superbike Team |
| 5 | Tom Sykes | 3.429 | GBR | KAWASAKI | Kawasaki Racing Team |
| 6 | Sylvain Guintoli | 3.510 | FRA | YAMAHA | Pata Yamaha Official WorldSBK Team |
| 7 | Leon Camier | 10.721 | GBR | MV AGUSTA | MV Agusta Reparto Corse |
| 8 | Jordi Torres | 11.539 | ESP | BMW | Althea BMW Racing Team |
| 9 | Nicky Hayden | 15.534 | USA | HONDA | Honda World Superbike Team |
| 10 | Joshua Brookes | 23.239 | AUS | BMW | Milwaukee BMW |
| 11 | Roman Ramos | 23.411 | ESP | KAWASAKI | Team Go Eleven |
| 13 | Karel Abraham | 37.281 | CZE | BMW | Milwaukee BMW |
| 14 | Mike Jones | 44.720 | AUS | DUCATI | Desmo Sport Ducati |
| 15 | Sylvain Barrier | 46.357 | FRA | KAWASAKI | Team Pedercini |
| 16 | Dominic Schmitter | 1m 08.238 | SUI | KAWASAKI | Grillini SBK Team |
| 17 | Saeed Al Sulaiti | 1m 08.299 | QAR | KAWASAKI | Team Pedercini |
| 18 | Peter Sebestyen | 1m 30.771 | HUN | YAMAHA | Team Toth |
| 19 | Imre Toth | 1 Lap | HUN | YAMAHA | Team Toth |
| 20 | Markus Reiterberber | DNF | GER | BMW | Althea BMW Racing Team |
| 21 | Alex Lowes | DNF | GBR | SUZUKI | Voltcom Crescent Suzuki |
| 22 | Xavi Fores | DNF | ESP | DUCATI | BARNI Racing Team |
| 23 | Alex De Angelis | DNF | RSM | APRILIA | IodaRacing Team |
Championship standings
| | | | | | |
| --- | --- | --- | --- | --- | --- |
| 1 | Jonathan Rea | 50 pts | GBR | KAWASAKI | Kawasaki Racing Team |
| 2 | Michael van der Mark | 36 pts | NED | HONDA | Honda World Superbike Team |
| 3 | Davide Giugliano | 29 pts | ITA | DUCATI | Aruba.it Racing-Ducati Superbike Team |
| 4 | Chaz Davies | 26 pts | GBR | DUCATI | Aruba.it Racing-Ducati Superbike Team |
| 5 | Sylvain Guintoli | 21 pts | FRA | YAMAHA | Pata Yamaha Official WorldSBK Team |
| 6 | Tom Sykes | 21 pts | GBR | KAWASAKI | Kawasaki Racing Team |
| 7 | Nicky Hayden | 20 pts | USA | HONDA | Honda World Superbike Team |
| 8 | Jordi Torres | 17 pts | ESP | BMW | Althea BMW Racing Team |
| 9 | Joshua Brookes | 13 pts | AUS | BMW | Milwaukee BMW |
| 10 | Leon Camier | 9 pts | GBR | MV AGUSTA | MV Agusta Reparto Corse |
| 11 | Roman Ramos | 9 pts | ESP | KAWASAKI | Team Go Eleven |
| 12 | Karel Abraham | 8 pts | CZE | BMW | Milwaukee BMW |
| 13 | Markus Reiterberber | 8 pts | GER | BMW | Althea BMW Racing Team |
| 14 | Alex De Angelis | 3 pts | RSM | APRILIA | IodaRacing Team |
| 15 | Alex Lowes | 2 pts | GBR | SUZUKI | Voltcom Crescent Suzuki |
| 16 | Sylvain Barrier | 2 pts | FRA | KAWASAKI | Team Pedercini |
| 17 | Mike Jones | 2 pts | AUS | DUCATI | Desmo Sport Ducati |
| 18 | Dominic Schmitter | 0 pts | SUI | KAWASAKI | Grillini SBK Team |
| 19 | Saeed Al Sulaiti | 0 pts | QAR | KAWASAKI | Team Pedercini |
| 20 | Peter Sebestyen | 0 pts | HUN | YAMAHA | Team Toth |
| 21 | Imre Toth | 0 pts | HUN | YAMAHA | Team Toth |