Rea Makes It A Hat Trick Of Victories In Thailand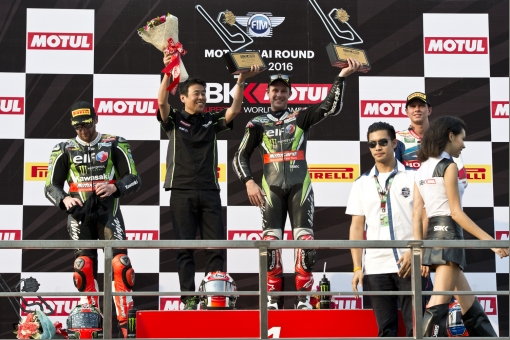 Jonathan Rea took victory today at a warm and humid Chang International Circuit in Buriram, Thailand, making it three wins from three races at the beginning of the 2016 FIM World Superbike Championship.  Rea took victory from Kawasaki team-mate Tom Sykes by a slim 0.222 seconds with pole-sitter, Michael van der Mark (Honda) finishing in third place.
With high air temperatures of 34°C during the race at the 4.554km long circuit it proved physically hard work for all, but it was the KRT pairing who held the advantage after all the laps had been completed.  Rea had led off the line but was passed by Sykes early in the race.  With a few laps remaining Rea managed to take back the lead and held on by the slimmest of margins to continue the perfect start to his title defence.
Despite the slippery track surface in some areas, causing the riders to take unusual lines at those points, Rea's race time was better than his equivalent 2015 season win. He set the fastest lap of the race on lap 14, as he chased down Sykes.
Both Kawasaki riders feel that there are even more improvements to come from their Ninja ZX-10R machines over race distance for race two tomorrow.  The race will take place at the same time 16:00 (GMT +7).
Jonathan Rea stated: "The pace was fast; I did not expect it to be so fast as all weekend we have been slower than last year. So it was a good, fast race. I put my head down and with four laps to go I got a small gap of about 0.7 or 0.8 seconds on Tom. On the final laps I got caught out in the first turn by another rider but it was not so much. I had done all my work by then as I had completely emptied my tank with about four laps to go to try and get away. I am a little bit tired now because I went full gas in those last four laps. We were able to capitalise on that work and I feel like I rode for a stronger win than I have had for a long time. Tomorrow, I expect my bike set-up will be much stronger."
Pole position : Michael van der Mark - 1m 33.452 - 175.431 km/h
Fastest lap : Jonathan Rea - 1m 33.936 - 174.527 km/h
Circuit record lap : 2015 Jonathan Rea - 1m 33.817 - 174.750 km/h
Circuit Best Lap : 2015 Jonathan Rea - 1m 33.382 - 175.560 km/h
Temperature : Air 34°C / Track 42°C
Humidity : 51% 
Event results - Round 2 - Race 1
| | | | | | |
| --- | --- | --- | --- | --- | --- |
| 1 | Jonathan Rea | 31m 32.311 | GBR | KAWASAKI | Kawasaki Racing Team |
| 2 | Tom Sykes | 0.222 | GBR | KAWASAKI | Kawasaki Racing Team |
| 3 | Michael van der Mark | 9.623 | NED | HONDA | Honda World Superbike Team |
| 4 | Chaz Davies | 17.167 | GBR | DUCATI | Aruba.it Racing-Ducati Superbike Team |
| 5 | Markus Reiterberber | 18.894 | GER | BMW | Althea BMW Racing Team |
| 6 | Alex Lowes | 20.754 | GBR | SUZUKI | Voltcom Crescent Suzuki |
| 7 | Sylvain Guintoli | 24.211 | FRA | YAMAHA | Pata Yamaha Official WorldSBK Team |
| 8 | Jordi Torres | 31.064 | ESP | BMW | Althea BMW Racing Team |
| 9 | Alex De Angelis | 34.348 | RSM | APRILIA | IodaRacing Team |
| 10 | Lorenzo Savadori | 34.479 | ITA | APRILIA | IodaRacing Team |
| 11 | Leon Camier | 37.013 | GBR | MV AGUSTA | MV Agusta Reparto Corse |
| 12 | Roman Ramos | 41.113 | ESP | KAWASAKI | Team Go Eleven |
| 13 | Matteo Baiocco | 44.369 | ITA | DUCATI | VFT Racing |
| 14 | Xavi Fores | 45.053 | ESP | DUCATI | BARNI Racing Team |
| 15 | Joshua Brookes | 51.939 | AUS | BMW | Milwaukee BMW |
| 16 | Sylvain Barrier | 54.314 | FRA | KAWASAKI | Team Pedercini |
| 17 | Saeed Al Sulaiti | 1m 06.541 | QAR | KAWASAKI | Team Pedercini |
| 18 | Davide Giugliano | 1m 09.530 | ITA | DUCATI | Aruba.it Racing-Ducati Superbike Team |
| 19 | Dominic Schmitter | 1m 40.904 | SUI | KAWASAKI | Grillini SBK Team |
| 20 | Peter Sebestyen | 1 Lap | HUN | YAMAHA | Team Toth |
| 21 | Sahustchai Kaewjaturapom | 1 Lap | THA | KAWASAKI | Grillini SBK Team |
| 22 | Imre Toth | 1 Lap | HUN | YAMAHA | Team Toth |
| 23 | Anucha Nakcharoensri | 3 Laps | THA | YAMAHA | Yamaha Thailand Racing Team |
| 24 | Karel Abraham | DNF | CZE | BMW | Milwaukee BMW |
| 25 | Nicky Hayden | DNF | USA | HONDA | Honda World Superbike Team |
Championship standings
| | | | | | |
| --- | --- | --- | --- | --- | --- |
| 1 | Jonathan Rea | 95 pts | GBR | KAWASAKI | Kawasaki Racing Team |
| 2 | Tom Sykes | 66 pts | GBR | KAWASAKI | Kawasaki Racing Team |
| 3 | Michael van der Mark | 65 pts | NED | HONDA | Honda World Superbike Team |
| 4 | Chaz Davies | 55 pts | GBR | DUCATI | Aruba.it Racing-Ducati Superbike Team |
| 5 | Sylvain Guintoli | 40 pts | FRA | YAMAHA | Pata Yamaha Official WorldSBK Team |
| 6 | Davide Giugliano | 35 pts | ITA | DUCATI | Aruba.it Racing-Ducati Superbike Team |
| 7 | Jordi Torres | 33 pts | ESP | BMW | Althea BMW Racing Team |
| 8 | Nicky Hayden | 31 pts | USA | HONDA | Honda World Superbike Team |
| 9 | Markus Reiterberber | 28 pts | GER | BMW | Althea BMW Racing Team |
| 10 | Leon Camier | 19 pts | GBR | MV AGUSTA | MV Agusta Reparto Corse |
| 11 | Roman Ramos | 17 pts | ESP | KAWASAKI | Team Go Eleven |
| 12 | Joshua Brookes | 14 pts | AUS | BMW | Milwaukee BMW |
| 13 | Lorenzo Savadori | 13 pts | ITA | APRILIA | IodaRacing Team |
| 14 | Alex De Angelis | 12 pts | RSM | APRILIA | IodaRacing Team |
| 15 | Alex Lowes | 12 pts | GBR | SUZUKI | Voltcom Crescent Suzuki |
| 16 | Karel Abraham | 9 pts | CZE | BMW | Milwaukee BMW |
| 17 | Matteo Baiocco | 6 pts | ITA | DUCATI | VFT Racing |
| 18 | Mike Jones | 2 pts | AUS | DUCATI | Desmo Sport Ducati |
| 19 | Xavi Fores | 2 pts | ESP | DUCATI | BARNI Racing Team |
| 20 | Sylvain Barrier | 2 pts | FRA | KAWASAKI | Team Pedercini |
| 21 | Anucha Nakcharoensri | 0 pts | THA | YAMAHA | Yamaha Thailand Racing Team |
| 22 | Sahustchai Kaewjaturapom | 0 pts | THA | KAWASAKI | Grillini SBK Team |
| 23 | Saeed Al Sulaiti | 0 pts | QAR | KAWASAKI | Team Pedercini |
| 24 | Peter Sebestyen | 0 pts | HUN | YAMAHA | Team Toth |
| 25 | Imre Toth | 0 pts | HUN | YAMAHA | Team Toth |
| 26 | Dominic Schmitter | 0 pts | SUI | KAWASAKI | Grillini SBK Team |