Rea Scores A Sensational Double On The New Ninja ZX-10R At Phillip Island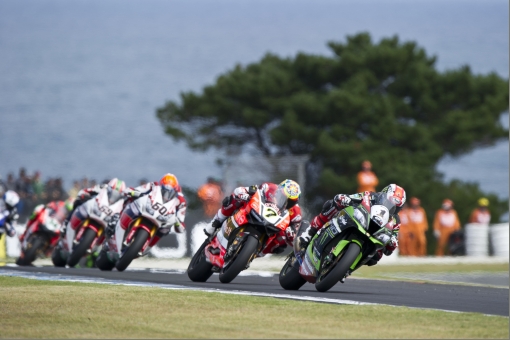 Jonathan Rea steered his Ninja ZX-10R to a second win of the weekend in the first round of the 2016 FIM Superbike World Championship at Phillip Island.  It was a dream start to the season for the current World Champion on board the all new Kawasaki machine and his perfect score means he leads the championship by 14 points.
Second place in the race went to Michael van der Mark (Honda) with Davide Giugliano (Ducati) taking up the final podium place.  Team-mate Tom Sykes had led the race at the start but eventually came home in sixth.
From their front row starting positions both KRT riders made a good start.  Sykes led for ten laps of the 22-lap race but two incidents pushed him back whilst Rea was locked in a battle with VD Mark and Ducati's Chaz Davies.  Rea took over the lead in the final laps, winning the race by an eventual 0.831 seconds after Davies had fallen while trying to pass on turn four. Rea made his escape count as Davies restarted to finish tenth, and the Kawasaki rider scored a second win of the opening weekend.
The second round of the new season will take place in Buriram, Thailand, between the 11th and 13th of March.
Jonathan Rea stated: "It is incredible. We had two really composed races this weekend. I just did my thing and was very patient in both races at the beginning. Today I knew that Chaz would make a move again, a copybook story from yesterday, but he came through when there was no space, went completely wide and, unfortunate for him, he made a mistake. The set-up changes we made between yesterday and today means the team gave me a bike that was quite easy to ride and I was more ready for attacks. Not just in T4 but in many areas. I thank my team for that. We played the strategy game here in Phillip Island and it really paid off. I feel that we are working at around 85-90% of the potential of the machine and I am really proud to give Kawasaki these two wins on the new bike."
Pole position : Tom Sykes - 1m 30.020 - 177.760 km/h
Fastest lap : Chaz Davies - 1m 31.321 - 175.228 km/h
Circuit record lap : 2014 - Chaz Davies - 1m 30.949 km/h
Circuit Best Lap : 2016 - Tom Sykes - 1m 30.020 - 177.760 km/h
Crowd : 61000
Temperature : Air 22°C / Track 41°C
Humidity : 66% 
Event results - Round 1 - Race 1
| | | | | | |
| --- | --- | --- | --- | --- | --- |
| 1 | Jonathan Rea | 33m 48.377 | GBR | KAWASAKI | Kawasaki Racing Team |
| 2 | Michael van der Mark | 0.831 | NED | HONDA | Honda World Superbike Team |
| 3 | Davide Giugliano | 1.472 | ITA | DUCATI | Aruba.it Racing-Ducati Superbike Team |
| 4 | Nicky Hayden | 1.511 | USA | HONDA | Honda World Superbike Team |
| 5 | Sylvain Guintoli | 2.439 | FRA | YAMAHA | Pata Yamaha Official WorldSBK Team |
| 6 | Tom Sykes | 3.320 | GBR | KAWASAKI | Kawasaki Racing Team |
| 7 | Jordi Torres | 13.744 | ESP | BMW | Althea BMW Racing Team |
| 8 | Markus Reiterberber | 15.084 | GER | BMW | Althea BMW Racing Team |
| 9 | Joshua Brookes | 15.106 | AUS | BMW | Milwaukee BMW |
| 10 | Chaz Davies | 16.276 | GBR | DUCATI | Aruba.it Racing-Ducati Superbike Team |
| 11 | Karel Abraham | 30.147 | CZE | BMW | Milwaukee BMW |
| 12 | Roman Ramos | 30.251 | ESP | KAWASAKI | Team Go Eleven |
| 13 | Alex De Angelis | 30.437 | RSM | APRILIA | IodaRacing Team |
| 14 | Alex Lowes | 39.946 | GBR | SUZUKI | Voltcom Crescent Suzuki |
| 15 | Sylvain Barrier | 53.515 | FRA | KAWASAKI | Team Pedercini |
| 16 | Dominic Schmitter | 58.450 | SUI | KAWASAKI | Grillini SBK Team |
| 17 | Saeed Al Sulaiti | 1m 01.836 | QAR | KAWASAKI | Team Pedercini |
| 18 | Peter Sebestyen | 1m 30.672 | HUN | YAMAHA | Team Toth |
| 19 | Imre Toth | 1 Lap | HUN | YAMAHA | Team Toth |
| 20 | Mike Jones | DNF | AUS | DUCATI | Desmo Sport Ducati |
| 21 | Leon Camier | DNF | GBR | MV AGUSTA | MV Agusta Reparto Corse |
| 22 | Lorenzo Savadori | DNF | ITA | APRILIA | IodaRacing Team |
Championship standings
| | | | | | |
| --- | --- | --- | --- | --- | --- |
| 1 | Jonathan Rea | 50 pts | GBR | KAWASAKI | Kawasaki Racing Team |
| 2 | Michael van der Mark | 36 pts | NED | HONDA | Honda World Superbike Team |
| 3 | Davide Giugliano | 29 pts | ITA | DUCATI | Aruba.it Racing-Ducati Superbike Team |
| 4 | Chaz Davies | 26 pts | GBR | DUCATI | Aruba.it Racing-Ducati Superbike Team |
| 5 | Sylvain Guintoli | 21 pts | FRA | YAMAHA | Pata Yamaha Official WorldSBK Team |
| 6 | Tom Sykes | 21 pts | GBR | KAWASAKI | Kawasaki Racing Team |
| 7 | Nicky Hayden | 20 pts | USA | HONDA | Honda World Superbike Team |
| 8 | Jordi Torres | 17 pts | ESP | BMW | Althea BMW Racing Team |
| 9 | Joshua Brookes | 13 pts | AUS | BMW | Milwaukee BMW |
| 10 | Leon Camier | 9 pts | GBR | MV AGUSTA | MV Agusta Reparto Corse |
| 11 | Roman Ramos | 9 pts | ESP | KAWASAKI | Team Go Eleven |
| 12 | Karel Abraham | 8 pts | CZE | BMW | Milwaukee BMW |
| 13 | Markus Reiterberber | 8 pts | GER | BMW | Althea BMW Racing Team |
| 14 | Alex De Angelis | 3 pts | RSM | APRILIA | IodaRacing Team |
| 15 | Alex Lowes | 2 pts | GBR | SUZUKI | Voltcom Crescent Suzuki |
| 16 | Sylvain Barrier | 2 pts | FRA | KAWASAKI | Team Pedercini |
| 17 | Mike Jones | 2 pts | AUS | DUCATI | Desmo Sport Ducati |
| 18 | Dominic Schmitter | 0 pts | SUI | KAWASAKI | Grillini SBK Team |
| 19 | Saeed Al Sulaiti | 0 pts | QAR | KAWASAKI | Team Pedercini |
| 20 | Peter Sebestyen | 0 pts | HUN | YAMAHA | Team Toth |
| 21 | Imre Toth | 0 pts | HUN | YAMAHA | Team Toth |