Rea Secures First Laguna Seca Victory.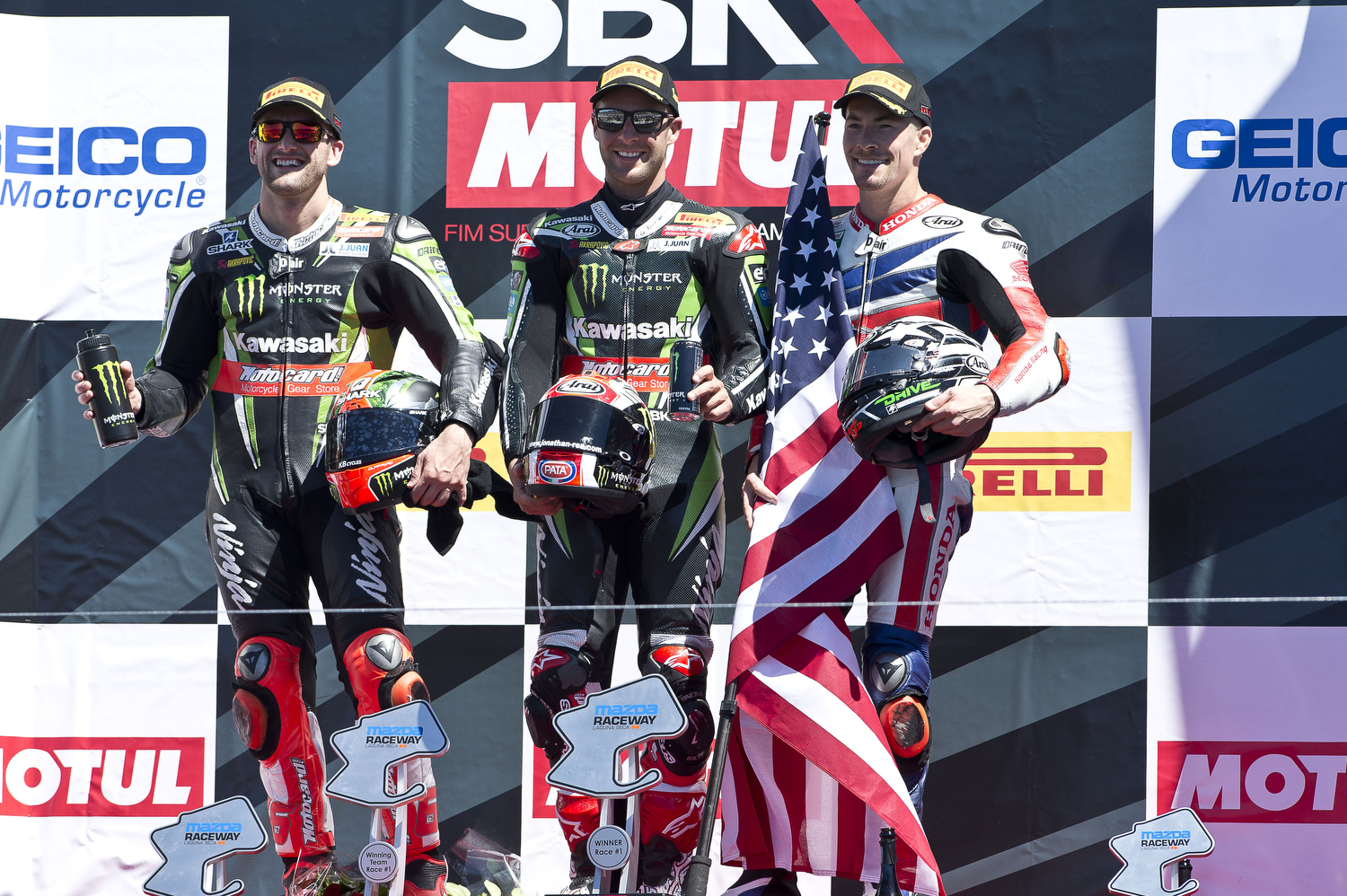 The first 25-lap FIM Superbike World Championship race of the Laguna Seca weekend was finally contested between eventual winner Jonathan Rea and his KRT team-mate Tom Sykes. Each had led the race on two occasions, with Rea upping his pace enough at the end to finish 0.819 seconds ahead Sykes. This was Rea's first race win at the 3.610km long American venue.
From the start of the race action was close and combative between Rea, Sykes and the Ducati pairing of Chaz Davies and Davide Giugliano. Overtakes were put in between the leading quartet at the largely one-line circuit but soon after Chaz Davies had taken over the lead from Rea and Sykes he fell and was unable to restart.
When the shadowing figure of Davide Giugliano also fell from third place the fight was on between Jonathan and Tom for the victory. Rea eased out his lead after re-passing Sykes with five laps to go. Pushing on in the dry but windy conditions, Jonathan recorded his eighth win of the season and the 37th of his career. His latest victory kept his 100% podium finishing record intact in the best possible way.
With Sykes close behind him at the flag Rea still extended his championship lead over his team-mate to 71 points - 368 to 297 - with one more race to come on Sunday at Laguna, before the start of the long summer break.
Jonathan Rea, stated: "I am super happy to have won here and now that we have had 25 laps on the bike in race conditions we have good information for tomorrow, to try and improve again. I am happy with the result but it was, honestly, not my most beautiful race because I made quite a lot of mistakes. I am sure when I watch it back I will be quite upset with myself but the most important thing is the 25 points for winning. That is good for everything - for the morale of the team and the championship. We have one more race tomorrow and it will be important to do a good job then before the start of the eight week summer break."