Rea Takes Another Double Win At Assen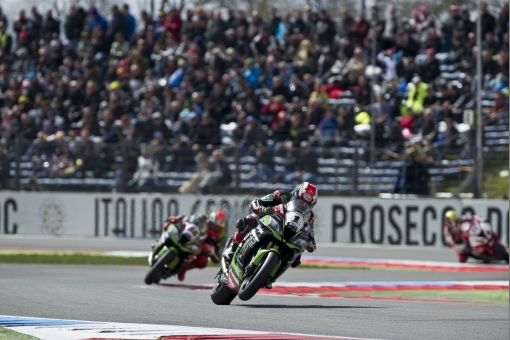 Jonathan Rea took another victory today in the second 21-lap FIM World Superbike Championship race at Assen, making it a consecutive double win with the Ninja ZX-10R at the Dutch circuit.  In a race that started wet, Rea and his Kawasaki team chose the perfect strategy and, after making a pit stop to change tyres, he led the field home with team-mate Tom Sykes second and Michael Van Der Mark (Honda) in third.
At the start of the race, in fully wet track conditions, Sykes took the lead from his pole position grid placing with Rea running in fifth place after the first lap.  With riders adapting to the drying track conditions Rea briefly led the race on lap eight before entering the pits for a tyre change.  That put him down to 14th place but over the next few laps, as the grip levels improved and most of the riders ahead pitted to change tyres Rea rapidly moved through the field.
With Sykes closing in, Rea took over the lead of the race on lap 14.  However, his team-mate had made a different tyre choice and in the end Rea took victory by 2.442 seconds.  This was his second double race win and fifth of the season so far, extending his Championship lead to 45 points over closest rival, Chaz Davies (Duacti), who finished fifth today.
The series now moves to another happy hunting ground for Jonathan at Imola in Italy, over the weekend of 29th April – 1st May.  
Jonathan Rea stated: "Our target this weekend was to increase our championship lead and we did that. I said to Pere my crew chief before the start of the race that the track should dry out pretty fast. We have had previous experiences like that. I have no idea why I go so well at Assen. It is nothing to do with the track itself. We got a double victory but it was not like Australia where I had more pace than the rest. We controlled the situations this weekend when we had to, we were calm and clever when we had to be, and as a team our strength shone through to get two strong results. We got the maximum from what we could achieve here so I am super, super, happy with that. Our stars aligned this weekend and it worked out, so I am just happy."
Pole position : Tom Sykes - 1m 35.440 - 171.324 km/h
Fastest lap : Jonathan Rea - 1m 37.706 - 167.351 km/h
Circuit record lap : 2015 Jonathan Rea - 1m 35.889 170.520 km/h
Circuit Best Lap : 2014 Loris Baz - 1m 34.357 173.290 km/h
Crowd : 50,437
Temperature : Air 9°C / Track 16°C
Humidity : 70%
Event results - Round 4 - Race 1
| | | | | | |
| --- | --- | --- | --- | --- | --- |
| 1 | Jonathan Rea | 38m 02.779 | GBR | KAWASAKI | Kawasaki Racing Team |
| 2 | Tom Sykes | 2.442 | GBR | KAWASAKI | Kawasaki Racing Team |
| 3 | Michael van der Mark | 15.189 | NED | HONDA | Honda World Superbike Team |
| 4 | Lorenzo Savadori | 25.507 | ITA | APRILIA | IodaRacing Team |
| 5 | Chaz Davies | 30.853 | GBR | DUCATI | Aruba.it Racing-Ducati Superbike Team |
| 6 | Nicky Hayden | 36.458 | USA | HONDA | Honda World Superbike Team |
| 7 | Alex Lowes | 39.263 | GBR | SUZUKI | Voltcom Crescent Suzuki |
| 8 | Davide Giugliano | 46.789 | ITA | DUCATI | Aruba.it Racing-Ducati Superbike Team |
| 9 | Leon Camier | 1m 05.023 | GBR | MV AGUSTA | MV Agusta Reparto Corse |
| 10 | Xavi Fores | 1m 05.468 | ESP | DUCATI | BARNI Racing Team |
| 11 | Sylvain Guintoli | 1m 24.948 | FRA | YAMAHA | Pata Yamaha Official WorldSBK Team |
| 12 | Roman Ramos | 1m 35.035 | ESP | KAWASAKI | Team Go Eleven |
| 13 | Lucas Mahias | 1 Lap | FRA | KAWASAKI | Team Pedercini |
| 14 | Karel Abraham | 1 Lap | CZE | BMW | Milwaukee BMW |
| 15 | Jordi Torres | 1 Lap | ESP | BMW | Althea BMW Racing Team |
| 16 | Markus Reiterberber | 1 Lap | GER | BMW | Althea BMW Racing Team |
| 17 | Matthieu Lussiana | 1 Lap | FRA | BMW | Team ASPI |
| 18 | Pawel Szkopek | 1 Lap | POL | YAMAHA | Szkopek POLand Position |
| 19 | Peter Sebestyen | 2 Laps | HUN | YAMAHA | Team Toth |
| 20 | Dominic Schmitter | 2 Laps | SUI | KAWASAKI | Grillini SBK Team |
| 21 | Joshua Brookes | DNF | AUS | BMW | Milwaukee BMW |
| 22 | Matteo Baiocco | DNF | ITA | DUCATI | VFT Racing |
| 23 | Josh Hook | DNF | AUS | KAWASAKI | Grillini SBK Team |
Championship standings
| | | | | | |
| --- | --- | --- | --- | --- | --- |
| 1 | Jonathan Rea | 181 pts | GBR | KAWASAKI | Kawasaki Racing Team |
| 2 | Chaz Davies | 136 pts | GBR | DUCATI | Aruba.it Racing-Ducati Superbike Team |
| 3 | Tom Sykes | 122 pts | GBR | KAWASAKI | Kawasaki Racing Team |
| 4 | Michael van der Mark | 90 pts | NED | HONDA | Honda World Superbike Team |
| 5 | Nicky Hayden | 67 pts | USA | HONDA | Honda World Superbike Team |
| 6 | Jordi Torres | 65 pts | ESP | BMW | Althea BMW Racing Team |
| 7 | Davide Giugliano | 64 pts | ITA | DUCATI | Aruba.it Racing-Ducati Superbike Team |
| 8 | Sylvain Guintoli | 58 pts | FRA | YAMAHA | Pata Yamaha Official WorldSBK Team |
| 9 | Lorenzo Savadori | 47 pts | ITA | APRILIA | IodaRacing Team |
| 10 | Alex Lowes | 44 pts | GBR | SUZUKI | Voltcom Crescent Suzuki |
| 11 | Markus Reiterberber | 40 pts | GER | BMW | Althea BMW Racing Team |
| 12 | Leon Camier | 39 pts | GBR | MV AGUSTA | MV Agusta Reparto Corse |
| 13 | Xavi Fores | 37 pts | ESP | DUCATI | BARNI Racing Team |
| 14 | Roman Ramos | 36 pts | ESP | KAWASAKI | Team Go Eleven |
| 15 | Alex De Angelis | 29 pts | RSM | APRILIA | IodaRacing Team |
| 16 | Joshua Brookes | 25 pts | AUS | BMW | Milwaukee BMW |
| 17 | Karel Abraham | 14 pts | CZE | BMW | Milwaukee BMW |
| 18 | Lucas Mahias | 9 pts | FRA | KAWASAKI | Team Pedercini |
| 19 | Matteo Baiocco | 8 pts | ITA | DUCATI | VFT Racing |
| 20 | Mike Jones | 2 pts | AUS | DUCATI | Desmo Sport Ducati |
| 21 | Sylvain Barrier | 2 pts | FRA | KAWASAKI | Team Pedercini |
| 22 | Matthieu Lussiana | 1 pts | FRA | BMW | Team ASPI |
| 23 | Anucha Nakcharoensri | 0 pts | THA | YAMAHA | Yamaha Thailand Racing Team |
| 24 | Sahustchai Kaewjaturapom | 0 pts | THA | KAWASAKI | Grillini SBK Team |
| 25 | Saeed Al Sulaiti | 0 pts | QAR | KAWASAKI | Team Pedercini |
| 26 | Peter Sebestyen | 0 pts | HUN | YAMAHA | Team Toth |
| 27 | Pawel Szkopek | 0 pts | POL | YAMAHA | Szkopek POLand Position |
| 28 | Josh Hook | 0 pts | AUS | KAWASAKI | Grillini SBK Team |
| 29 | Imre Toth | 0 pts | HUN | YAMAHA | Team Toth |
| 30 | Dominic Schmitter | 0 pts | SUI | KAWASAKI | Grillini SBK Team |