Rea Takes Second In Race Two At Buriram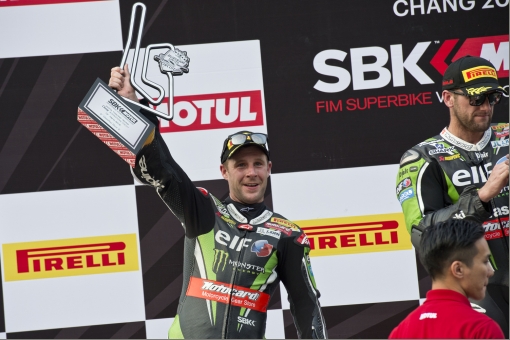 Another electrifying 20-lap race saw Jonathan Rea secure a podium place behind Kawasaki team-mate Tom Sykes in the second race of Round two of the FIM Superbike World Championship in Thailand. Sykes took his first race win of the year on the all-new Ninja ZX-10R, with Rea just 0.190 seconds behind at the flag. Chaz Davies (Ducati) finished a very close third behind the Kawasaki duo. Rea leaves Thailand with 95 points and the series lead.
The weekend at the Chang International Circuit will go down as a double 1-2 event for Kawasaki with Rea winning race one on Saturday from Sykes, and that order being overturned after a combative contest around the 4.554km circuit in the heat of the afternoon on Sunday 13th March.
Rea set the fastest lap of the Sunday race, on lap five, as he chased early leader Sykes.  The pair looked to have the race between them for most of the race distance but Chaz Davies arrived towards the end and made the battle for the podium places even more complicated.
The second 1-2 in two days for Kawasaki's official entrants also gives the KRT riders a 1-2 in the championship, with Rea in the lead by 29 points and Sykes a point clear of Michael van Der Mark (Honda) after four races.
Kawasaki riders have won all of the 2016 season races so far, making a perfect total of 100 points in the Manufacturers' Championship. Yesterday Jonathan Rea moved to a lone fifth in the all-time race winners' tally, with 32 career wins.
The KRT squad's European home base in Spain is where the championship will relocate for the next round, at the magnificent Motorland Aragon circuit. Race weekend will be held between 1st and 3rd April.
Jonathan Rea stated: "We made a small improvement today in the bike set-up and from ten laps to go I had a much higher pace than Tom. I really wanted to win and I tried two or three times but to win a race against Tom when he is strong, and defending very well, you have to go really deep. Massive credit to him; he did a good job today and beat us flat out. It is good for Kawasaki to have a 1-2 although I would prefer to be the guy in front. Fair play to Tom because I was over my head to win the race yesterday but today I tried my best and got beat. I am sure it was a nice show to watch. We increased our championship lead from Phillip Island and it has been a good day, but I just wanted to win the race. To get beaten is really great for my motivation."
Pole position : Michael van der Mark - 1m 33.452 - 175.431 km/h
Fastest lap : Jonathan Rea - 1m 33.997 - 174.414 km/h
Circuit record lap : 2015 Jonathan Rea - 1m 33.817 - 174.750 km/h
Circuit Best Lap : 2015 Jonathan Rea - 1m 33.382 - 175.560 km/h
Temperature : Air 36°C / Track 43°C
Humidity : 39%
Crowd : 81346 
Event results - Round 2 - Race 1
| | | | | | |
| --- | --- | --- | --- | --- | --- |
| 1 | Tom Sykes | 31m 33.493 | GBR | KAWASAKI | Kawasaki Racing Team |
| 2 | Jonathan Rea | 0.190 | GBR | KAWASAKI | Kawasaki Racing Team |
| 3 | Chaz Davies | 0.314 | GBR | DUCATI | Aruba.it Racing-Ducati Superbike Team |
| 4 | Michael van der Mark | 5.199 | NED | HONDA | Honda World Superbike Team |
| 5 | Nicky Hayden | 10.643 | USA | HONDA | Honda World Superbike Team |
| 6 | Sylvain Guintoli | 13.068 | FRA | YAMAHA | Pata Yamaha Official WorldSBK Team |
| 7 | Markus Reiterberber | 14.481 | GER | BMW | Althea BMW Racing Team |
| 8 | Jordi Torres | 14.504 | ESP | BMW | Althea BMW Racing Team |
| 9 | Lorenzo Savadori | 21.694 | ITA | APRILIA | IodaRacing Team |
| 10 | Davide Giugliano | 23.794 | ITA | DUCATI | Aruba.it Racing-Ducati Superbike Team |
| 11 | Leon Camier | 27.205 | GBR | MV AGUSTA | MV Agusta Reparto Corse |
| 12 | Roman Ramos | 32.309 | ESP | KAWASAKI | Team Go Eleven |
| 13 | Matteo Baiocco | 36.672 | ITA | DUCATI | VFT Racing |
| 14 | Alex De Angelis | 38.761 | RSM | APRILIA | IodaRacing Team |
| 15 | Karel Abraham | 39.789 | CZE | BMW | Milwaukee BMW |
| 16 | Joshua Brookes | 42.840 | AUS | BMW | Milwaukee BMW |
| 17 | Sylvain Barrier | 46.158 | FRA | KAWASAKI | Team Pedercini |
| 18 | Anucha Nakcharoensri | 1m 04.628 | THA | YAMAHA | Yamaha Thailand Racing Team |
| 19 | Dominic Schmitter | 1m 21.675 | SUI | KAWASAKI | Grillini SBK Team |
| 20 | Peter Sebestyen | 1m 21.687 | HUN | YAMAHA | Team Toth |
| 21 | Sahustchai Kaewjaturapom | 1 Lap | THA | KAWASAKI | Grillini SBK Team |
| 22 | Imre Toth | 1 Lap | HUN | YAMAHA | Team Toth |
| 23 | Alex Lowes | DNF | GBR | SUZUKI | Voltcom Crescent Suzuki |
| 24 | Xavi Fores | DNF | ESP | DUCATI | BARNI Racing Team |
| 25 | Saeed Al Sulaiti | DNF | QAR | KAWASAKI | Team Pedercini |
Championship standings
| | | | | | |
| --- | --- | --- | --- | --- | --- |
| 1 | Jonathan Rea | 95 pts | GBR | KAWASAKI | Kawasaki Racing Team |
| 2 | Tom Sykes | 66 pts | GBR | KAWASAKI | Kawasaki Racing Team |
| 3 | Michael van der Mark | 65 pts | NED | HONDA | Honda World Superbike Team |
| 4 | Chaz Davies | 55 pts | GBR | DUCATI | Aruba.it Racing-Ducati Superbike Team |
| 5 | Sylvain Guintoli | 40 pts | FRA | YAMAHA | Pata Yamaha Official WorldSBK Team |
| 6 | Davide Giugliano | 35 pts | ITA | DUCATI | Aruba.it Racing-Ducati Superbike Team |
| 7 | Jordi Torres | 33 pts | ESP | BMW | Althea BMW Racing Team |
| 8 | Nicky Hayden | 31 pts | USA | HONDA | Honda World Superbike Team |
| 9 | Markus Reiterberber | 28 pts | GER | BMW | Althea BMW Racing Team |
| 10 | Leon Camier | 19 pts | GBR | MV AGUSTA | MV Agusta Reparto Corse |
| 11 | Roman Ramos | 17 pts | ESP | KAWASAKI | Team Go Eleven |
| 12 | Joshua Brookes | 14 pts | AUS | BMW | Milwaukee BMW |
| 13 | Lorenzo Savadori | 13 pts | ITA | APRILIA | IodaRacing Team |
| 14 | Alex De Angelis | 12 pts | RSM | APRILIA | IodaRacing Team |
| 15 | Alex Lowes | 12 pts | GBR | SUZUKI | Voltcom Crescent Suzuki |
| 16 | Karel Abraham | 9 pts | CZE | BMW | Milwaukee BMW |
| 17 | Matteo Baiocco | 6 pts | ITA | DUCATI | VFT Racing |
| 18 | Mike Jones | 2 pts | AUS | DUCATI | Desmo Sport Ducati |
| 19 | Xavi Fores | 2 pts | ESP | DUCATI | BARNI Racing Team |
| 20 | Sylvain Barrier | 2 pts | FRA | KAWASAKI | Team Pedercini |
| 21 | Anucha Nakcharoensri | 0 pts | THA | YAMAHA | Yamaha Thailand Racing Team |
| 22 | Sahustchai Kaewjaturapom | 0 pts | THA | KAWASAKI | Grillini SBK Team |
| 23 | Saeed Al Sulaiti | 0 pts | QAR | KAWASAKI | Team Pedercini |
| 24 | Peter Sebestyen | 0 pts | HUN | YAMAHA | Team Toth |
| 25 | Imre Toth | 0 pts | HUN | YAMAHA | Team Toth |
| 26 | Dominic Schmitter | 0 pts | SUI | KAWASAKI | Grillini SBK Team |