Rea Takes Victory In Race One At Misano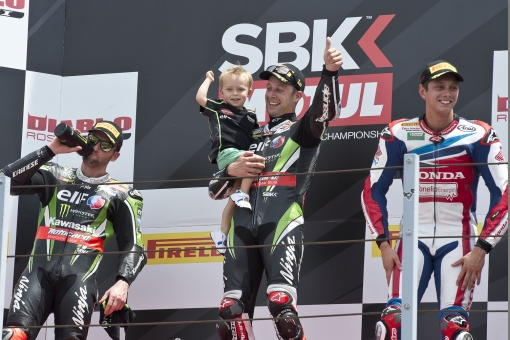 Kawasaki Racing Team Rider Jonathan Rea took his first race win since round four at Assen in the opening 21-lap FIM Superbike World Championship race at Misano today, holding off his race long companion and team-mate Tom Sykes by only 0.090 seconds over the line. Michael van der Mark (Honda) completed the podium in third place.
From the start, and after some of their main rivals had run off track into the first chicane, Rea and Sykes made an escape from their peer group as they kept up a pace that none of their rivals could match.
At halfway distance Rea slowed to allow Sykes to take the leading duties but Sykes refused the offer and maintained his track position right behind Rea for all 21 laps, looking for a way past in the final two laps. Unable to find a gap, despite a strong attempt into the penultimate right hand corner, Sykes drew himself from behind Rea's slipstream to close up to within 0.090 seconds for a class leading 1-2 finish.
Rea now has a 61-point lead over his team-mate Sykes in the Championship standings.
With the first race of the weekend completed in front-running fashion for Rea he now heads into race two on Sunday full of confidence.
Jonathan Rea, stated: "Getting back on the top step was the clear target here, and to get both race wins, so we are halfway to accomplishing that. To be honest it was a little bit surprising how much we struggled towards the end because yesterday our pace was so strong at the end of my long run, staying in the low 1'36 laps. I am not sure how much the track temperature increase has affected us today, because it seems to be a lot. We need to sit down tonight and understand how we need to improve. Tom was strong in some areas of the track, we were strong in some areas of the track, but overall our lap times were quite similar. I am really happy to win again."
Pole position : Tom Sykes - 1m 34.037 - 161.783 km/h
Fastest lap : Tom Sykes - 1m 35.507 - 159.293 km/h
Circuit record lap : 2015 Jonathan Rea - 1m 34.720 - 160.620 km/h
Circuit Best Lap : 2016 Tom Sykes - 1m 34.037 - 161.780 km/h
Temperature : Air 24°C / Track 43°C
Humidity : 57%
 
Event results - Round 8 - Race 1
| | | | | | |
| --- | --- | --- | --- | --- | --- |
| 1 | Jonathan Rea | 33m 44.254 | GBR | KAWASAKI | Kawasaki Racing Team |
| 2 | Tom Sykes | 0.090 | GBR | KAWASAKI | Kawasaki Racing Team |
| 3 | Michael van der Mark | 3.093 | NED | HONDA | Honda World Superbike Team |
| 4 | Chaz Davies | 5.878 | GBR | DUCATI | Aruba.it Racing-Ducati Superbike Team |
| 5 | Jordi Torres | 15.955 | ESP | BMW | Althea BMW Racing Team |
| 6 | Markus Reiterberber | 18.200 | GER | BMW | Althea BMW Racing Team |
| 7 | Niccolo Canepa | 19.385 | ITA | EBR | Team Hero EBR |
| 8 | Leon Camier | 19.918 | GBR | MV AGUSTA | MV Agusta Reparto Corse |
| 9 | Roman Ramos | 26.272 | ESP | KAWASAKI | Team Go Eleven |
| 10 | Anthony West | 32.593 | AUS | KAWASAKI | Team Pedercini |
| 11 | Joshua Brookes | 36.825 | AUS | BMW | Milwaukee BMW |
| 12 | Alex De Angelis | 37.084 | RSM | APRILIA | IodaRacing Team |
| 13 | Alex Lowes | 38.181 | GBR | SUZUKI | Voltcom Crescent Suzuki |
| 14 | Davide Giugliano | 41.201 | ITA | DUCATI | Aruba.it Racing-Ducati Superbike Team |
| 15 | Pawel Szkopek | 1m 20.992 | POL | YAMAHA | Team Toth |
| 16 | Peter Sebestyen | 1m 21.783 | HUN | YAMAHA | Team Toth |
| 17 | Dominic Schmitter | 1m 24.623 | SUI | KAWASAKI | Grillini SBK Team |
| 18 | Fabio Menghi | 1m 25.068 | ITA | DUCATI | VFT Racing |
| 19 | Saeed Al Sulaiti | 1m 31.041 | QAR | KAWASAKI | Team Pedercini |
| 20 | Gianluca Vizziello | 1 Lap | ITA | KAWASAKI | Grillini SBK Team |
| 21 | Xavi Fores | DNF | ESP | DUCATI | BARNI Racing Team |
| 22 | Karel Abraham | DNF | CZE | BMW | Milwaukee BMW |
| 23 | Nicky Hayden | DNF | USA | HONDA | Honda World Superbike Team |
| 24 | Lorenzo Savadori | DNF | ITA | APRILIA | IodaRacing Team |
Championship standings
| | | | | | |
| --- | --- | --- | --- | --- | --- |
| 1 | Jonathan Rea | 343 pts | GBR | KAWASAKI | Kawasaki Racing Team |
| 2 | Tom Sykes | 277 pts | GBR | KAWASAKI | Kawasaki Racing Team |
| 3 | Chaz Davies | 244 pts | GBR | DUCATI | Aruba.it Racing-Ducati Superbike Team |
| 4 | Davide Giugliano | 165 pts | ITA | DUCATI | Aruba.it Racing-Ducati Superbike Team |
| 5 | Michael van der Mark | 163 pts | NED | HONDA | Honda World Superbike Team |
| 6 | Nicky Hayden | 146 pts | USA | HONDA | Honda World Superbike Team |
| 7 | Jordi Torres | 137 pts | ESP | BMW | Althea BMW Racing Team |
| 8 | Leon Camier | 105 pts | GBR | MV AGUSTA | MV Agusta Reparto Corse |
| 9 | Lorenzo Savadori | 96 pts | ITA | APRILIA | IodaRacing Team |
| 10 | Alex Lowes | 81 pts | GBR | SUZUKI | Voltcom Crescent Suzuki |
| 11 | Xavi Fores | 75 pts | ESP | DUCATI | BARNI Racing Team |
| 12 | Markus Reiterberber | 68 pts | GER | BMW | Althea BMW Racing Team |
| 13 | Sylvain Guintoli | 58 pts | FRA | YAMAHA | Pata Yamaha Official WorldSBK Team |
| 14 | Joshua Brookes | 55 pts | AUS | BMW | Milwaukee BMW |
| 15 | Roman Ramos | 53 pts | ESP | KAWASAKI | Team Go Eleven |
| 16 | Alex De Angelis | 49 pts | RSM | APRILIA | IodaRacing Team |
| 17 | Anthony West | 39 pts | AUS | KAWASAKI | Team Pedercini |
| 18 | Karel Abraham | 26 pts | CZE | BMW | Milwaukee BMW |
| 19 | Niccolo Canepa | 16 pts | ITA | EBR | Team Hero EBR |
| 20 | Matteo Baiocco | 12 pts | ITA | DUCATI | VFT Racing |
| 21 | Lucas Mahias | 9 pts | FRA | KAWASAKI | Team Pedercini |
| 22 | Cameron Beaubier | 6 pts | USA | YAMAHA | Pata Yamaha Official WorldSBK Team |
| 23 | Luca Scassa | 3 pts | ITA | DUCATI | VFT Racing |
| 24 | Dominic Schmitter | 2 pts | SUI | KAWASAKI | Grillini SBK Team |
| 25 | Sylvain Barrier | 2 pts | FRA | KAWASAKI | Team Pedercini |
| 26 | Mike Jones | 2 pts | AUS | DUCATI | Desmo Sport Ducati |
| 27 | Josh Hook | 2 pts | AUS | KAWASAKI | Grillini SBK Team |
| 28 | Matthieu Lussiana | 1 pts | FRA | BMW | Team ASPI |
| 29 | Anucha Nakcharoensri | 0 pts | THA | YAMAHA | Yamaha Thailand Racing Team |
| 30 | Sahustchai Kaewjaturapom | 0 pts | THA | KAWASAKI | Grillini SBK Team |
| 31 | Saeed Al Sulaiti | 0 pts | QAR | KAWASAKI | Team Pedercini |
| 32 | Peter Sebestyen | 0 pts | HUN | YAMAHA | Team Toth |
| 33 | Pawel Szkopek | 0 pts | POL | YAMAHA | Szkopek POLand Position |
| 34 | Imre Toth | 0 pts | HUN | YAMAHA | Team Toth |
| 35 | Gianluca Vizziello | 0 pts | ITA | KAWASAKI | Grillini SBK Team |
| 36 | Fabio Menghi | 0 pts | ITA | DUCATI | VFT Racing |