Rea Wins At Donington Park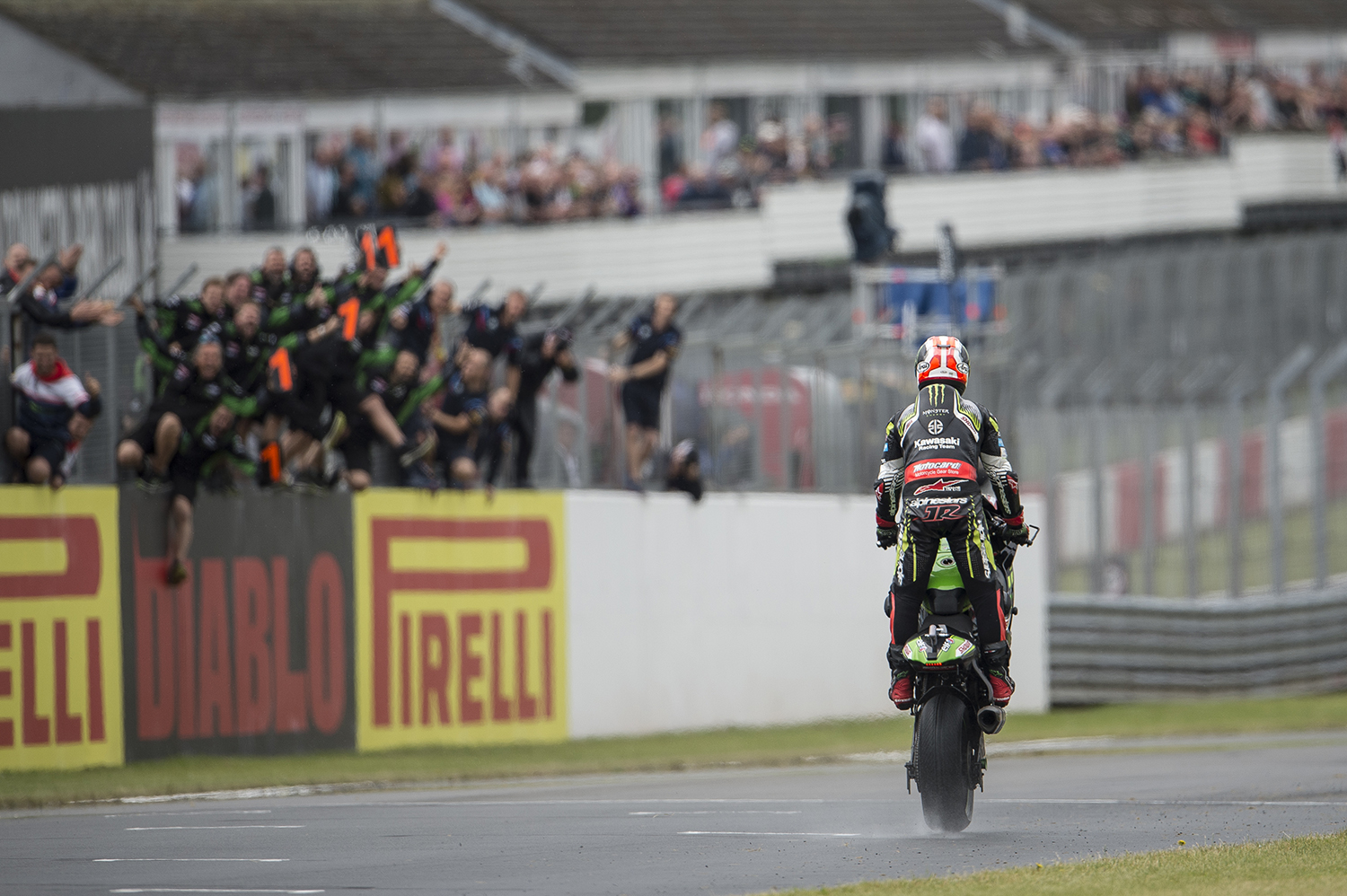 Jonathan Rea moved into the lead of the 2019 FIM Superbike World Championship today with victory in the first race of round eight at Donington Park. The current world champion won the race by over 11 seconds from Tom Sykes (BMW) and team-mate Leon Haslam, who finished third.
Jonathan had just missed out on pole position in Superpole Qualifying in the morning with the variable weather conditions playing their part. Early morning rain showers meant the track was wet in the beginning but dried significantly as the qualifying session progressed.  
The rain returned however, becoming more intense as the race approached and the 23 laps were run in wet conditions.  Jonathan made the most of his P2 start, taking the lead in the first corner, and led the race till the chequered flag.
Rea takes a nine-point championship lead into the next two races at Donington Park, on Sunday 7 July, after title rival Alvaro Bautista (Ducati) crashed out of today's race. There will be a ten-lap Tissot Superpole race at 11:00, and then Race Two, over a full 23-laps at 14:00.
Jonathan Rea, stated: "I missed my pit board on my first lap but on the second lap I saw that I had quite a big gap already. I have been riding the Kawasaki for quite a few years now, and although we do not get to ride in the wet a lot, the wet setup is pretty good. Even in the change of conditions – completely wet, half wet or a drying track – it seems to be a bike that you can extract a lot of stability out of. So you can stop it well and then use your body weight to get through the corners. I knew if I could arrive at the limit of the package quite early I could take a gamble while the rest of the other guys got up to speed. At the end of the race I thought I should keep pushing on as I knew if there was a lapse of concentration it would be very easy for something to go wrong in these conditions. So I kept going right until the last lap and got it done. But it felt like a really long race! There is still a long way to go but after the Jerez sprint race the gap from the lead to us was 61 points. Now it has flipped over. It is racing and anything can happen."