Rea Wins Irish Motorcyclist Of The Year Award.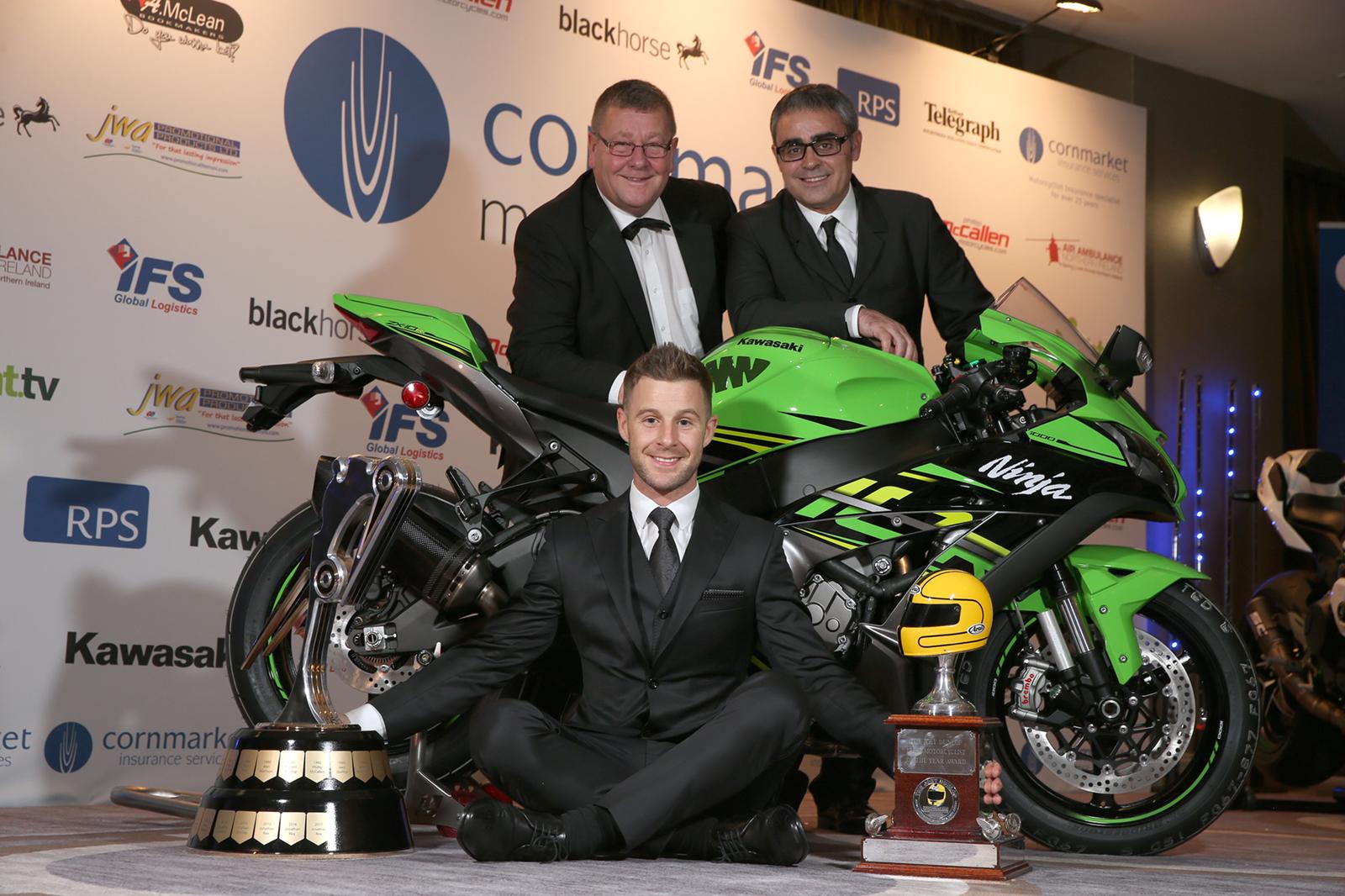 Jonathan Rea returned to the race track in Portugal today to continue his winter testing programme with the Kawasaki Racing Team, a few days after receiving the Irish Motorcyclist Of The Year Award at a sell out event in the Ramada Hotel in Belfast.
Rea flew home to Northern Ireland straight from a day long photoshoot in Seville on Thursday last week, which came straight off the back of a two-day WorldSBK test at Jerez in the south of Spain.  Friday's awards ceremony is an annual event that celebrates Irish Motorcycling across all disciplines and it turned out to be a night to remember for Jonathan and his family.
The highlight was Jonathan himself winning the coveted Irish Motorcyclist of the Year Award for a third consecutive year, his fifth in total, as well as receiving the Joey Dunlop Trophy to keep for all time.  Added to that Jonathan's father, Johnny Rea was inducted into the Hall of Fame, making it a memorable night for the entire Rea family where his mum Claire, sister Chloe and brother Richard joined in the celebrations.
Not to be out done, Jonathan's crew chief at KRT, Pere Ribe received the Kawasaki Award for Outstanding Achievement in the sport.  Riba himself raced with Kawasaki in the Supersport 600cc class before joining KRT in his current role, where he has been an integral part in JR's three WorldSBK titles.
There was no time to rest after the Awards night however, as Jonathan and Pere flew straight to Portugal and the Autodromo do Algarve near Portimao for a final two days of testing in Europe before the racing season commences in Australia at the end of February.
All images: Stephen Davidson, Pacemaker Press.
Jonathan stated: "I am delighted to win the Irish Motorcyclist of the Year award for the third time in a row. It was nice receive the all new trophy and then to be given the Joey Dunlop trophy to keep was a huge surprise. This award is so nice because it's voted for by the public and over these last years the people of Northern Ireland have really got behind me which I'm so grateful for. After spending the off season in Australia preparing for this year, it was nice to briefly catch up with my family as well as meet so many people that support me. I'm really proud that my dad Johnny got inducted into the 'Hall of Fame' and also the fact that Pere received the Kawasaki award for 'Outstanding Achievement' was a great way to end the night."