Second Place For Rea In Donington Race Two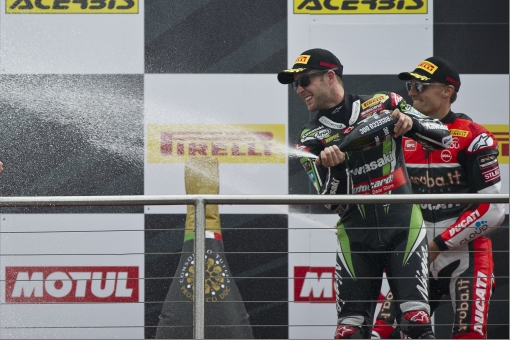 Kawasaki Racing Team rider Jonathan Rea finished second in today's FIM Superbike World Championship race at Donington Park in the UK, bettering his third place in race one yesterday.  Team-mate Tom Sykes dominated again today taking victory, with 2016 title challenger Chaz Davies (Ducati) in third place.
After the official Kawasaki riders shot into an early lead - Sykes from pole and Rea from the second row - there were only two riders competing for the win and each was on the new model Ninja ZX-10R. Rea set a new lap record of 1'27.605 to get himself back into the slipstream of a fleeing Sykes on lap two, as the race settled into a high speed game of cat and mouse between the KRT team-mates.
With a handful of laps to go Rea made a pass on Sykes but in finding a false neutral into Goddards he lost ground that he would never quite make up as Sykes maintained a high and consistent pace right to the end. Feeling the effects of arm pump close to the end of the intense 23-lap race Rea eased up in the final few laps, with third place finisher Chaz Davies safely behind him.
With a 100% record of podium finishes Jonathan now has 293 points in the 2016 Championship standings with Sykes now second on 237.
In the Manufacturers' Standings Kawasaki has a commanding 53-point lead thanks to the exploits of the new model Ninja ZX-10R and the official KRT pairing of Rea and Sykes. The next round of the championship will take place at Misano, between 17 and 19 June.
Jonathan Rea stated: "I got another neutral going into the final hairpin corner, just as I had made my pass, so I was a little bit frustrated with that. In the end of the race I did not have much for Tom. I feel my bike was working really good, so I want to thank my team, especially as we have been working close with Kawasaki and all the crew to get the bike suited to me. It seems we are getting there now. In the last few races we have defined the engine character that I really like, so now it is the balance of the bike that seems to be working. To be so close to Tom, in a circuit that he is so strong at, is good because he is riding really strongly now. I am happy for that and happy to come here and make a big margin in my championship lead as well. That is the priority - but it would have been really nice to cap it off with a win in race two. My bike was feeling really good but near the end I just suffered a little bit with arm pump in my right arm."
Pole position : Tom Sykes - 1m 26.712 - 167.020 km/h
Fastest lap : Jonathan Rea - 1m 27.605 - 165.319 km/h
Circuit record lap : 2015 Tom Sykes - 1m 27.640 - 165.250 km/h
Circuit Best Lap : 2016 Tom Sykes - 1m 26.712 - 167.020 km/h
Temperature : Air 15°C / Track 27°C
Humidity : 73%
Event results - Round 7 - Race 1
| | | | | | |
| --- | --- | --- | --- | --- | --- |
| 1 | Tom Sykes | 33m 55.601s | GBR | KAWASAKI | Kawasaki Racing Team |
| 2 | Jonathan Rea | 2.017 | GBR | KAWASAKI | Kawasaki Racing Team |
| 3 | Chaz Davies | 4.437 | GBR | DUCATI | Aruba.it Racing-Ducati Superbike Team |
| 4 | Lorenzo Savadori | 6.423 | ITA | APRILIA | IodaRacing Team |
| 5 | Leon Camier | 11.808 | GBR | MV AGUSTA | MV Agusta Reparto Corse |
| 6 | Nicky Hayden | 12.455 | USA | HONDA | Honda World Superbike Team |
| 7 | Davide Giugliano | 24.212 | ITA | DUCATI | Aruba.it Racing-Ducati Superbike Team |
| 8 | Michael van der Mark | 25.931 | NED | HONDA | Honda World Superbike Team |
| 9 | Joshua Brookes | 26.512 | AUS | BMW | Milwaukee BMW |
| 10 | Cameron Beaubier | 26.955 | USA | YAMAHA | Pata Yamaha Official WorldSBK Team |
| 11 | Jordi Torres | 29.684 | ESP | BMW | Althea BMW Racing Team |
| 12 | Anthony West | 35.433 | AUS | KAWASAKI | Team Pedercini |
| 13 | Roman Ramos | 35.862 | ESP | KAWASAKI | Team Go Eleven |
| 14 | Xavi Fores | 39.240 | ESP | DUCATI | BARNI Racing Team |
| 15 | Alex De Angelis | 45.790 | RSM | APRILIA | IodaRacing Team |
| 16 | Markus Reiterberber | 46.252 | GER | BMW | Althea BMW Racing Team |
| 17 | Luca Scassa | 56.488 | ITA | DUCATI | VFT Racing |
| 18 | Dominic Schmitter | 1m 18.282 | SUI | KAWASAKI | Grillini SBK Team |
| 19 | Pawel Szkopek | 1m 23.479 | POL | YAMAHA | Szkopek POLand Position |
| 20 | Saeed Al Sulaiti | DNF | QAR | KAWASAKI | Team Pedercini |
| 21 | Imre Toth | DNF | HUN | YAMAHA | Team Toth |
| 22 | Matthieu Lussiana | DNF | FRA | BMW | Team ASPI |
| 23 | Karel Abraham | DNF | CZE | BMW | Milwaukee BMW |
Championship standings
| | | | | | |
| --- | --- | --- | --- | --- | --- |
| 1 | Jonathan Rea | 293 pts | GBR | KAWASAKI | Kawasaki Racing Team |
| 2 | Tom Sykes | 237 pts | GBR | KAWASAKI | Kawasaki Racing Team |
| 3 | Chaz Davies | 231 pts | GBR | DUCATI | Aruba.it Racing-Ducati Superbike Team |
| 4 | Davide Giugliano | 147 pts | ITA | DUCATI | Aruba.it Racing-Ducati Superbike Team |
| 5 | Michael van der Mark | 141 pts | NED | HONDA | Honda World Superbike Team |
| 6 | Nicky Hayden | 136 pts | USA | HONDA | Honda World Superbike Team |
| 7 | Jordi Torres | 117 pts | ESP | BMW | Althea BMW Racing Team |
| 8 | Leon Camier | 97 pts | GBR | MV AGUSTA | MV Agusta Reparto Corse |
| 9 | Lorenzo Savadori | 85 pts | ITA | APRILIA | IodaRacing Team |
| 10 | Alex Lowes | 70 pts | GBR | SUZUKI | Voltcom Crescent Suzuki |
| 11 | Xavi Fores | 62 pts | ESP | DUCATI | BARNI Racing Team |
| 12 | Markus Reiterberber | 58 pts | GER | BMW | Althea BMW Racing Team |
| 13 | Sylvain Guintoli | 58 pts | FRA | YAMAHA | Pata Yamaha Official WorldSBK Team |
| 14 | Joshua Brookes | 48 pts | AUS | BMW | Milwaukee BMW |
| 15 | Alex De Angelis | 42 pts | RSM | APRILIA | IodaRacing Team |
| 16 | Roman Ramos | 42 pts | ESP | KAWASAKI | Team Go Eleven |
| 17 | Anthony West | 28 pts | AUS | KAWASAKI | Team Pedercini |
| 18 | Karel Abraham | 25 pts | CZE | BMW | Milwaukee BMW |
| 19 | Matteo Baiocco | 12 pts | ITA | DUCATI | VFT Racing |
| 20 | Lucas Mahias | 9 pts | FRA | KAWASAKI | Team Pedercini |
| 21 | Cameron Beaubier | 6 pts | USA | YAMAHA | Pata Yamaha Official WorldSBK Team |
| 22 | Luca Scassa | 3 pts | ITA | DUCATI | VFT Racing |
| 23 | Dominic Schmitter | 2 pts | SUI | KAWASAKI | Grillini SBK Team |
| 24 | Sylvain Barrier | 2 pts | FRA | KAWASAKI | Team Pedercini |
| 25 | Mike Jones | 2 pts | AUS | DUCATI | Desmo Sport Ducati |
| 26 | Josh Hook | 2 pts | AUS | KAWASAKI | Grillini SBK Team |
| 27 | Matthieu Lussiana | 1 pts | FRA | BMW | Team ASPI |
| 28 | Anucha Nakcharoensri | 0 pts | THA | YAMAHA | Yamaha Thailand Racing Team |
| 29 | Sahustchai Kaewjaturapom | 0 pts | THA | KAWASAKI | Grillini SBK Team |
| 30 | Saeed Al Sulaiti | 0 pts | QAR | KAWASAKI | Team Pedercini |
| 31 | Peter Sebestyen | 0 pts | HUN | YAMAHA | Team Toth |
| 32 | Pawel Szkopek | 0 pts | POL | YAMAHA | Szkopek POLand Position |
| 33 | Imre Toth | 0 pts | HUN | YAMAHA | Team Toth |
| 34 | Gianluca Vizziello | 0 pts | ITA | KAWASAKI | Grillini SBK Team |