Second Place For Rea In Race One At Sepang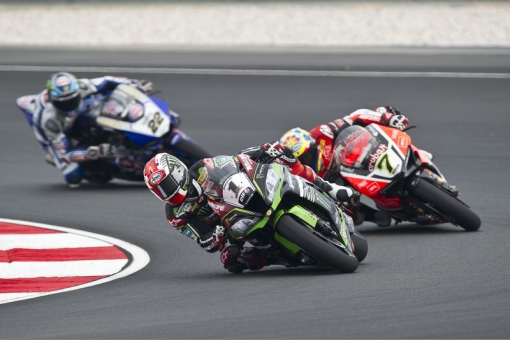 Jonathan Rea took a comfortable second place in the first race of the FIM World Superbike Championship weekend at Sepang Internatiional Circuit in Malaysia.  The race was won by Rea's Kawasaki team-mate, Tom Sykes, making it a 1-2 for the Ninja ZX-10R.  Chaz Davies (Ducati) was third.
Rea achieved his main goal of the day in the first of the weekend's two 16 lap races, extending his championship lead over second ranked rider Chaz Davies. In keeping Davies in third place today Jonathan now has a 39 point lead to take into race two on Sunday. Rea had finished Superpole in third position, for a front row start.
The second Sepang race will take place at 16.00, local time in Malaysia, on Sunday 15 May.
Jonathan Rea stated: "I was probably a little bit too conservative in the beginning because I was waiting for that crossover point, which never happened, so I could afford to be a bit more aggressive in the first laps. I think that looking at everyone's front tyres in parc ferme that appears to be more of the limitation compared to the rear. I am happy because we achieved out target today, which was to further extend our championship lead. It was hard here because I had prepared my race in my head and followed the whole strategy right. Tomorrow maybe I can try to take some of the energy out of the front tyre, change the balance a little bit, to not give the front tyre so much of a hard time."
Pole position : Tom Sykes - 2m 02.246 - 163.235 km/h
Fastest lap : Tom Sykes - 2m 03.637 - 161.398 km/h
Circuit record lap : 2015 Tom Sykes - 2m 03.654 - 161.380 km/h
Circuit Best Lap : 2016 Tom Sykes - 2m 02.246 - 163.230 km/h
Temperature : Air 32°C / Track 46°C
Humidity : 71%
Event results - Round 6 - Race 1
| | | | | | |
| --- | --- | --- | --- | --- | --- |
| 1 | Tom Sykes | 33m 30.487 | GBR | KAWASAKI | Kawasaki Racing Team |
| 2 | Jonathan Rea | 5.600 | GBR | KAWASAKI | Kawasaki Racing Team |
| 3 | Chaz Davies | 8.039 | GBR | DUCATI | Aruba.it Racing-Ducati Superbike Team |
| 4 | Jordi Torres | 17.666 | ESP | BMW | Althea BMW Racing Team |
| 5 | Alex Lowes | 18.613 | GBR | SUZUKI | Voltcom Crescent Suzuki |
| 6 | Davide Giugliano | 19.871 | ITA | DUCATI | Aruba.it Racing-Ducati Superbike Team |
| 7 | Michael van der Mark | 24.120 | NED | HONDA | Honda World Superbike Team |
| 8 | Nicky Hayden | 25.461 | USA | HONDA | Honda World Superbike Team |
| 9 | Anthony West | 32.989 | AUS | KAWASAKI | Team Pedercini |
| 10 | Leon Camier | 35.464 | GBR | MV AGUSTA | MV Agusta Reparto Corse |
| 11 | Joshua Brookes | 39.437 | AUS | BMW | Milwaukee BMW |
| 12 | Karel Abraham | 39.860 | CZE | BMW | Milwaukee BMW |
| 13 | Luca Scassa | 46.721 | ITA | DUCATI | VFT Racing |
| 14 | Xavi Fores | 52.634 | ESP | DUCATI | BARNI Racing Team |
| 15 | Josh Hook | 1m 10.599 | AUS | KAWASAKI | Grillini SBK Team |
| 16 | Dominic Schmitter | 1m 19.352 | SUI | KAWASAKI | Grillini SBK Team |
| 17 | Saeed Al Sulaiti | 1m 21.034 | QAR | KAWASAKI | Team Pedercini |
| 18 | Gianluca Vizziello | 1m 51.315 | ITA | KAWASAKI | Grillini SBK Team |
| 19 | Imre Toth | 1 Lap | HUN | YAMAHA | Team Toth |
| 20 | Markus Reiterberber | DNF | GER | BMW | Althea BMW Racing Team |
| 21 | Lorenzo Savadori | DNF | ITA | APRILIA | IodaRacing Team |
| 22 | Alex De Angelis | DNF | RSM | APRILIA | IodaRacing Team |
| 23 | Pawel Szkopek | DNF | POL | YAMAHA | Szkopek POLand Position |
Championship standings
| | | | | | |
| --- | --- | --- | --- | --- | --- |
| 1 | Jonathan Rea | 257 pts | GBR | KAWASAKI | Kawasaki Racing Team |
| 2 | Chaz Davies | 215 pts | GBR | DUCATI | Aruba.it Racing-Ducati Superbike Team |
| 3 | Tom Sykes | 187 pts | GBR | KAWASAKI | Kawasaki Racing Team |
| 4 | Michael van der Mark | 125 pts | NED | HONDA | Honda World Superbike Team |
| 5 | Davide Giugliano | 118 pts | ITA | DUCATI | Aruba.it Racing-Ducati Superbike Team |
| 6 | Nicky Hayden | 115 pts | USA | HONDA | Honda World Superbike Team |
| 7 | Jordi Torres | 103 pts | ESP | BMW | Althea BMW Racing Team |
| 8 | Leon Camier | 73 pts | GBR | MV AGUSTA | MV Agusta Reparto Corse |
| 9 | Alex Lowes | 70 pts | GBR | SUZUKI | Voltcom Crescent Suzuki |
| 10 | Lorenzo Savadori | 62 pts | ITA | APRILIA | IodaRacing Team |
| 11 | Sylvain Guintoli | 58 pts | FRA | YAMAHA | Pata Yamaha Official WorldSBK Team |
| 12 | Xavi Fores | 56 pts | ESP | DUCATI | BARNI Racing Team |
| 13 | Markus Reiterberber | 53 pts | GER | BMW | Althea BMW Racing Team |
| 14 | Alex De Angelis | 41 pts | RSM | APRILIA | IodaRacing Team |
| 15 | Joshua Brookes | 39 pts | AUS | BMW | Milwaukee BMW |
| 16 | Roman Ramos | 36 pts | ESP | KAWASAKI | Team Go Eleven |
| 17 | Anthony West | 18 pts | AUS | KAWASAKI | Team Pedercini |
| 18 | Karel Abraham | 18 pts | CZE | BMW | Milwaukee BMW |
| 19 | Matteo Baiocco | 12 pts | ITA | DUCATI | VFT Racing |
| 20 | Lucas Mahias | 9 pts | FRA | KAWASAKI | Team Pedercini |
| 21 | Luca Scassa | 3 pts | ITA | DUCATI | VFT Racing |
| 22 | Josh Hook | 2 pts | AUS | KAWASAKI | Grillini SBK Team |
| 23 | Sylvain Barrier | 2 pts | FRA | KAWASAKI | Team Pedercini |
| 24 | Mike Jones | 2 pts | AUS | DUCATI | Desmo Sport Ducati |
| 25 | Dominic Schmitter | 1 pts | SUI | KAWASAKI | Grillini SBK Team |
| 26 | Matthieu Lussiana | 1 pts | FRA | BMW | Team ASPI |
| 27 | Anucha Nakcharoensri | 0 pts | THA | YAMAHA | Yamaha Thailand Racing Team |
| 28 | Sahustchai Kaewjaturapom | 0 pts | THA | KAWASAKI | Grillini SBK Team |
| 29 | Saeed Al Sulaiti | 0 pts | QAR | KAWASAKI | Team Pedercini |
| 30 | Peter Sebestyen | 0 pts | HUN | YAMAHA | Team Toth |
| 31 | Pawel Szkopek | 0 pts | POL | YAMAHA | Szkopek POLand Position |
| 32 | Imre Toth | 0 pts | HUN | YAMAHA | Team Toth |
| 33 | Gianluca Vizziello | 0 pts | ITA | KAWASAKI | Grillini SBK Team |