SUPERPOLE RACE PODIUM FOR REA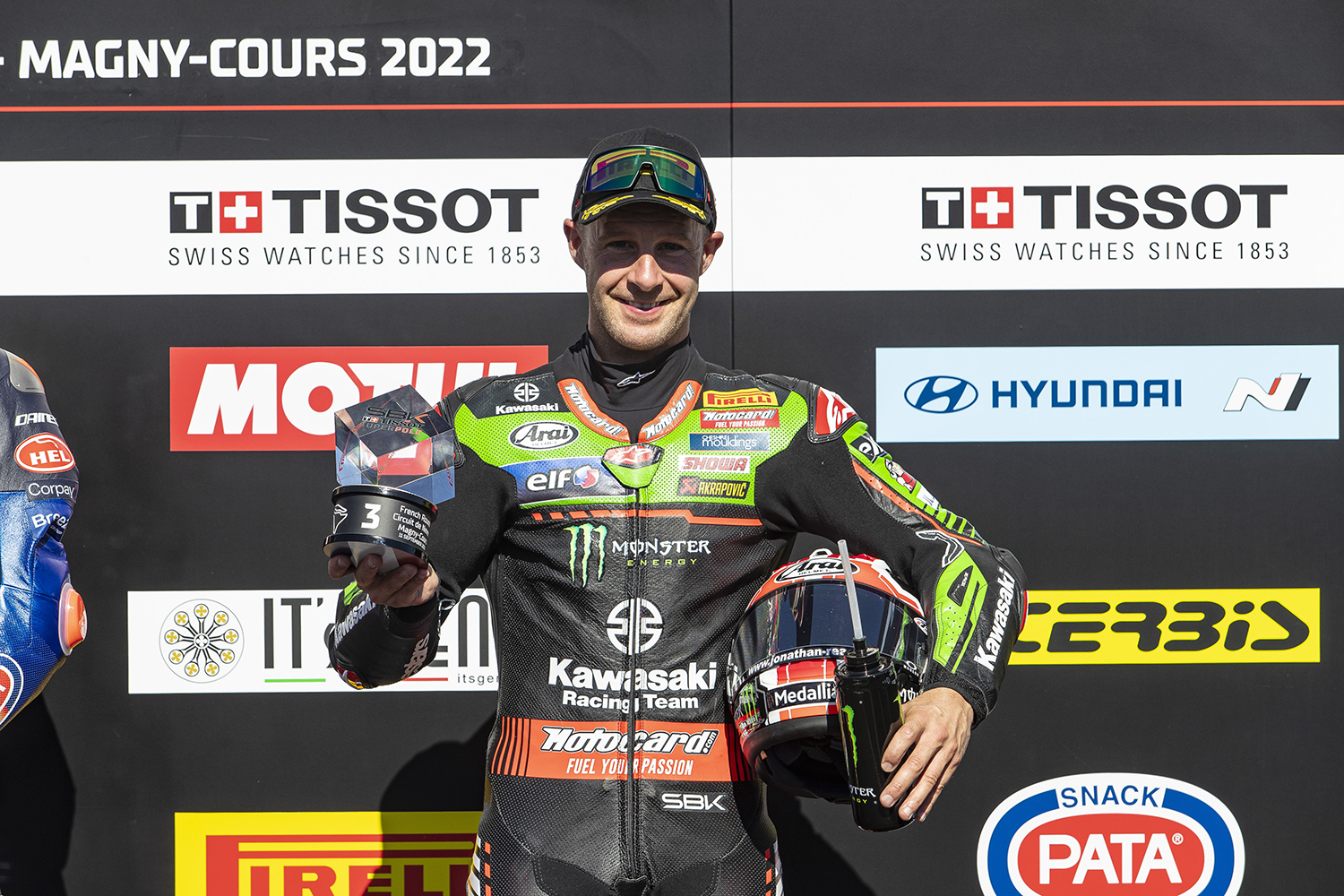 Jonathan Rea secured a podium finish today in the ten lap Superpole race held at the 4.411km long Magny Cours circuit in France. In Race Two Rea was penalised with a long lap penalty when he attempted an overtake on the inside of championship leader Alvaro Bautista and they collided, with Bautista crashing out of contention. He went on to finish fifth.
The Superpole Race, held in dry and sunny conditions in the morning, provided an intense ten laps of action. Jonathan came across the line in third, after starting from pole position, trying until the end to take second place from his championship rival  Bautista. The race was won by Toprak Razgatlioglu.
In race two Rea started from the front row and was immediately in the fight for the podium positions. However, after the incident with Bautista he lost track position. Rea recomposed himself, completed a long lap penalty and immediately started his climb back through the top ten. Jonathan would end up fifth after all 21-laps had been completed, just one place behind Kawasaki team-mate Alex Lowes. 
In the Championship itself Rea is now third with 285 points.
After the Magny Cours round the KRT squad's home race weekend will take place at the Circuit de Barcelona - Catalunya between 23-25 September.
STATEMENTS:
Jonathan Rea (Kawasaki Racing Team Rider): "I made a pretty bold set-up change before the Superpole race. I felt we needed to put a bit more weight on the front to help the bike turn more naturally and get more rear stability. I think it worked in the Superpole Race. There was a last lap battle and we finished third. In Race Two I made a pretty good getaway but found myself in third and then fourth. I knew I was strong at Turn 13 all weekend. I saw Toprak Razgatlioglu going away and I wanted to go down the inside of Alvaro Bautista. He came back to his line, I was there, and we touched. I was on my limit on the inside to make the manoeuvre, but I didn't blow the corner by any means. I made my apex and unfortunately he went down. I am really sorry for that because it was really not my intention. I want to make that clear, there was zero bad intention. I have been to see Alvaro. I offered my apologies and tried to give my point of view. I listened to his point of view so for me we turn the page now. I had to take my long lap penalty and it was a lonely race then. Race Two was a fifth place and not a great weekend overall, so we try to turn the page now and go to Barcelona."