Ten In A Row A New Record For Rea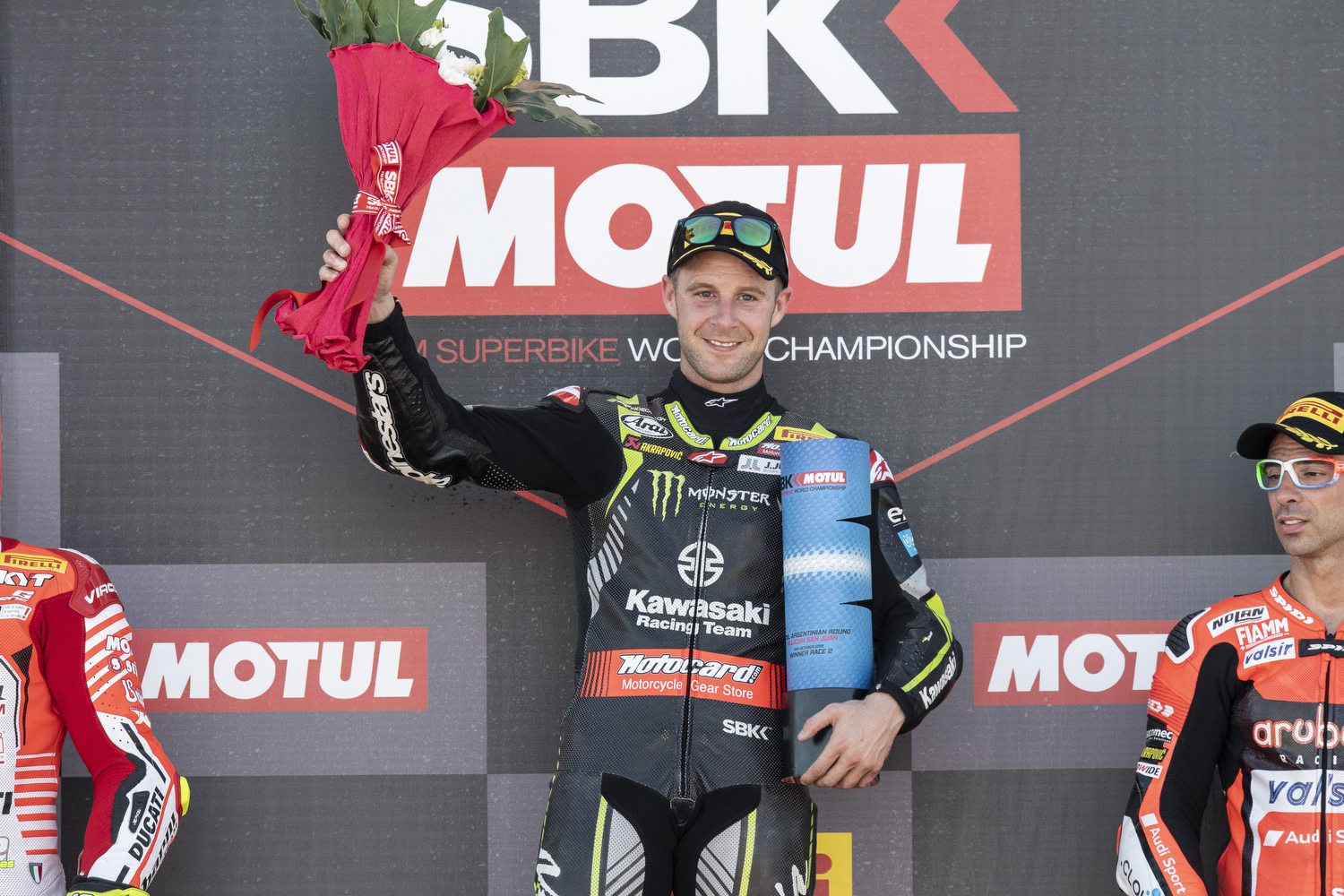 On the same weekend that Kawasaki won the FIM Superbike World Championship Manufacturers' title, Jonathan Rea made another little bit of history today at the El Villicum circuit in Argentina with a new record of ten consecutive WorldSBK race wins.
After heavy overnight rain the second race day at the all new circuit just outside San Juan threw up even more unknown challenges for Rea, as did the hot track temperature of over 50°C at the start of the race.
Rea, starting from ninth on the grid after his race one win on Saturday, had to use all his skill to pass his rivals on a new track surface that had one clear racing line. Into second place by lap four, Rea chased down the fast-starting leader Xavi Fores on lap nine and set about recording his unique fifth double winning weekend in succession. 
The four time champion was particularly pleased to have won another race from the third row, given that he took ill on Saturday evening and was awake most of the night. 
In recording his 55thvictory on a Kawasaki, as part of his career record of 70 race wins in all, Rea has now equalled the greatest number of wins scored with a single manufacturer in WorldSBK racing.
Rea's 16thwin of the season has taken him to within one victory of equalling the record of race wins in a single year, with two races remaining at the final round.
After 12 rounds, and with one more to go in two week's time, Rea has set a personal target to try and beat his own record points total of 556, which he scored last year. 
The final championship round at the Losail International Circuit will be held between Thursday the 25thof October and Saturday the 27thof October. The two races will be held under floodlights, as is now traditional at the season finale.
Jonathan Rea, stated: "It is really special to come to a new track, where everyone starts from zero, and be able to take the same kind of results. To be fast in the hot conditions and keep our tyre that was the key to the race. It was probably the hardest race win from the third row of the grid. If I went off line to pass, I could not be creative with my line choices. Everybody was pretty much on the same line so the passes had to be set up a few corners in advance. Once I settled into my rhythm I was able to clock off the lap times and pick off riders one by one. When I got clear track to Fores I tracked him down quite fast, but then there was the matter of passing him. Today has been difficult because I caught some kind of virus last night. I was ill all night from one o'clock until five this morning. It was good to have the race at 4pm because most of the day I have been sleeping in the cabin, regaining energy!"